Russian Rights Groups Assails Kadyrov Over Estemirova Comments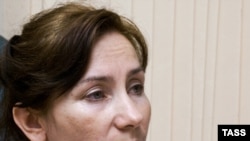 The Russian rights group Memorial has responded strongly to comments made to RFE/RL by Chechen leader Ramzan Kadyrov about slain activist Natalya Estemirova.
Memorial blames Kadyrov for Estemirova's brutal murder last month.
"[Estemirova] never had any honor or sense of shame," Kadyrov said.
Read Memorial's comments
here
.
RFE/RL's interview with Kadyrov at his residence outside Grozny can be found
here
.
About This Blog
"Watchdog" is a blog with a singular mission -- to monitor the latest developments concerning human rights, civil society, and press freedom. We'll pay particular attention to reports concerning countries in RFE/RL's broadcast region.
Journalists In Trouble
RFE/RL journalists take risks, face threats, and make sacrifices every day in an effort to gather the news. Our "Journalists In Trouble" page recognizes their courage and conviction, and documents the high price that many have paid simply for doing their jobs. More