WATCH: The 10 people suspected of spying for Russia boarded a plane at LaGuardia Airport in New York on July 8, bound for Vienna as part of a presumed spy swap.

WASHINGTON -- All 10 suspected Russian spies who pleaded guilty in a federal court in New York have been flown out of the United States and are now headed for Russia.

The news in New York was followed by an announcement in Moscow that Russian President Dmitry Medvedev had pardoned four prisoners held for alleged contact with Western intelligence agencies, indicating that Moscow and Washington have most likely negotiated a prisoner-exchange deal.

The pleas were entered at a court hearing in Manhattan on July 8 that was attended by all 10 suspects, some of whom had been transferred from Virginia and Massachusetts for the proceeding.

An 11th defendant in the case is a fugitive who fled in Cyprus following his release on bail.

The defendants each announced a guilty plea to the charge of conspiracy to act as an unregistered agent of a foreign country. None pleaded guilty to the more serious charge of money laundering, with which several were also charged.

The exchange of spies would be the largest between the United States and Russia since the height of the Cold War.

Prisoner Exchange

The pleas capped a day of feverish speculation that a swap was in the works. Signs of a deal had been mounting following the FBI's arrest of the 10 suspects on June 27 in Virginia, New Jersey, and Massachusetts, where they are thought to have been leading seemingly normal lives for years as agents working under deep cover for Russia.

Several Russian news agencies have reported that imprisoned nuclear scientist Igor Sutyagin was flown from Moscow to Vienna as part of an anticipated exchange.

Earlier this week, Sutyagin was transferred from a remote penal colony near the Arctic Circle, where he was serving a 14-year sentence for spying for the United States, to Moscow's Lefortovo prison.

He told relatives that he was going to be one of 11 convicted spies in Russia who would be freed in exchange for the 11 suspects arrested by the United States.

In Moscow, Sutyagin's lawyer, Anna Stavitskaya, said a journalist called Sutyagin's family to inform them that he was seen walking off a plane in Vienna on July 8. But she said she was unable to confirm that claim.

After word of Sutyagin's move was reported, Russian Foreign Ministry spokesman Andrei Nesterenko refused to give any details on a possible spy swap. "I have no comments on this issue. The only comment we had was published on our website on June 29 and I have nothing else to say about this," he said.

'National Security' At Stake


Washington was equally tight-lipped.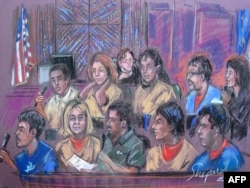 A courtroom drawing shows the 10 alleged spy suspects in a New York courtroom on July 8.
On July 7, William J. Burns, the under secretary of state for political affairs, met with the Russian ambassador to the United States, Sergei Kislyak, but State Department officials would only say it was "likely" the spy case came up.

U.S. Secretary of State Hillary Clinton on July 8 refused to comment on the case, saying, "I am going to refer all inquiry about this matter to the Justice Department."

U.S. Attorney General Eric Holder said on July 8 that the "extraordinary" case had taken years of work, "and the agreement we reached today [July 8] provides a successful resolution for the United States and its interests."

Saving The 'Reset'

The swap could end a potentially damaging chapter in U.S.-Russian relations, which seemed to hit a new high during a White House visit by President Dmitry Medvedev just one week before the arrests.

News agencies said that in addition to Sutyagin, double agents Alexander Zaporozhsky -- a former agent with Russia's Foreign Intelligence Service serving an 18-year sentence for espionage -- and Sergei Skripal, who was sentenced to 13 years in 2006 for spying for Britain, were pardoned along with another man, Gennadi Vasilenko.

Just before the pleas were entered, the human rights group Amnesty International issued a statement saying that any deal that requires Sutyagin to leave Russia involuntarily "will amount to forcible exile, which is prohibited under international law."

by Heather Maher with agencies