BARNAUL, Russia (RFE/RL) -- Dozens of workers at the Altay tractor assembly plant in south-central Russia held an unsanctioned protest on June 18 to demand their unpaid salaries, RFE/RL's Russian Service reports.
The plant, located in the town of Rubtsovsk near Barnaul, suspended its operations several months ago due to financial problems.
The workers blame the owner of the facility, RATM, for the poor situation facing the plant.
Local authorities promised that all overdue wages will be paid to workers on June 19, but some protesters told RFE/RL they doubt the promise will be fulfilled.
World Economic Crisis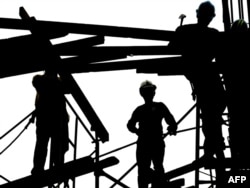 Multimedia coverage on the impact of the global financial crisis on markets and individuals across RFE/RL's broadcast region. More