No Solution Yet To Gas Crisis, Russian President Says; EU Dissatisfied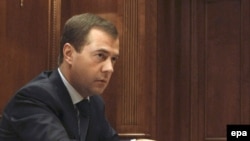 (RFE/RL) -- Speaking after an international gas-crisis conference in Moscow, Russian President Dmitry Medvedev indicated that no agreement has yet been reached, but said he would like to see Russian natural gas supplies resumed to Europe soon.
"I want this to happen as soon as possible, literally in the next few days," Medvedev told reporters after talks in the Kremlin.
"These negotiations will continue with the participation of Russia and Ukraine," he said, adding that the main result of the talks had been the chance to exchange views on the dispute.
But he accused Ukraine of dragging its feet in talks.
"I have felt that our Ukrainian colleagues are not in a rush to enter these negotiations," Medvedev was quoted by Interfax as saying. "But the longer we drag out talks, the more problems will build up in our relations."
Medvedev had called the emergency talks between Russian, Ukrainian, and European officials in hopes of ending an 11-day halt in gas deliveries through Ukrainian pipelines.
Ukrainian Prime Minister Yulia Tymoshenko traveled to Moscow for the meeting, and for one-on-one talks with Prime Minister Vladimir Putin -- the first high-level direct contact between the Russian and Ukrainian governments since the start of the crisis on January 1.
Putin and Tymoshenko were set to continue bilateral talks later in the day.
'Simply Unfair'
Putin's spokesman, Dmitry Peskov, said the European Union's position on the talks has not been helpful.
"They [European Union] are putting Moscow and Kyiv on the same ground...This is simply unfair and is not contributing to finding a solution," Peskov said.
In Brussels, European Commission energy spokesman Ferran Tarradellas Espuny responded by saying the EU's position was constructive and gas supplies to Europe should be restarted immediately.
"We were here to help the parties but not to mediate, because the agreement should be reached overall by Russia and Ukraine. They are the root of the problem and should be the ones that find a solution...We are victims of the situation," he told Reuters.
In a statement, the EU's Czech Presidency said it was not satisfied with the results of the talks.
"We expected both parties to announce that they had reached an agreement on the resumption of Russian gas supply to the EU via Ukraine," said Czech Industry and Trade Minister Martin Riman. "This was not the case."
But Riman said he still held out hope that the ongoing talks in Moscow would lead to an agreement.


'Need To Compromise'
Ahead of the conference, Tymoshenko also expressed confidence, saying there was "a need to compromise" in order to preserve friendly relations between Ukraine and Russia and "to uphold the reputation" of both countries.
Medvedev had promised to do everything to ensure the crisis is resolved at "maximum speed," saying he hoped the meeting would avoid casting blame and could bring about a "permanent international mechanism" that would prevent future gas cutoffs in Europe.
The European Union had called the talks "the last and best chance" to resolve the dispute. It could take up to three days for renewed gas transits to reach Europe.
The European Commission has urged Russia and Ukraine to prove they are reliable business partners. Commission spokesman Johannes Laitenberger made the call January 16 at a news briefing in Brussels.
"The [European] Commission believes that the meetings in the coming days offer the last and best chance for Russia and for Ukraine to demonstrate that they are serious about resolving this dispute," Laitenberger said. "The gas must flow. We will regard this period as a test case for judging whether or not they are credible partners."
'Groundless And Unfair'
There were divisions within Ukraine over whether to link the issue of renewing Russian gas supplies to Europe to finalizing the 2009 supply contract for Ukraine.
The office of Ukrainian President Viktor Yushchenko on January 16 said the two issues were "interlinked" and must be discussed as a "single package."
But Tymoshenko, his political rival, argued that such a link would be "groundless and unfair."
Russia ceased supplies of gas to Ukraine on January 1 after talks on the price Kyiv should pay in 2009 collapsed.
On January 7, it stopped deliveries to Europe via Ukraine, saying it was forced to do so because Kyiv was stealing the gas. Ukraine denies the allegation and accuses Russia of provoking the crisis.
More than 15 European nations have been affected by the crisis. Some Central and Eastern European states have been reduced to rationing gas. Others have been seeking alternatives to the pipelines carrying Russian gas via Ukraine.
With agency reports

A factbox on how gas gets to Europe from Russia and some of the new pipeline projects aimed at bringing more Russian gas to Europe and diversifying supplies. More