(RFE/RL) -- The European Parliament has awarded its annual Sakharov Prize for Freedom of Thought to Memorial, the prominent and embattled Russian human rights group.
European Parliament President Jerzy Buzek made the announcement at the assembly, based in the French city of Strasbourg.
"Following today's morning session, the prize committee of the European Parliament has chosen Memorial as the laureate of the 2009 Sakharov Prize, represented by Oleg Orlov, Sergei Kovalyov, and Lyudmila Alekseyeva."
He said the award also went to all other human rights defenders in Russia.
The prestigious prize is named for physicist Andrei Sakharov, a Soviet dissident who won the Nobel Peace Prize in 1957 and headed Memorial in the late 1980s. It is worth 50,000 euros and is considered the European Union's top rights award.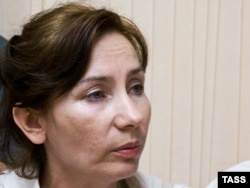 Natalya Estemirova
The laureates will receive the award on December 16 at a ceremony in Strasbourg.
"In fact, the prize is awarded not to us but, I think, to Memorial and to Russia's human rights movement," Memorial chief Oleg Orlov told RFE/RL's Russian Service. "In my opinion, this was the right way to formulate it, and this formulation deeply satisfies me."
He said he was "unfortunately not surprised" by the announcement, noting that the "tragic events endured by our colleagues in the North Caucasus and the situation of human rights activists in Russia in general" have attracted a lot of attention across Europe.
Orlov said the prize represents much-needed moral support at a difficult time for rights activists.
"Legal procedures often don't allow us to defend people whose rights are trampled, and we lose heart," Orlov says. "In that sense, this acknowledgment of our work, this solidarity with our work, helps our movement's members carry out their jobs."
On October 21, Sakharov's widow, rights activist Yelena Bonner, told RFE/RL that she personally opposes giving the prize to organizations, saying it should be used to recognize personal determination and courage.
"The prize has one more important meaning," Bonner said, "which is financial. That would be a great help for the winners and their relatives and children."
The award comes as Memorial is battling a libel lawsuit from Chechnya's powerful president,
Ramzan Kadyrov
.
A Russian court earlier this month ordered Memorial to retract Orlov's accusation that Kadyrov was responsible for the
murder of one of the group's activists in Chechnya
, Natalya Estemirova, who was abducted and killed in July.
The Moscow court ordered Orlov to pay Kadyrov 70,000 rubles -- some $2,400 -- in damages.
Memorial is appealing the decision.
The Kremlin-backed Kadyrov has won some praise for his efforts to rebuild Chechnya after two devastating wars between separatists and Russian forces.
But rights groups accuse Kadyrov and his feared militia, the Kadyrovtsy, of massive human rights abuses.