MOSCOW -- Two weeks ago, Veronika Narozhnaya worked as a secretary at a large Western accountancy firm. She had been employed by the company for more than a year, the work was stimulating, and her prospects looked rosy, she says.
Then everything changed.
"It was an ordinary working day," says Narozhnaya, a tall, cheerful 24 year old with a university degree in psychology. "As it came to an end, my boss came up to me and told me he had some 'not very pleasant news' to impart -- the same phrase Gogol used in one of his books. That was Thursday. I worked on Friday, and I was told that I didn't need to come into the office again on Monday."
Narozhnaya was given two months' wages as compensation, and she is currently looking for a new job. She says she is still startled when she remembers that she is unemployed. But for now, she says, she is optimistic.
"I don't know how it is for other people who are looking for work -- I can imagine that for some it must be really hard to find the same standard of employment, the same salary they are used to," she says. "But I hope that in my case it'll be easier, because there are still quite a few openings for secretaries, so I think I may still be able to find something."
Fewer Jobs, Less Pay
But the statistics speak for themselves. By the end of last year, unemployment had jumped by 500,000 and the official jobless rate now stands at almost 8 percent, or 5.8 million. That figure is expected to rise to around 7 million by the end of this year, according to Russia's Ministry for Health and Social Development.
If you look at opinion polls, about 80 percent of families don't have savings. And there are almost no mortgages...
In recent weeks, the government has been forced to pump billions of dollars into propping up the failing national currency. As the value of the ruble plummets, members of Russia's burgeoning middle class, whose salaries are frequently pegged to euros or dollars, are losing out.
Higher unemployment is a story that is playing out all over the world as countries grapple with the mounting economic crisis.
But the Russian economy is different from Western economies. Unlike the United States or Britain, where many people have been crippled by debt, some analysts say that Russians and the Russian economy could prove more resilient.
"Ordinary people don't have savings," says Yevgeny Gavrilenkov, chief economist with Moscow's Troika Dialog investment group. "If you look at opinion polls, about 80 percent of families don't have savings. And there are almost no mortgages -- mortgages are around 1.5 percent of GDP. So it's a more simple economy, in a sense, and it's an advantage in the current situation. It means we can recover more easily, and faster."
Cutting Back On Life's Luxuries
Aidina Murataliyeva hopes that will be the case. The 30-year-old Muscovite lost her job as a recruitment consultant at the end of October and hasn't found work since then.
"I'm still looking, and I'm now in search of jobs that aren't really in my line of work. I'm looking in completely different areas," says Murataliyeva, the mother of 8-year-old twins. "But finding work is so difficult at the moment, because of the competition. I read that one employer was looking for two accountants for her firm. And if before she would get about 20 applicants a week, this week she's had over 1,000."
Murataliyeva considers herself one of the more fortunate members of the recently unemployed, because she hasn't taken out credit, like many middle-class Russians in recent years. She also doesn't have to pay rent, because she lives with her parents. Her children, a boy and a girl, attend public school, where fees are minimal.
But she has still taken steps to rein in the family's spending, shopping at discount supermarkets and cutting back on everything but the essentials.
They still spend money on small luxuries like books and Internet films, but bigger indulgences, like holidays abroad, have become impossible. This, says Muratliyeva, is her family's greatest loss.
"Thank goodness we were able to travel when we could. The children got to have proper holidays and I was able to spend some time in Europe," she says. "I suppose we got used to that -- it became a part of our lives, that we could spend our holidays not just in Moscow, but abroad, too, in lots of different, interesting places. For me, that's the saddest of all."
And for 24-year-old Narozhnaya, losing her job has meant putting a long-awaited project on hold.
"At the moment, my biggest expense is the redecorating I've finally got around to doing at home, because of a happy event that's coming up soon in my life," says Narozhnaya, who is getting married next month. "Sadly, it's come at just the wrong moment. But somehow we will manage, I'm sure."
World Economic Crisis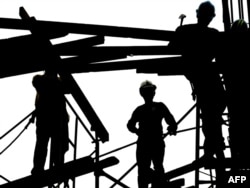 Multimedia coverage on the impact of the global financial crisis on markets and individuals across RFE/RL's broadcast region. More