MOSCOW -- "Exams Are Over, The Problem Remains."
That was the message as a dozen teachers and high-school students braved cold, wet weather to gather in central Moscow last week to protest a recent initiative by Russian education officials.
The source of their discontent is the Unified State Exam, or yediny gosudarstvenny ekzamen (EGE), a new standardized test introduced in Russia for the first time this year.
Critics say the EGE is a poor measure of academic aptitude, and is already having a detrimental effect on learning in schools.
"Study in 11th class in any Russian school has become a mass preparation for the EGE," said Ilya, a high school history teacher who was leading last week's protests. "There is no education in 11th class anymore. All that the students think about is how they have to take the EGE. And all the teachers think about is how to ensure that the school gets good results."
The test, which is administered to students before they can graduate from high school, also ostensibly aids their placement in higher education institutes -- much like the SAT, formerly known as the Scholastic Aptitude Test, in the United States.
Pros And Cons
Defenders of standardized testing say the process helps gauge intellectual aptitude in an unbiased, consistent manner, and can help universities fairly compare students from across the country, or across the world.
This kind of 'advance' means that within another 10 years there will be nothing left of Russian schools.
But critics of the SAT and other standardized tests say they discount imagination, creativity, and other qualities of well-rounded students, and may be biased in favor of students who are not necessarily smarter, but more comfortable with empirical testing methods.
Echoes of that same criticism can be heard now in Moscow, where many people -- not only students -- have expressed misgivings about the new system.
"This testing is a very simplistic way of testing knowledge, and it does not reflect the completeness, the range, of knowledge and how it should be tested," said Sergei Komkov, who heads the Russian Educational Fund nongovernmental organization and who has, so far unsuccessfully, challenged the legality of the EGEs in court. "This kind of 'advance' means that within another 10 years there will be nothing left of Russian schools."
The Unified State Exam is mainly composed of multiple-choice questions, and replaces the old Soviet screening system for high-school graduates, which comprised a mix of school grades, written university entry exams, and oral exams prized as a particularly effective way of identifying talented students.
Rampant Corruption
The Russian Education Ministry says it is introducing the EGE as part of its obligations as a member of the Council of Europe under the Bologna convention on higher education.
But standardized tests are also seen as a way to fight the rampant corruption and grade-buying that is seen as endemic in Russian high schools and higher education.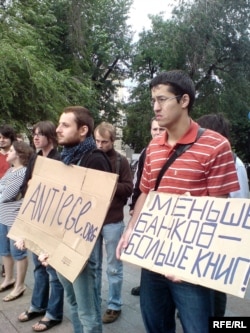 A placard advertises the website of the anti-EGE student movement. The other poster says, "Fewer Banks, More Books."
The EGEs are graded electronically, by computer. And as a ministry official quipped while visiting a school during testing, no one is bringing teachers flowers on exam day any more.
A report this month by the UN cultural agency UNESCO suggested that bribery in Russian education systems is worth $150 million a year.
Some experts suggest that as many as half of all students customarily give bribes to ensure good grades and good university placement.
But despite the notion that the EGEs would help combat corruption, there have already been numerous reports of cheating.
Moscow teachers allegedly allowed the use of mobile phones in classrooms during the exams, and suspiciously high scores were recorded in some North Caucasus republics during rehearsal exams last year.
A number of websites have already appeared offering the answers for the tests, although education officials say the sites are fake.
Cart Before The Horse
The exams, which spent more than five years in development, are seen as a first step in much-needed educational reform in Russia.
But history teacher Ilya says changing the tests before changing the curriculum is putting the cart before the horse.
One of the arguments, he said, was that it would help form a single standard for school education. "But it's obvious that in order to achieve a single education standard, you don't start by introducing exams where everyone has to try and find their bearings. You give teachers a normal, easily defined curriculum. That curriculum does not exist," he said.
The tests have also been harshly criticized for their poorly written questions.
Anna Florinskaya, a final-year student in a Moscow school said preparation for the exams had been chaotic, with a dearth of proper training material.
"There are questions which aren't thought through. For example there was a question about literature: what color eyes does Anna Karenina have?" she said, "My tutor, a literature teacher, deliberately reread the work because of this question. It doesn't say anywhere what color her eyes are."
In fact, a line in Part 1, Chapter 18 of Lev Tolstoy's epic novel refers to Anna Karenina's "shining grey eyes, that looked dark from the thick lashes." Whether such a detail is the finest measure of a student's worth, however, is subject to debate.
RFE/RL's Russian Service contributed to this report