When Russian Prime Minister Vladimir Putin lands in Austria for an official visit this weekend, he will have two things on his mind -- natural gas and judo.
After visiting the European Judo Championships in Vienna, Putin's working lunch on April 24 with Austrian Chancellor Werner Faymann is expected to put a key piece in place for the construction of the South Stream pipeline.
By signing an agreement, the two heads of government could help realize a rival to the EU- and U.S.-backed Nabucco project, which is intended to make Europe more independent of Russian gas.
The South Stream project is a joint venture of Russia's Gazprom and Italy's Eni, in which France's EDF electricity utility is to acquire a 10-20 percent stake. South Stream would connect Russia and Bulgaria via a 900-kilometer pipeline under the Black Sea, carrying a projected 63 billion cubic meters of gas to the European Union.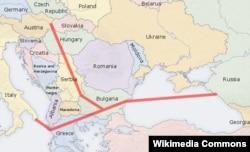 Proposed route of Russia's South Stream gas pipeline
Transit countries Serbia, Hungary, Slovenia, Bulgaria, Greece, Italy, and Croatia have already signed on to the deal, making Austria the missing link. With the addition of Austria's Baumgarten, a small subdivision of the municipality of Weiden an der March, as a terminal gas hub for distribution, construction could presumably start.
Clash Of Interests
Gerhard Mangott, a professor of political science at University of Innsbruck who specializes in post-Soviet affairs and energy policy, says that the issue has been the center of some debate in Austria.
On the one hand, he says, the Austrian oil and gas group OMV -- in which the Austrian state holds a 32 percent stake and Gazprom 3 percent-- is a leading member of the Nabucco consortium. On the other, EU member Austria is preparing to sign on to a rival project.
"The agreement creates the legal framework; there will be joint ventures in all transit states between Gazprom and national energy companies to oversee construction and operative control of the respective pipeline sections," Mangott says. "But this does not necessarily mean that the investment decision will be made for sure."
One of the main problems facing the realization of South Stream is its cost, with minimum estimates of $25 billion euros (around $33 billion).
Ukraine Factor
Another crucial factor is the improved relations between Russia and Ukraine. The breakdown of the relationship between those two countries, highlighted by the cutoff of gas supplies to Europe in January 2009, was one of the primary reasons the South Stream pipeline bypassing Ukraine was envisioned.
With the recent election of Ukrainian President Viktor Yanukovych, bilateral relations have significantly improved.
On April 21, Ukraine agreed to a lengthy extension for the Russian Black Sea Fleet's base in Crimea in exchange for a major discount on Kyiv's imports of Russian gas.
On April 22, Russian Energy Minister Sergei Shmatko announced that the two countries would intensify cooperation to modernize Ukraine's gas-transmission network.
Both sides of the two rivaling projects Nabucco and South Stream affirm they are on schedule, and 2010 might be a crucial year for final investment decisions.
Political Judo
Beside energy policy, Putin and Faymann will discuss other fields of economic cooperation, according to the Austrian newspaper "Die Presse."
Russia reportedly plans to expand its wide-gauge railway network to Central Europe, with Bratislava and Vienna as possible destinations. Moreover, Austrian construction companies such as Strabag -- in which Russian oligarch Oleg Deripaska held a 25 percent stake until 2009 -- are seeking construction contracts for the Winter Olympic Games in Sochi 2014.
Earlier this week Austrian media reported that Russian Energy Minister Shmatko, Education Minister Andrei Fursenko, and Gazprom CEO Aleksei Miller will also be part of the Russian delegation.
Putin is also expected to meet with Austrian President Heinz Fischer. When asked whether Putin's visit could influence Austria's presidential election slated for April 25, Mangott says there would be virtually "zero" impact.
Organizers of the European Judo Championships, however, expect a boost to ticket sales due to their "star guest." Putin --a black-belted and passionate judoka -- is honorary president of the European Judo Union and good friends with Marius Vizer, the Romanian-born Austrian president of the World Judo Federation.
On April 25, Putin is expected to lay a wreath at the Red Army Memorial in Vienna before heading to Italy where he will meet with his counterpart Silvio Berlusconi.