MOSCOW -- As tanks and missile launchers drive through Red Square during the massive parade celebrating the victory over Nazi Germany this weekend, visitors will also be reminded of an earlier celebration, held 65 years ago.
The voice of Soviet Marshal Georgy Zhukov, the man who led Red Army troops to hard-fought victory in the war, will boom out in the State Historical Museum, based at the northern end of the square. Zhukov, who had formally accepted the German surrender to the Soviet Union, spoke at the first Victory Day parade held on June 24, 1945 -- just over a month after the war's end in Europe on May 9.
The parade, which Zhukov famously entered on a white stallion, was a grand affair for a nation still reeling from the most devastating conflict in its history.
Veteran Boris Utkin, whose interview is among the many relics of the war on offer at the State Historical Museum, said the mood on the morning of June 24 was triumphant in spite of a heavy rain.
"Our column stood first," Utkin said. "It stood with its back to the History Museum. We went past the mausoleum first. Our uniforms were wet all the way through, but the day was bright. You can only imagine -- it was a bright, dazzling day."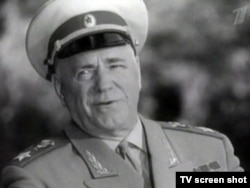 Marshal Georgy Zhukov
Moscow authorities have announced plans to seed clouds this weekend to ensure that no rain disturbs the May 9 celebration of the 65th anniversary of the war's end in Europe. World War II -- or the Great Patriotic War, as it is known in Russia -- killed up to 24 million Soviet citizens, leaving virtually no family untouched.
No Family Untouched
The day remains one of the few holidays that unites most Russians. Seventy-three percent of Russians say they will watch the parade this year, which is set to be one of the biggest displays of military might and organizational stagecraft the country has yet seen. Air-defense systems, helicopters, and intercontinental ballistic missiles will all be on show, as will more than 10,000 Russian soldiers and -- for the first time -- troops from wartime allies the United States, France, Britain, and Poland.
But as the country prepares to honor its elderly veterans, it has also set its sights on its younger generations -- the teenagers and young people for whom the war and its significance are an increasingly abstract concept.
Many young people could be see taking photographs of armored vehicles and other defense equipment during parade rehearsals this month. But a recent survey by the VTsIOM state-controlled Russian polling agency shows that although many young people are proud of their country's history, they come up short when asked about the details.
Russian fighter jets fly in tight formation -- spelling out "65" -- during rehearsals for the May 9 commemorations.
Only 22 percent correctly identified 1939 as the first year of World War II, and some named Poland, Ukraine, and the Austro-Hungarian Empire -- which collapsed in 1918 -- as opponents in the war. Only 31 percent could name Zhukov as one of the army commanders.
But while some youth can be accused of general ignorance of World War II, others have been seduced by far-right propaganda that was considered deeply offensive in the decades following the war but which has found fresh advocates in younger Russians like Maksim, a member of an antifascist youth movement, who refused to give his last name.
"People who have grown up with the conditions we have in contemporary schools -- my generation, the people I grew up with -- I've seen how the majority of them throw their arms up in Nazi salutes when they go to a football match," Maksim says.
Educate Young People
Hoping to counter such trends, the government has made a number of attempts to educate young people about the war. Patriotic ringtones are
available for download
and the YouTube video-sharing site is featuring a
special Mosfilm package of famous Soviet movies
about the war.
A series of videos about Victory Day have also aired on Russian television. In one, a young boy is shown stealing his grandfather's war medal to sell so he can buy a new bike. When the medal is stolen from him, he turns into a soldier himself, hunting down the thieves and eventually taking the medal back to his grandfather's uniform in the family apartment.
The story unfolds
over the background of a rap song dedicated to Victory Day:
"She will wait for me and I will return. She will wait for me and I will return. I am not afraid of battle. You gave birth to a son. Thank you, Mother. Thank you, Moscow. What snow, what clear ice, what a place where every sound can be heard. And I have never seen such a sky. Our victory awaits us."


In an interview with the "Izvestia" newspaper, Russian President Dmitry Medvedev talks about the importance of formulating "what our children will think, our grandchildren, what they will know about the war and what lessons they will take from the war." Medvedev recalled his own memories as a 10-year-old taking in Victory Day commemorations in 1975.
"The veterans were so happy, all in their medals. Music played; they hugged," he said. "I will always remember it."
The Kremlin-backed youth group Nashi has launched a project of its own, interviewing surviving veterans. Nashi member Marina Zademidkova says it is an attempt to preserve the memory of those who fought in the war and to counter claims by those who see the war differently than Russia.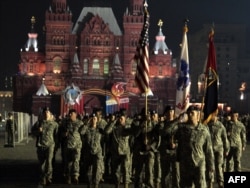 U.S. soldiers march during a Victory Day parade rehearsal on Red Square in Moscow.
"The project is to preserve the memory of the veterans, because there are fewer and fewer left. Every day, about 50 of them die; there are only about 130,000 left," Zademidkova says. "We want to preserve the memory of every veteran for future generations, in order to stop the distortion of history that happens in the countries of the CIS, so that there is something to contradict them -- facts about the war from firsthand accounts."
Letters To Veterans
Not everyone, however, adds a political subtext to their efforts to revive interest in the war and the people who fought it. Sergei Kazarnovsky, the director of a Moscow theater school, this year asked his young pupils to write open letters to veterans.
"Dear veteran, I understand that you think that we don't remember you and that we're even trying to forget. But it's not only your wartime friends that remember you -- the entire country does. The dates 1939-45 will remain in the minds of everyone."
In another letter to a veteran from Kazarnovsky's school, a child struggles to understand wartime sacrifice.
"Dear venerable veterans, You did such a heroic deed that, well, there are no words to describe it. Hercules' labors are a trifle in comparison. But to defend the country, the Motherland, Russia, that...well, I have no words. I am so flabbergasted."
Some antifascist youth movements are planning to hold a concert for Victory Day, with all the proceeds going to veterans. They will also lay a wreath at the Tomb of the Unknown Soldier. Maksim says similar plans last year almost went awry when police stopped them. But eventually, they reached a truce.
"They surrounded us in a circle and started to say that it was a provocation," Maksim remembers. "Until a sensible old tipsy police general, around 60 years old, appeared. A typical police general. It seems something human appeared in him, the same values that he was brought up with, and he started to swear at his colleagues, saying, 'What are you doing? These kids have come with a wreath to the Tomb of the Unknown Soldier and you want to detain them like extremists.'
"In the end, they gave us an honor guard. True, they cleared away everyone else who was there and let us go up to the monument and lay the wreath."
RFE/RL's Russian Service contributed to this report