Facing mounting criticism over a hoax television broadcast claiming a Russian invasion, Georgian President Mikheil Saakashvili has climbed down from his initial defense of the report.
Saakashvili was first defiant, saying on March 14 that the broadcast reflects a true threat emanating from Moscow. But a day later he called it "harmful to our society."
The report, aired on the staunchly pro-government Imedi channel on March 13, said Russian tanks had crossed into Georgia and were headed for Tbilisi. It also said Saakashvili had been killed and that some opposition leaders -- including former parliamentary speaker Nino Burjanadze and former Prime Minister Zurab Noghaideli -- had betrayed their country and sided with Moscow.
The report caused widespread panic in Georgia, still jittery less than two years after Russian forces staged a real invasion of their country in August 2008. Cell-phone signals were overloaded as nervous residents attempted to reach family, and emergency services reported a rise in heart attacks.
WATCH: A YouTube post of the introduction to the Imedi report, in which the moderator urges viewers: "Let's watch this edition of 'Chronika' about a worst-case scenario for the future, and then we'll return to you with a discussion." (Translation by RFE/RL's Georgian Service)
Sensing the public anger, most Georgian government officials have sharply criticized the Imedi program.
Speaking to local residents in Georgia's Bolnisi region on March 14, Saakashvili was mild in his assessment. He said the program "should have been done differently." But he also appeared to defend it, saying its content, regardless of whether it was real or not, reflected Russia's true intentions.
"But the main unpleasant thing in yesterday's report -- and I want everyone to realize it -- was that it was very close to the real situation, close to what can really happen, or to what our enemies have in their minds and heads," Saakashvili said.
Saakashvili also condemned Burjanadze and Noghaideli -- both of whom had visited Moscow recently and have called for better relations with Russia -- for associating with people who "have the blood of Georgians on their hands."
But on March 15, Saakashvili backtracked. In a written statement posted on the president's website, he said despite Moscow's "aggressive plans against Georgia, the condition of our state institutions, the level of consolidation within our society, and the attitude of the international [community], all make the plans of these occupying forces impossible to realize."
In his statement, Saakashvili also called for higher journalistic standards to prevent such incidents in the future.
Political Cauldron
The report and Saakashvili's erratic response to it have raised questions about how much the president, or members of his inner circle, knew about it in advance.
Those suspicions picked up steam when an audio recording of a telephone conversation allegedly between Imedi's director Giorgi Arveladze and Eka Tsamalashvili, a producer at the station and a former correspondent for RFE/RL's Georgian Service, began circulating on the Internet.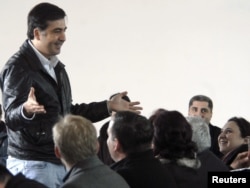 President Mikheil Saakashvili meets with residents outside the capital on March 14.
In the recording, whose authenticity could not be independently verified, Arveladze suggests Saakashvili himself ordered the broadcast and wanted it to look as much as possible like a real news program.
Georgian media quoted Arveladze as saying that the audio recording was fabricated by the Russian security services.
Privately run Imedi is widely believed to have close ties to Saakashvili's government. Formerly an opposition television station, Imedi was raided by police during antigovernment protests in November 2007 and later sold off to private investors under murky circumstances. Its ownership structure remains opaque, but the station is run by Arveladze, a close Saakashvili ally who once served as his chief of staff.
The report comes amid a tense political atmosphere in the volatile South Caucasus nation. In May, the country will hold local elections that are widely seen as a dress rehearsal for the 2013 presidential vote that will determine a successor to Saakashvili, who is constitutionally barred from seeking a third term.
Opposition figures have accused the ruling elite of trying to create an atmosphere of fear so that Saakashvili can more easily engineer an electoral triumph for a handpicked successor.
"There is no question that this is another incident that raises the political temperature in Georgia," says Lawrence Sheets, director of the International Crisis Group's Tbilisi office. "The opposition is accusing the government of being behind this fake broadcast that scared the daylights out of a lot of people. The government is saying it has nothing to do with it and that it should have been done in a different way, but then claims that the actual content [of the program] could actually happen in a worst-case scenario."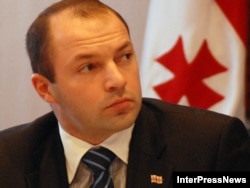 Giorgi Arveladze
The report was immediately condemned in all quarters of Georgia's fractious opposition, as well as by the Russian Foreign Ministry.
Shock At Home And Abroad
The United States, European Union, and Georgia's influential Orthodox Church have also joined in the chorus of criticism.
In a televised appearance, U.S. Ambassador John Bass called the report "irresponsible," adding that it does nothing "to help Georgia address real problems and threats to security it faces."
Peter Semneby, the EU's special envoy to the South Caucasus, said the hoax did little to help stability in the region. Speaking to Reuters, he said the fake program "seems to have created further internal political division. It may even have been intended to do so."
Georgian Patriarch Ilia II called the broadcast an "abomination" and "an insult" to the Georgian people.
Patriarch Ilia is widely revered in Georgia and has criticized Saakashvili in the past. Sheets says the harshness of criticism, delivered in his March 14 sermon at Tbilisi's Holy Trinity Cathedral, could resonate widely.
"I would call your attention to the very serious tone that was used by Georgia's patriarch in condemning this broadcast," says Sheets.
Imedi head Arveladze apologized for causing a "shock" with the broadcast, adding that the station's management discussed running a warning caption on the screen throughout the program. He said they opted to simply air a warning at the beginning and end of the report. (The Georgian news announcer opening the program describes it simply as a "special, simulated" edition of Imedi's information program "Chronika.")
But like Saakashvili, Arveladze also defended the broadcast, saying that its goal was "to lay out the plan prepared in Moscow, with all of its painful details." He then appeared to blame viewers for not correctly understanding Imedi's goals, saying "it was a miscalculation to think society would have perceived the broadcast adequately."
Despite Saakashvili's initial defiance, the broadcast appears to have also opened up divisions within Georgia's ruling clique. Unlike the president, parliamentary speaker David Bakradze -- a close Saakashvili ally -- was unequivocal in condemning Imedi.
"It is impermissible to produce [programs] with such a form and content that scare and shock people," said Bakradze. "It is impermissible to produce [programs] with such form and content that would scare off investors, who are needed to secure jobs for our citizens."
RFE/RL's Georgian Service contributed to this report