Scores of people were reportedly killed in northern Afghanistan's Konduz Province when NATO aircraft targeted two fuel trucks that had been hijacked by the Taliban.
Some Afghan officials said the blasts came as the trucks were delivering fuel to a crowd of villagers. But Afghan and Western security officials are now saying the most of those killed were Taliban fighters, including a senior commander.
According to RFE/RL's Radio Free Afghanistan correspondent in Konduz, Noor Mohammad Sahim, the strike at around 2 a.m. in the village of Haji Aman in the Char Dara district caused the tankers to explode, killing 90 people.
Konduz Province Governor Mohammad Omar told RFE/RL that half of those killed were Taliban fighters, while the rest were civilians who had gathered around the tankers to collect fuel.
In Brussels, NATO Secretary-General Anders Fogh Rasmussen told journalists that the alliance was investigating the reports of civilian casualties.
Questions Of Civilian Casualties
"There was an ISAF air strike against the Taliban during the night. Certainly, a number of Taliban [members] were killed," Rasmussen said. "There is also a possibility of civilian casualties as well, but it is not yet clear."
Rasmussen said that an investigation team led by an admiral from the headquarters of the NATO-led International Security Assistance Force (ISAF) had already been to the scene of the incident, and U.S. and NATO commander General Stanley McChrystal "has already spoken" to Afghan President Hamid Karzai "to express his commitment to get to the bottom of what happened as soon as possible."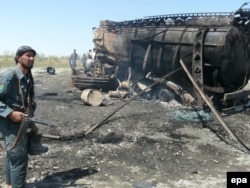 Police inspect the burnt oil tankers.
Rasmussen added, "The Afghan people should know that we are deeply committed to protecting them and that we will fully and immediately investigate this incident."
Radio Free Afghanistan's correspondent, who visited the main hospital in Konduz early on September 4, said that many of the injured there appeared to be civilians who claimed to be collecting oil from the tankers when the blast occurred. The blast apparently burned many to death.
Konduz police chief Mohammad Razzaq Yaqubi told RFE/RL that the tankers were hijacked on the evening of September 3 while transporting fuel from the Sher Khan river port on Tajikistan's border to Kabul.
Yaqubi claimed that insurgents killed the drivers of both vehicles and were taking them to an unknown location, but got stuck in river in a forested area away from nearby villages. Both tankers were then targeted in an NATO air strike as the Taliban had brought tractors to extract them and were also trying to remove fuel from them.
Yaqubi said the air strike killed 56 fighters and injured 12 who are in their 20s, which indicates that they were fighters.
"They were all people associated with the Taliban," he said. "There were no elderly or children there. This was not an attack on civilian quarters. This is a forest and these people had gathered around the fuel tankers when it was attacked and they were eliminated."
In Kabul, Interior Ministry spokesman Zmaray Bashari told RFE/RL that they were investigating the incident and particularly focusing on determining whether civilians were killed.
"The question we have is that where the attack happened, it is a river bank in the forest," Bashari said. "So what were civilians doing there after half-past two in the night?"
President Karzai's office gave a death toll of 90 and said an investigation team had gone to the scene. "No civilians must be harmed during military operations," Karzai said in a statement. "Targeting civilians under no circumstances is acceptable."
Northern Supply Route
This latest incident highlights the growing insecurity in parts of northern Afghanistan, particularly in strategically significant Konduz Province on Tajikistan's border. Once a Taliban stronghold in the late 1990s, the region had been relatively peaceful until the beginning of this year.
Experts suggest that the "national caveat" or combat restrictions placed by Germany on its peacekeepers in the region and the Taliban's effort to expand its insurgency into Konduz has worsened security.
According to the AFP news agency, the German Army said that the air strike killed 50 insurgents and that there were no civilian casualties.
The growing insecurity in Afghanistan's southern and eastern Pashtun-populated regions has forced NATO to negotiate alternative supply routes through Konduz. And, experts suggest, Taliban activities in the region are now targeting these routes.
"The powerful [anti-Taliban] Northern Alliance, also known as the United Front, was alienated from the system and they didn't care about the threats to the new [political] system," Konduz Governor Omar told journalists on September 3.
"When our [Amu Darya River] port [on the Tajik border] was declared a NATO supply route, it was another reason for the Taliban's expansion in this region."
Omar added that because of a lack of resources, "the police have not been seen in many parts of Konduz for months. This gives an opportunity to our enemies to recuperate and operate in those areas."
The government's inability to properly prosecute insurgents and mushrooming unemployment in the region were helping the Taliban, Omar concluded.
In July, German and Afghan troops launched a joint offensive in the area, which Afghan officials said in part was intended to stop Islamic Movement of Uzbekistan (IMU) fighters fleeing the ongoing Pakistani military offensive along the Afghan-Pakistani border.
While growing insecurity in Konduz could have grave repercussions for Afghanistan, it has also worried officials in Tajikistan and other Central Asian states, who fear the possibility of a Taliban-like insurgency in their countries.
If large-scale civilian deaths are confirmed in Konduz, this incident could reignite local anger against foreign troops, just two months after the new U.S. and NATO commander in the country, General McChrystal, announced measures to reduce civilian casualties, which he said were undermining the war effort.