KARACHI (Reuters) -- Pakistani lawyers and opposition activists have launched a crosscountry protest, heading for a showdown with the civilian government, which has banned rallies and detained hundreds of activists.
The so-called long march to press for an independent judiciary could destabilize the year-old government of President Asif Ali Zardari at a time when key U.S. ally Pakistan faces severe problems from Islamist militants and a sinking economy.
Nuclear-armed Pakistan is vital to U.S. efforts to stabilize neighboring Afghanistan and defeat Al-Qaeda. The United States wants to see it focus on fighting militancy rather than getting diverted by political turmoil.
In Karachi, the capital of Sindh Province, paramilitary soldiers and police ringed the High Court where lawyers were assembling, stopping their cars and buses from approaching.
Instead, several hundred black-suited lawyers streamed out of the building on foot, where they joined political activists carrying party flags and chanting antigovernment slogans.
"We've started the march to achieve our goal," Munir A. Malik, a former president of the Supreme Court bar association and a protest organizer, told Reuters.
The government launched a crackdown on March 11, banning protests and detaining at least 300 political activists.
Despite that, the protesters hope to converge on Islamabad on March 16 to demand the reinstatement of former Supreme Court chief justice Iftikhar Chaudhry, dismissed by former president and army chief Pervez Musharraf in 2007.
The protesters plan a sit-in outside parliament, although the government has said the rally will not be allowed in the city center.
"They'll try to stop us, but you'll see lawyers, political workers, and members of civil society will get to Islamabad and stage a sit-in," Malik said.
Worry About Violence
Earlier, about 100 members of the Islamist Jamaat-e-Islami party allied with the lawyers scuffled with police who stopped them entering Karachi's High Court. Police detained about a dozen protesters, a witness said.
Lawyers were also gathering in Quetta, capital of Baluchistan province, a witness said. They aim to join up with the Karachi lawyers and head to Islamabad, gathering strength on the way.
Zardari has refused to reinstate Chaudhry. Analysts say he fears the judge could nullify an amnesty Musharraf granted Zardari and his late wife, Benazir Bhutto.
His main rival, opposition leader and former prime minister Nawaz Sharif, has thrown his weight behind the lawyers, putting him into open confrontation with Zardari.
Sharif, who is also infuriated by a Supreme Court ruling which barred him and his brother from office, and which he blamed on Zardari, called the protest a defining moment for Pakistan.
The government has threatened to prosecute Sharif for sedition if violence erupts during the long march.
If the crisis becomes acute, the military, which has ruled for more than half the country's 61 years of history, could feel forced to step in.
Top U.S. and British diplomats have been meeting all sides in recent days in an effort to work out a compromise.
"Our biggest concern, of course, is that the situation become violent and then start to spiral downward," said a U.S. official in Washington who declined to be identified.
The United States called for restraint and urged all sides to avoid violence, a U.S. Embassy spokesman said.
Worry about political turmoil has weighed on financial markets but the the main stock index opened higher in thin trade on hope for an interest rate cut. The rupee was flat, dealers said.
"Investors have a better-safe-than-sorry attitude and are staying away," said Asad Iqbal of Ismail Iqbal Securities Ltd.
Journalists In Trouble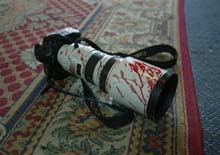 RFE/RL journalists take risks, face threats, and make sacrifices every day in an effort to gather the news. Our new "Journalists In Trouble" web page recognizes their courage and conviction, and documents the high price that many have paid simply for doing their jobs. More