The U.S. Senate Foreign Relations Committee has postponed a vote on President Barack Obama's controversial pick for U.S. ambassador to Azerbaijan.
At an August 3 hearing, committee Chairman John Kerry (Democrat, Massachusetts) announced that, at the request of fellow committee member Barbara Boxer (Democrat, California), a vote on the nomination of Matthew Bryza would be postponed until after Congress's summer recess, which begins August 9.
Bryza was appointed deputy assistant secretary of state for European and Eurasian Affairs by former President George W. Bush and is a former U.S. co-chair of the Minsk Group, which seeks to broker a settlement to the dispute between Armenia and Azerbaijan over the breakaway Azerbaijani region of Nagorno-Karabakh.
Record Questioned
The postponement of the vote on his nomination as ambassador to Azerbaijan followed a July 22 confirmation hearing by the same Senate committee, in which Bryza faced tough questions on his diplomatic record -- including concerns that in the past, he has not held Azerbaijan adequately responsible for its role in the continuing tensions with Armenia.
At the hearing, Senator Boxer, who represents California -- the U.S. state with the largest Armenian-American constituency -- said she hoped to "clear the air" on Bryza's record.
She questioned Bryza on why he had not explicitly condemned Azerbaijan for its role in a June firefight near Nagorno-Karabakh that left one Azerbaijani and four Armenian soldiers dead.
At the time, Armenian and Karabakh officials described as an act of Azerbaijani aggression, while Azerbaijan said the incident was consequence of Armenia's failure to withdraw from its territory.
At the hearing, Bryza referred to an OSCE statement condemning the violence and said, "There is no military solution to the conflict in Nagorno-Karabakh."
"I agree with you, but that's why I was looking for a more forceful answer in terms of the condemnation of Azerbaijan," Boxer replied.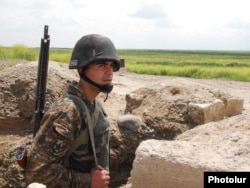 An Armenian soldier stands at a frontline position east of Karabakh.
Boxer, along with Senators Robert Menendez (Democrat, New Jersey) and Jeanne Shaheen (Democrat, New Hampshire) also pressed Bryza on several other matters from his State Department diplomatic record.
They included a quote attributed to him saying, "Armenia must agree that Nagorno-Karabakh is legally part of Azerbaijan;" a delay of three months before he condemned Azerbaijani desecration of Armenian gravesites; and the use of only a quarter of the $8 million Congress provided in 2009 for assistance to Nagorno-Karabakh.
In response, Bryza said his words had been incorrectly translated from Russian and said he needed to verify the circumstances surrounding the destruction of the Armenian graves before commenting.
At Boxer's request, Bryza also consented to provide a "detailed accounting" of all U.S. assistance to Nagorno-Karabakh before his confirmation moved forward.
Concerns also emerged at the hearing regarding potential conflicts of interest, as the senators questioned Bryza's personal ties to members of the government in Baku. The issue of Bryza's wife also came up; Turkish-born Zeyno Baran works at a conservative Washington think tank that receives funding from energy giant ExxonMobil. As ambassador to Azerbaijan, Bryza would play a key role in the region's delicate energy politics.
"Being criticized or being thought of as being closer to one side or the other is part of the game, and I have to just remain always objective and deliver the tough messages when necessary," Bryza said.
The Next Step
When Bryza's nomination for the post of U.S. ambassador to Baku was announced in late May, it was praised by Azerbaijani groups, but provoked an angry response from the Armenian diaspora in the United States.
Ahead of the Foreign Relation Committee's August 3 meeting, the Armenian National Committee of America, an influential lobbying group for Armenian interests, issued the latest in a series of letters to senators urging scrutiny of the "flawed nomination."
Aram Hamparian, the group's executive director, welcomed the decision to postpone the vote.
"The postponement allows not only senators, but also concerned citizens, a chance to look into this matter more deeply -- to review the nominee's responses, but also to follow up on those responses and make sure that the nominee that gets sent to Baku is the best representative of American interests and values in the world," he said.
In an e-mailed comment, a spokesman for the Senate Foreign Relations Committee said it was "not unusual" for a senator to put a hold on a nominee. He added that "most holds are eventually overcome."
Nevertheless, the postponement of the vote leaves the door open for a possible rejection of Bryza's candidacy.
Lincoln Mitchell, an expert on the South Caucasus at Columbia University said it was notable that Democratic senators -- members of Obama's own party -- are leading the resistance.
"It's not a high-enough-profile position -- it's not like you're rejecting a secretary of state or something -- so, it doesn't become a major political story. It becomes a minor political story," he said. "I have no reason to think that this is something for which the Obama administration is really going to go to the mat. If it becomes clear that this is a fight within their own party, [then] they're not going to have it."