Serbian President Boris Tadic is visiting Croatia on a trip designed to help heal the wounds that still exist from Croatia's war of independence from Yugoslavia.
Accompanied by Croatian President Ivo Josipovic, Tadic bowed his head before a memorial to Croats massacred by Serbs in a notorious 1991 atrocity at Ovcara in the east of the country. It was a significant moment for both countries.
About 260 non-Serbs seized from a hospital in the nearby city of Vukovar were killed and buried in a mass grave. The atrocity took place after ethnic Serbian forces captured Vukovar in November 1991, following a three-month siege during the war for Croatian independence from then-Yugoslavia. The massacre is considered one of the most brutal acts of the war.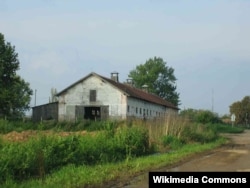 This storage and cattle barn was used by Serbian forces in Ovcara as a temporary camp for 3,000 to 4,000 prisoners.
This is the first visit to the site by a Serbian leader.
In remarks at the Ovcara memorial, where he laid a wreath carrying the words "to the innocent victims," Tadic said he had come to pay respects to the victims and to "express words of apology and regret."
He said that in doing so, possibilities for forgiveness and reconciliation are created.
"I am here to pay respect to the victims, to say the words of apology, to show regret and create a possibility for Serbia and Croatia to turn a new page in our history," he said.
Josipovic, for his part, said he and Tadic had come because they were aware of their responsibilities for the future of their countries, and to show that a different kind of politics -- "the politics of peace and friendship" -- was possible.
"Ovcara is a place of pain. Ovcara is a place of suffering of people who were victims of mindless policies," Josipovic said. "We are here to pay respects to the victims and express our condolences to their families, but also to promise them that not a single crime will go unpunished."
The two presidents, both of whom are reconciliation-minded, were also to travel to the nearby village of Paulin Dvor, where 18 Serbian villagers were killed by Croatian forces later in 1991.
The Associated Press quoted Josko Paro, Josipovic's foreign-policy adviser, as describing the visit as a "profoundly symbolic act." He said no one expected that it would remove all the controversies of the past, but it would relax mutual relations, "so that we can turn to the future."
Croatian President Ivo Josipovic (right) and his Serbian counterpart, Boris Tadic, at the Ovcara memorial
Both countries aspire to membership of the European Union, and good relations with neighbor states, and regional cooperation, are requirements.
While in Vukovar, Tadic met with families who still have members missing from the four-year war. He is also meeting representatives of the local Serb community.
Local residents Bozica Trbojevic and pensioner Slavko Saturovic told Reuters they welcomed today's visit.
"I am very glad. I live in this building. I was watching from the balcony," Trbojevic said. "I had tears in my eyes. I remember all those good times when we all lived together, and not as it is today. I am happy."
"Let's leave the history behind," Saturovic said. "I'm disgusted by our history. Here in our region we have never learned anything from our history, so let's move in a new direction, for the benefit of all mankind."
But not everybody is pleased at Tadic's presence in Vukovar. Some conservative elements called on Croats to line the route to Ovcara in protest at the visit.
The AFP news agency reported some 50 protesters lined the road to the Ovcara memorial on the outskirts of town, holding banners. However, no trouble has been reported.
Croatia's declaration of independence from the former Yugoslavia in 1991 set off a four-year conflict with rebel ethnic Serbs, who were supported militarily and politically by Belgrade.


written by Breffni O'Rourke, with contributions from RFE/RL's Balkans Service and agency reports