The Serbian government has announced a tenfold increase in the award it is offering for information leading to the capture of wartime Bosnian Serb general Ratko Mladic.
The price on his head is now 10 million euros ($13.9 million), up from the reward of 1 million euros set in October 2007.
Although Serbia is struggling to cope with 20 percent unemployment, Serbian Infrastructure Minister Verica Kalanovic said the government had money in its budget to cover the increased amount. "Serbia is determined to get rid of that burden," she said.
Mladic, the commander of the Bosnian Serb forces during the Bosnian war, was indicted in 1995 on charges of genocide, war crimes, and crimes against humanity by the UN's International Criminal Tribunal for the former Yugoslavia.
He is accused of masterminding the more than three-year-long siege of Sarajevo, which claimed some 10,000 lives, and for orchestrating the 1995 massacre of some 8,000 Muslim men and boys in the town of Srebrenica.
Considered Europe's most wanted war crimes fugitive, Mladic is widely believed to be in hiding in Serbia under the protection of sympathizers.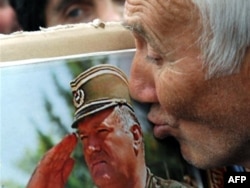 A supporter of the ultra-nationalist Serbian Radical Party kisses a picture of Mladic in Belgrade in 2008.
His capture is seen as a key prerequisite for the Balkan nation to progress on the path toward European Union membership.
EU Hopes In The Balance

EU foreign ministers agreed on October 25 to ask the bloc's executive commission for an opinion on launching entry talks for Serbia -- a procedural step in the accession process that has been withheld until now.
But at the same time, they urged Belgrade to increase its efforts to arrest Mladic and another suspect, Croatian Serb wartime political leader Goran Hadzic, if it hopes to further its EU bid.
Hadzic is charged with crimes against humanity during Croatia's war of independence from Yugoslavia in the early 1990s.
Today, the Serbian government also announced a fourfold increase in its reward for information leading to Hadzic's arrest. The reward is now set at 1 million euros.
To ease concern among some EU governments that progress towards accession would send the wrong message to Serbia, the bloc's foreign ministers also agreed at their meeting earlier this week that any future steps would require unanimous assessment of Belgrade's cooperation in the hunt for the wanted men.
On the heels of that announcement, Serbian Deputy Prime Minister Bozidar Djelic said, "We will do everything, regardless of conditions imposed by the EU, to find Mladic and make him answer for everything he had been charged with."
But analysts see the increase in Mladic's reward money as a direct result of the EU's call.
Deputy war crimes prosecutor Bruno Vekaric told Serbia's Beta news agency that the decision "represents Serbia's clear political will to remove the last remaining obstacle on its path towards the European Union."
He added, "These two men have kept the whole nation hostage, [but] also their families and future generations."
An 'Alibi' Or A 'Good-Faith Effort'?

Speaking to RFE/RL's Balkan Service in Belgrade, former Yugoslav Army officer and now independent military analyst Ljubodrag Stojadinovic said the reward increase was likely just for show.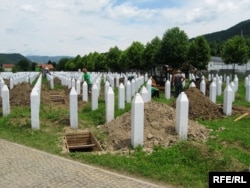 Graves of the victims of the Srebrenica massacre
"This does not mean that the new price [for Mladic] will produce results," he said. "It looks more like an alibi to me -- like we want to tell the world, 'We are doing our best.'"
He added that enacting structural reforms in the government organizations that deal with war crimes would be a more useful step.
"It is important to close the gaps and to avoid any leaking of information in organizations in charge of war crimes. The other thing is to have state control of these organizations. The security services think that they can control the state, and it should be the other way around," he said.
At a joint appearance with Serbian President Boric Tadic on October 12, U.S. Secretary of State Hillary Clinton said she believes the Balkan state is making a "good-faith effort" to arrest its wartime fugitives, and that the effort "should be recognized by others."
The United States has also offered a reward of up to $5 million for information on Mladic's whereabouts.
While Belgrade has failed to apprehend Mladic, struggling to overcome nationalist sympathizers and the general's close network of loyal former aides, it insists that it is making progress.
Jovan Stojic, head of staff for the director of the Serbia's intelligence agency, the BIA, said a telephone hotline set up in 2006 to collect tips on Mladic's and Hadzic's location had been useful.
"So far, no calls have led us the fugitives, but there was information about some of their habits [and] about the people who have had helped them hide," he said. "There has been valid information."
written by Richard Solash with agency material and reporting by RFE/RL's Balkan Service in Belgrade