Kyrgyz health officials now say at least 124 people have been killed and some 1,600 wounded in riots and ethnic clashes that began in southern areas four days ago.

It's the worst violence to hit the country in two decades.

Tens of thousands of ethnic Uzbeks from Osh and Jalal-Abad provinces are reported to have fled across the border into Uzbekistan to escape attacks by Kyrgyz gangs, who have been accused of killings and setting fire to Uzbek-operated properties.


The International Committee of the Red Cross (ICRC) has warned the crisis is "far from over." ICRC regional head Pascale Meige Wagner put the number of refugees at 80,000, adding that another 15,000 are waiting to cross over.

The UN refugee agency (UNHCR) says it is sending aid and an emergency team to Uzbekistan.

Bakiev Speaks

Uzbek Deputy Prime Minister Abdullah Aripov said Uzbekistan planned to shut its border with Kyrgyzstan, but UN High Commissioner for Human Rights Navi Pillay urged both Uzbekistan and Tajikistan to keep their borders open.

Former President Kurmanbek Bakiev, who was ousted by antigovernment protests in April, broke his silence on this fourth day of violence and held a press conference in Minsk, where he has been staying since he fled the country. He accused the interim government of having "absolutely no control over the situation" and denied that he or members of his family had a hand in the violence.
Former Kyrgyz President Kurmanbek Bakiev speaking in Minsk on June 14.
The country's leaders, he said, "should stop blaming everything on me, my family, or the previous government. Instead of protecting the people's safety, instead of trying to resolve the situation and ease the tension, they are only involved in persecution, prosecution, and intimidation."

Bakiev also called on the Collective Security Treaty Organization (CSTO) -- a Russia-dominated regional security bloc of seven former Soviet republics, including Kyrgyzstan -- to send forces to quell the unrest, saying the move is needed "bring the situation back to normal."

Kyrgyzstan's interim government, which took power in the wake of Bakiev's ouster, has called on Russia to send peacekeeping troops, but Moscow has said it does not have a mandate to act independently.

In Washington, State Department spokesman P.J. Crowley said U.S. officials have been "in very close touch" with the provisional government to "determine what it might need."

He said American officials are also working with the UN, OSCE, and Russia to find "a coordinated, international response to the ongoing violence" and said he was not aware of whether Bishkek had asked Washington for military assistance, as some reports have suggested.

"We have been in touch with the provisional government," Crowley said. "I think Assistant Secretary Bob Blake, while traveling, is reaching out to the provisional government to determine what it might need. I can't say whether the Kyrgyz government has asked us for direct intervention."

He added, "I don't think we're looking at any unilateral steps by the United States at this point."

Tensions Remain High

RFE/RL's correspondent in Jalal-Abad, Rysbai Abraimov, said there are few signs that the crisis is abating.

Midday on June 14, he reported hearing continuous gunfire on two of Jalal-Abad's main streets, as well as around the main offices of the local administration. He also said he saw two restaurant buildings and a private home on fire.

Abraimov reported that a large group of people, mostly young men, had gathered in the city center early on June 14. They accused Kadyrjan Batyrov, a former lawmaker and Uzbek community leader, of instigating violence in the area last month.

There was an armored vehicle and a number of people carrying weapons outside the provincial administration building, Abraimov said, many from areas outside the city of Jalal-Abad, including the Talas and Issyk-Kul provinces.

The Jalal-Abad office in charge of enforcing the curfew (komendatura) told RFE/RL that electricity and gas supplies were cut off in Jalal-Abad to prevent arson attacks in the city.

An Uzbek soldier carries a child on the Kyrgyz-Uzbek border.
The office said they have received "information from the district of Suzak outside Jalal-Abad that a group of unknown people is trying to provoke local residents, urging them to take to streets." Suzak has a sizable Uzbek minority.
In the meantime, shooting still could be heard in the neighboring city of Osh, site of the deadliest unrest. Most of the victims were killed there, and houses and businesses have been set alight during riots and interethnic clashes since June 11.
Taking Flight
News agencies quoted Uzbek officials as saying some 60,000 refugees from southern Kyrgyzstan were registered in Uzbekistan's Andijon border province, near the Kyrgyz border, a figure that excludes children accompanying their parents.
The French AFP news agency reports that refugees were being placed in camps in different districts of Andijon province.
RFE/RL correspondents in southern Kyrgyzstan say most of the refugees are women, children, and the elderly, as men have largely stayed behind to protect their properties.
International Concern
In Luxembourg, the European Union's foreign policy chief, Catherine Ashton, said the EU was "very concerned" about the crisis.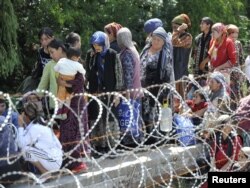 Ethnic Uzbek refugees who fled the violence in Kyrgyzstan wait for their turn to cross the border into Uzbekistan near the village of Jalal-Kuduk on June 14.
"It is very, very important to me that we get order restored," Ashton said. "This is a very dangerous and difficult situation there."

In the meantime, Russia is reported to be considering sending military aid for Kyrgyzstan, after initially rejecting a request by interim leader Roza Otunbaeva on June 12.

Members of the CSTO met in Moscow to discuss options to restore peace and stability in the impoverished country.

Russian President Dmitry Medvedev said the ethnic clashes needed to be stopped as soon as possible and order restored. Quoted by Russian news agencies, he said "everything possible" should be done "to put an end" to the disturbances.

Son Arrested In Britain

The previous Kyrgyz government was ousted by a popular uprising on April 7 that left more than 80 people dead.

Since then southern Kyrgyzstan – where support for Bakiev has been strongest – has seen frequent riots and unrest.

In a related development, Bakiev's son was arrested in Britain on an Interpol warrant.

The chief of Kyrgyzstan's national security council, Keneshbek Duyichebaev told local television that Maksim Bakiev was held in a "secret operation" on his arrival at Farnborough airport in southern England.

written by Farangis Najibullah, based on material by RFE/RL's Kyrgyz Service and agency reports