WATCH: Ethnic clashes between Kyrgyz and Uzbeks continued in southern Kyrgyzstan on June 12 amid gun battles and other street violence. The Kyrgyz interim government called up reserve forces to send to the troubled area around Osh and Jalalabad. Six people wounded during the clashes arrived at Zhukovsky air field east of Moscow for emergency treatment on June 13. (Reuters video)

By RFE/RL
The International Committee of the Red Cross has warned that the humanitarian situation in southern Kyrgyzstan is becoming "critical" following days of arson, killing and clashes between ethnic Kyrgyz and Uzbek groups.
Russia, meanwhile, has reportedly sent at least 150 paratroopers to Kyrgyzstan to protect personnel and equipment at Russia's Kant air base in Kyrgyzstan's north.
Moscow has said, however, that it has no current plans to deploy Russian forces to help stabilize the situation in the south.
The Kyrgyz Health Ministry has reported that at least 117 people have been killed -- most of them in Osh but at least 21 in Jalal-Abad -- and more than 1,400 injured in the past three days of violence.
Tens of thousands of members of the Uzbek minority are reported to have fled their homes to escape attacks by Kyrgyz gangs, who have been accused of slaughters and setting fire to Uzbek-operated properties.

Rights activists have alleged that Kyrgyz authorities and security forces have not been taking decisive enough action to halt the violence.

Authorities 'Overwhelmed'

Uzbekistan has set up makeshift camps along its border with Kyrgyzstan to take in the refugees, most of them women and children.


Ethnic Uzbek residents bury victims of violent clashes in the suburb of Osh on June 13.
"Currently, it is very difficult for me to give the exact figures. They speak about thousands of refugees now," Anna Nelson, representative of the International Committee of the Red Cross (ICRC) mission in Kyrgyzstan, told RFE/RL's Kyrgyz Service. "We, together with other humanitarian organizations and Uzbekistan's Red Cross, are trying to get the exact figure on the Uzbek side of the border, the figure of people who were forced to leave their homes."

In a written statement, the Red Cross said its representatives in southern Kyrgyzstan have received "reports of severe brutality, with an intent to kill and harm."
It said the Kyrgyz authorities are "completely overwhelmed, as are the emergency services."
The statement added that Red Cross representatives in Osh had "witnessed an estimated 100 bodies being buried in a city cemetery, raising concerns that the dead are not being properly identified before burial."

RFE/RL correspondent Alisher Toksonbaev said by telephone from Osh on June 13 that fires continued in some areas of the city and several government buildings had burned.

He added that people were afraid to drive or walk in the city because armed young men were driving around in cars without number plates, shouting and otherwising harassing anyone they could find. In some streets, he said, resident had erected barricades.

"One of my relatives was shot dead. We can't go out there and gather the body for burial," one resident who gave his name as Khikmatullah, told RFE/RL's Russian Service by phone from Osh. "There are even bodies that cannot be identified. Today we buried a man not knowing who he was."

It is the worst violence in Kyrgyzstan since former President Kurmanbek Bakiev was toppled in a bloody uprising in April.

Interim President Roza Otunbaeva has acknowledged that her government lost control over Osh despite sending troops, armor, and helicopters. The government has also given police and soldiers shoot-to-kill power.

UN Secretary-General Ban Ki-moon has reportedly expressed concern over the escalating violence in a telephone call to the foreign minister of neighboring Kazakhstan, which currently holds the chairmanship of the Organization for Security and Cooperation in Europe (OSCE).

'Homes Are Burning'

Ethnic Uzbeks make up some 14 percent of the total Kyrgyz population. But they make up roughly one-third of inhabitants in the Osh and Jalal-Abad regions. While the Uzbeks largely back the interim government, many Kyrgyz in the south support the ousted president and his clan.

Witnesses say armed gangs are setting homes alight and shooting at people in Uzbek neighborhoods.

"Right now, homes are burning in our Furqakt district," Komiljon Ermatov, an ethnic Uzbek living in Osh, told RFE/RL.

"Armed people wearing military uniforms fire at people and prevent them from fleeing to Uzbekistan. They are provocateurs. In hospital, we saw Uzbeks with gunshot wounds. We are just peaceful people protecting our homes, fathers, and mothers."

Late on June 12, authorities declared a partial mobilization of the army. Government spokesman Azimbek Beknazarov called on all able-bodied men to "come forward and carry out their duty."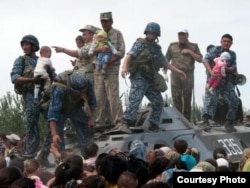 Uzbek border guards help refugees from Osh across the border. Photo courtesy of EurasiaNet
The interim government has appealed for Russian help in quelling the ethnic riots, but Moscow has said it will not send in peacekeepers alone. It has pledged to discuss the situation on June 14 within the Collective Security Treaty Organization, a bloc of former Soviet republics.

Russian and Kyrgyz media are reporting, however, that Moscow has deployed a reinforced battalion of paratroopers to Kyrgyzstan. An unidentified Russian defense ministry official told Interfax that the battalion would "reinforce the defense of of Russian military facilities and ensure the security of Russian military servicemen and their families."

The Kyrgyz news website www.24.kg reports, citing a Kyrgyz Defense Ministry official, that the Russian troops landed at the Kant air base aboard three Russian IL-76 aircraft.

Russia has about 500 troops at a base in Kyrgyzstan. The United States uses an air base in Manas, close to the capital of Bishkek, to supply its forces in Afghanistan.

Russia has also sent in a plane to deliver humanitarian supplies and evacuate some of the victims.

'We Are Afraid To Go Out'

Residents in Osh are without gas and some neighborhoods are without electricity. Food supplies in the Osh and Jalal-Abad areas are also running out, and stores have been looted.

But ongoing street violence means the little humanitarian aid that has been sent to the region is not reaching those in need.

Pakistani Foreign Minister Shah Mehmoot Qureshi says he believes that 15 Pakistani citizens have been taken hostage and one killed.

A young Kyrgyz women, who hid in a basement in Osh with her two-month baby, told RFE/RL's Kyrgyz Service that she was too scared to leave her shelter. She declined to give her name for safety reasons.

"We don't know how to receive humanitarian aid," the woman said.

"Even if we knew where to collect the aid, we couldn't go there. We are afraid to go out because we can still hear gunfire and screams."

The killings have caused outrage in Uzbekistan and among ethnic Uzbeks living outside the area.

In Moscow, some 200 ethnic Uzbeks gathered outside the Kyrgyz Embassy on June 12 to urge Russia to help end the violence.

Zakir Eminov, an ethnic Uzbek living in Russia, said he sent his children to his parents in Osh for holidays two weeks ago. He hasn't heard from them and said he fears for their lives.

"This Kyrgyz government does not control the situation at all, they don't even have correct information," Eminov said.

"This Otunbaeva and her government, they don't control anything. If they were in control, then they wouldn't have allowed hundreds of cars with young people to drive there from Bishkek."

Otunbaeva has accused Bakiev and his relatives of instigating the unrest in Osh and of seeking to derail a constitutional referendum to be held June 27.

Speaking from his exile in Belarus on June 13, Bakiev rejected the accusations as "shameless lies" and blamed the interim government for failing to quell the unrest.

Meanwhile, RFE/RL's correspondent reports from Osh that efforts have been taken by several local Kyrgyz and Uzbek leaders to reduce tensions.

Turkmenistan has sent two aircraft to Kyrgyzstan to evacuate Turkmen students from Osh region. One student, Arslan, told RFE/RL's Turkmen Service there were about 1,000 students awaiting evacuation.

Written in Prague with agency material and reporting from Osh by RFE/RL's Kyrgyz Service. RFE/RL's Uzbek, Turkmen, and Russian services also contributed to this report