CHISINAU -- As a handful of people file into a polling station in leafy central Chisinau on a sunny day, many in this desperately poor city say what they want most is a better life.
By midday, the official turnout was approaching the 33 percent needed to validate the elections. The Central Election Commission reported at 1 p.m. local time that turnout was nearly 30 percent.
"I don't want our children to be beaten like they were on April 7," Dorode says. "They were thrown into cells, and our children were beaten in the most criminal ways."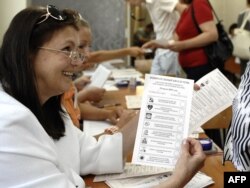 An election official displays a ballot at a polling station in Chisinau on July 29.
The mostly young protesters came onto the streets in April accusing the Communists of rigging parliamentary elections. Demonstrators stormed parliament and the president's office before the police cracked down.
According to the official results of the April poll, the Communists won nearly 50 percent of the vote -- not enough to be able to elect a successor to Communist President Vladimir Voronin. The Communists were unable to persuade a single opposition deputy to vote with the ruling party for a new president, and after two failed votes, Voronin was compelled to dissolve the legislature and call today's election.
Opposition Surge
Andrei Makamandre voted in Chisinau and claimed the country's future depends on an opposition victory.
"I'm hoping for a change in this country, really," Makamandre said. "I want [a] balance of power because it's already unbearable to live like that."
Three main opposition parties are vying against their well-entrenched Communist rivals.
Pre-election polls said the three combined were ahead of the Communist Party.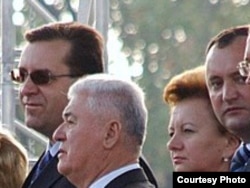 President Vladimir Voronin (second from left) with then-fellow Communist Marian Lupu in October 2007
Most eyes are on Marian Lupu, a former Communist leader who left the party last month to head the centrist Democratic Party. Some suspect his move may have been a way of siphoning votes from the opposition, but Lupu says the only way out of Moldova's political crisis is to form a broad governing coalition.
"I know very well the mentality of the leadership of the Communist Party," Lupu said. "This leadership doesn't have the necessary political culture for developing an equal and efficient political partnership for the interest of the country."
More than 3,000 foreign and Moldovan observers are monitoring these elections. Few expect a repeat of the April violence if the Communists win, but tensions are running high. The opposition has accused the Communist authorities of intimidating voters and exerting pressure on critics.
Where To From Here?
In April, Voronin accused the opposition of wanting to unite Moldova with Romania, with which it shares a language and strong cultural ties. Much of Moldova was part of Romania until World War II.
On July 24, Voronin said an opposition victory would put Moldova in danger of disappearing. Voronin has backing from Moscow, which has offered his administration a $500 million loan.
After casting his ballot in Chisinau, Voronin emphasized Moldova's close relationship with Moscow, saying, "Russia, during these hard times that our country experienced, acted as the most sincere, the closest friend, and nobody should ever forget it."
Critics say the Communists run a corrupt political oligarchy that has stifled Moldova's economic development in order to enrich a small group connected to Voronin.
"Oleg Voronin, the son of the incumbent president, is one of the richest men, richest oligarchs in this country, despite the fact that his party is propelling the idea of social justice and equality, etc.," says political analyst Igor Munteanu, who compares Moldova's current situation to Soviet leader Leonid Brezhnev's era of stagnation.
Munteanu says Moscow sees Moldova's opposition as a threat to its influence in the region. Russia has invested heavily in Moldova's economy. Russian capital is reported to control 75 percent of the country's media, which broadcasts state-controlled Russian television.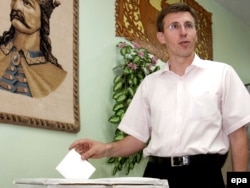 Liberal Party leader and Chisinau Mayor Dorin Chirtoaca voting on July 29
Dorin Chirtoaca, a leader of the Liberal Party and mayor of Chisinau, said the Communist Party had prepared military units to help the party stay in power if it lost the elections.
"They could organize some aggressive actions in such a situation," Chirtoaca said, "because it seems to me they do not want to accept democracy and democratic rule."
If a new ruling coalition is unable to elect a new president, Voronin will stay in office until next year, when parliamentary elections can be held yet again.
Even then, Munteanu believes the opposition will eventually win. He says the myth of the Communists' omnipotence will shatter, and their power will continue to erode. He says April's protests were led by a new generation that signaled society is increasingly fed up the authorities' abuse of power.
"This was a pure and genuine movement of protest against the regime that is not associated with the, let's say, perspective of better opportunity for the country," Munteanu says.
The average monthly wage in Moldova is $300 a month. Up to one-quarter of the country's working population is believed to live and work abroad, but many are returning as the global financial crisis is forcing Moldovans in Western Europe out of their jobs. Moldovans abroad have complained that by holding the election on a working day and setting up few overseas polling stations, the authorities have effectively disenfranchised them.
Under Control
Moldova is also home to one of the post-Soviet "frozen conflicts." There are no polling stations in the breakaway Transdniester region, although the Moldovan government has set up voting locations in the nearby areas that it controls and Transdniester residents are being allowed to cross the conflict line to cast their ballots.
By early afternoon, voting was proceeding apace in the villages of Pirita and Dorotcaia on the left bank of the Dniester River but under Moldovan central government control. A steady trickle of voters was entering polling stations in schools and local cultural centers. Loudspeakers mounted in windows were playing folk music and contributing to a festive atmosphere.
In Dorotcaia, Claudia Sainsus was the first Transdniester resident to vote. She told RFE/RL the border crossing went without incident, although Transdniester border guards were taking down the names of people crossing over to vote.
However, passage into the nearby town of Corjova was reportedly being blocked.
RFE/RL correspondent Ahto Lobjakas contributed to this report from Pirita and Dorotcaia
Moldova Votes Again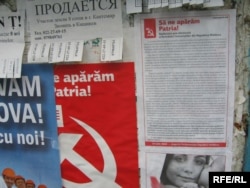 #moldovavotes
Through the eyes of RFE/RL correspondents and editors, guest bloggers, and other contributors who are following the July 29 national elections from the streets of Chisinau and far afield. Plus tweets and pics.
More