"Never trust Russian authorities," Andrei Sakharov once advised his friend Bronislaw Geremek, the renowned Polish scholar and pro-democracy leader.
"But," added the Russian physicist and dissident, "you can always trust the ordinary Russians."
That philosophy has prevailed through much of the bitter history between Poland and Russia. Moscow's co-annexation of Poland in World War II, years of Soviet subjugation, and the postcommunist reckoning have often poisoned political relations, but not personal ones.
Stefan Chwin, a Polish novelist and literary critic who has won accolades for his work supporting reconciliation between Poland and another historically vexsome neighbor, Germany, said when it comes to ties between his country and Russia, Sakharov's insight still applies.
"Human relations are the way they should be," he said. "But when general politics get in the way, the animosity continues."
Chwin was among the 17 Polish writers and poets attending a recent book fair in the Czech capital Prague. Poland was a special focus of interest at this year's festival, and many of the authors on hand were invited to speak about literature and the craft of writing.
Inevitably, however, the conversation often turned to politics -- and to Polish-Russian relations in particular.
The April plane crash in Smolensk that killed Polish President Lech Kaczynski and dozens of members of the country's political elite had opened old wounds for many Poles, some of whom claimed the plane had been shot down or deliberately steered into stormy weather. (Investigators with access to black box recordings from the flight have attributed to the crash to pilot error.)
But the crash also coincided with an emerging thaw in ties between Warsaw and Moscow. At the time of the accident, Kaczynski and his entourage were traveling to Katyn to mark, together with the Russian leadership, the 70th anniversary of a massacre in which more than 20,000 Polish military officers and intellectuals were executed by Soviet secret police.
Breakthrough?
The joint commemoration was seen as a harbinger of a new opening in Russian-Polish ties. In the end, even the plane catastrophe became a chance to demonstrate the new spirit of togetherness, with photographers capturing Russian President Vladimir Putin hugging his Polish counterpart, Donald Tusk, at the site of the crash.
Not everyone was impressed, however. Bronislaw Wildstein, a 58-year-old journalist and writer attending the Prague book fair, said the recent detente is all show and no substance.
"When it comes to the 'breakthrough' in Polish-Russian relations, I haven't seen any breakthrough and I'd like to know how it's manifesting itself apart from the fact that Putin hugged Tusk," Wildstein said. "Let me tell you, I've seen far more tender embraces between leaders in my lifetime, and they haven't moved me one bit."
Still, it seems likely that history is ushering in a more harmonious chapter in Russian-Polish relations.
Kaczynski was a voluble critic of Russia's resurgent influence and an active supporter of the pro-Western aspirations of Georgia and Ukraine. Without him, Warsaw is expected to cleave closer to Moscow, and has already toned down its rhetoric within the EU, where it often led the bloc's eastern members in opposing pro-Moscow policy.
Polish officials offered only mild objections when Russian security officers were recently accused of stealing credit cards from the bodies of victims of the Polish crash. And Moscow last week handed a prestigious state award to Andzej Wajda, the Polish filmmaker who depicted the Katyn massacre in an Oscar-nominated 2007 film.
But Wildstein, who gained renown in his own country in 2005 for publicizing a previously secret list of Poland's communist-era informers and victims, remains suspicious of Russia's motives.
"It's not in Russia's neoimperial interest to have good relations with Poland," he said. "What they really want is to 'Finlandize' Poland -- to make her subservient and limit Polish sovereignty in the international sphere. That's the interest of the current Russian leadership."
'Muscovite Friends'
Such suspicion, however, has rarely been an aspect of informal ties between Poles and Russians, even during the most antagonistic chapters of their shared history.
As far back as the 19th century, the legendary Polish-language poet Adam Mickiewicz, devoted a poem to Russian dissidents involved in the 1825 Decembrist uprising against Tsar Nicholas I. The poem, "Muscovite Friends," was seen as a call to a joint struggle for freedom, and an attempt to repair the rift between the two peoples.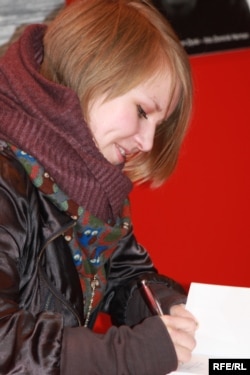 Dorota Maslowska
After the Smolensk crash, when thousands of ordinary Russians joined the Poles in mourning, it was clear to meaning that the spirit of "Muscovite friends" were back.
Less than a month later, during Russian celebrations of the end of World War II, Poles lit hundreds of thousands of candles at long-neglected graves of Red Army soldiers throughout Poland.
Regardless of the historic rivalry between Poles and Russians, some still see the countries as more alike than not, with their people bound together by their shared Slavic and geographic heritage.
Adam Michnik, the writer and chief editor of Poland's "Gazeta Wyborcza," has put it this way: "Poles are Russian Europeans, and Russians are Polish Asians."
Allies? No Thank You
But while ordinary Poles and Russians are content to steer clear of politics in their dealings with one another, many writers -- at least on the Polish side -- still seem bound by historical grievances.
Olga Tokarczuk, one of Poland's most popular contemporary writers, says Poles have a "deeply imprinted sense of being the victim," and offers an anecdote to illustrate her conviction that there is little that can truly bring Poles and Russians together.
"After the Molotov-Ribbentrop pact, a German military officer fell in love with a Russian ballerina from Leningrad," she said. "Every Saturday, he would send an airplane from Berlin to Leningrad loaded with flowers for her. But since there was a war going on, it would have been a waste to allow the plane to return empty. So they would load it with bombs and drop them on Poland while returning to Germany."
Tokarczuk, a psychologist by education, thinks stories such as these -- however apocryphal -- demonstrates the deeply entrenched, almost primal angst of a country squeezed between Western Europe and Russia.
Nor, she says, has there been the kind of intellectual exchange -- like the friendship between two post-war novelists, Germany's Gunter Grass and Russia's Daniil Granin -- that could help mend bridges at a different social level.
Writers "do invite each other to our countries," she said. "But I come to the Moscow book fairs and I go home right afterwards. There's no developed infrastructure of contacts between us, so to speak."
Surprisingly, it is sometimes the youngest writers who have the greatest apprehension about ties with Russia.
Poland's literary enfant terrible, 26-year-old Dorota Maslowska, created a publishing sensation with her debut novel, "The Polish-Russian War Under the White-Red Flag," which focuses not on history but on the lives of teenagers growing up in post-communist Poland.
Maslowska says she has little personal interest in relations between Poland and Russia, but said a tremor on her "personal seismograph" has pushed her to address the issue in her work. Her book has been translated into Russian, but Maslowska admits she has almost no contact with young Russian writers.
"My life is complicated enough, and I don't want to make it even more complicated," she said.