NEW YORK -- U.S. car giant General Motors (GM), once the world's largest company, has filed for bankruptcy protection, becoming the biggest industrial bankruptcy in U.S. history.
Speaking to the press in the wake of the bankruptcy announcement on June 1, U.S. President Barack Obama said the move was part of a "viable, achievable plan" that will give GM a chance to "rise again."
The move into bankruptcy protection has been backed by the U.S. administration, which will take a 60 percent stake in the company in exchange for $50 billion in financial aid. Obama said he hoped GM would emerge stronger from bankruptcy proceedings that are expected to take between 60 to 90 days:
"I'm confident that the steps I'm announcing today will mark the end of an old GM and the beginning of a new GM, a new GM that can produce the high-quality, safe, and fuel-efficient cars of tomorrow, that can lead America towards an energy-independent future, and that is once more a symbol of America's success," Obama said.
GM's decline and ultimate demise is seen by many as an illustrative example of failed economic policies and the inability of the U.S. auto industry to adapt to the rapidly changing global conditions requiring fuel-efficient cars.
The company was also crippled by its generous employment-benefits policies, which, unlike those of its Asian competitors, drained significant portions of its revenues.

Too Big To Fail?
The bankruptcy was months in the making so the official announcement was not a surprise. Diane Braw, a manager at an auto repair shop in midtown Manhattan, says that only two years ago she would have dismissed as nonsense the idea that GM might go under.
"I grew up thinking that GM was the Rock of Gibraltar -- that nothing will tumble it down, it was as solid as any other company in the world," Braw says. "And to think that it will be in my lifetime to see GM topple is just breathtaking."
The price of GM stock hit a high of $87 back in 1999, but now stands at less than a dollar at the end of May. Over the years, thousands of Americans considered the company a symbol of U.S. economic might and poured their savings into its stock, which is now worthless.
GM has been removed from the Dow Jones Industrial Index, the economic index of the 30 largest U.S. companies that it first appeared on in 1925.
By the end of May, more than 2,500 U.S. auto dealerships selling GM cars had closed their doors, and thousands of people have been laid off.
Braw says while the old GM is heading into oblivion, its bankruptcy means continuing hardship for many industries that relied on it.
"The sad part is that there are so many auxiliary businesses that feed off of GM, the car dealerships, the [auto] parts department, just so many things like a bunch of dominoes are going to topple as a result of it," Braw says. "So, it is again another major loss of jobs to the United States."
At the bankruptcy filing at a press conference in New York to announce the company's plans for reorganization, GM chief executive Fritz Henderson tried to sound upbeat and emphasize the positive elements in an otherwise tragic saga.
"This new GM will be built from the strongest parts of our business, including our best brands and our very finest products. We will have far less debt, fully competitive labor costs, and the ability to generate sustained and positive bottom-line performance," Henderson said.
"The new GM will have a significantly stronger and healthier balance sheet, which will allow us to better support our brands and products through investment, increase our investment in new technology, and be able to weather difficult times."
Meanwhile, on May 31 a U.S. judge approved the sale of most of Chrysler's assets to the Italian automaker Fiat. With the downfall of GM and Chrysler, Ford remains the last member of Detroit's original Big Three -- what were once the three largest American automakers.
World Economic Crisis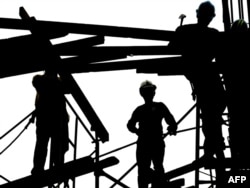 Multimedia coverage on the impact of the global financial crisis on markets and individuals across RFE/RL's broadcast region. More