South Ossetia Debacle Could Trigger Political Backlash In Georgia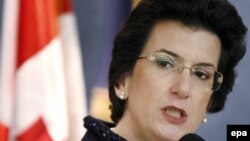 The devastating Russian military retaliation occasioned by President Mikheil Saakashvili's disastrous miscalculation in launching an offensive against South Ossetia during the night of August 7-8 initially impelled the entire nation to close ranks behind the beleaguered leadership. But some observers anticipate that the show of solidarity will be short-lived, and that some Georgians may seek to hold Saakashvili responsible for the economic damage and needless loss of life that resulted from his actions.
Most opposition parties aligned under the aegis of the National Council have pledged their support for Saakashvili. Speaking on August 18 at a joint press conference in Tbilisi, the leaders of the Republican Party and the New Rightists, Davit Usupashvili and Davit Gamkrelidze, affirmed that they plan for the moment to prolong the "moratorium" on confrontation with the authorities that they declared in the wake of the Russian incursion on to, and bombardment of, Georgian territory outside South Ossetia.
Other opposition figures, however, have made clear that their restraint will not last indefinitely. Levan Gachechiladze, who according to official returns placed second to Saakashvili in the January 2008 preterm presidential ballot, was quoted by ft.com on August 15 as saying the opposition will campaign for preterm elections (it is not clear whether he meant presidential, or parliamentary, or both) to be held "at the earliest opportunity," possibly within two months. Kakha Kukava, leader of the Conservative Party that backed Gachechiladze's failed presidential bid, similarly affirmed that once tensions abate, his party will call for mass demonstrations aimed at ousting the current leadership. He castigated Saakashvili for embarking on "a war we could not win."
New Opposition Force?
The most serious potential challenger, however, is Nino Burjanadze, with Saakashvili and the late Zurab Zhvania one of the three figures behind the Rose Revolution of November 2003 that toppled then-President Eduard Shevardnadze and catapulted Saakashvili to power. Burjanadze stepped down unexpectedly in April from the post of parliament speaker, despite having been nominated to head the party list of Saakashvili's United National Movement in the May 21 parliamentary elections.
In a statement explaining that decision and carried on civil.ge on April 21, Burjanadze alluded to disagreements over the composition of the party's list of election candidates, from which some of her closest supporters were excluded, and also to unspecified "mistakes made by the authorities" and to tactical, but not strategic, differences with other members of the leadership. She said she believed "current political processes need to be amended," and that "the election is the best way to renew a political team, to outline new policy for achieving those strategically correct goals that our country has."
In the aftermath of the election, however, Burjanadze took a different, and more skeptical approach. Interviewed on June 21 by Georgian Public Television, she opined that "political processes have actually been significantly discredited," both by the opposition and by the authorities, in the course of the elections. She argued that "the presence of a huge and powerful parliamentary majority and the weakness of the opposition" did not make the outgoing parliament a strong one, and that "the situation is in fact the same now, or even worse," given that only a couple of dozen opposition deputies were elected to the 150-seat parliament, and that some of them refused their mandates to protest the alleged rigging of the vote.
Burjanadze also announced during that interview her plans for establishing a Foundation for Democratic Development that would seek to promote in-depth political discourse. She described that undertaking as "a new form of participating in politics for me." But in the wake of the South Ossetia debacle, Burjanadze hinted that she plans to return soon to mainstream politics, telling Reuters in an interview on August 18 that "I am more than sure that right now I have to play a very active role in the country." She also said that once Russian troops withdraw, the leadership will face "tough questions" about the events that immediately preceded the Russian military intervention, questions to which "it will not be very easy" to provide a convincing answer.
Assuming that Burjanadze has made up her mind about a political comeback, the question arises: Will she join the embattled opposition coalition National Council or seek to create her own separate power base? And if she opts for the latter, might some senior government officials who now question Saakashvili's judgment choose to align with her? One figure who has reason to be acutely aware of the damage Saakashvili's precipitous actions have wreaked on Georgia's international reputation is Irakli Alasania, formerly Saakashvili's point man for negotiating with the Abkhaz leadership and since 2006 ambassador to the UN.
Alasania told RFE/RL's Georgian Service on August 11 that "at least from now on, our policies, any step taken by us, must always be carefully thought through, with a cold mind. Only then will we be able to really achieve the goals that the Georgian government has."
The statement adopted on August 19 at the NATO foreign ministers meeting in Brussels that registered members' collective displeasure that Georgia violated one of the basic ground rules for cooperation with the alliance by seeking to resolve the South Ossetia conflict by force is likely to reinforce a growing perception that Saakashvili does not always act rationally and in the best long-term interests of his country.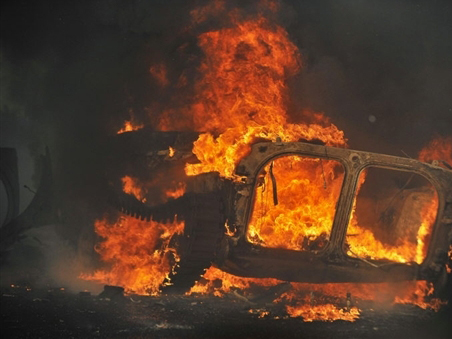 For RFE/RL's full coverage of the conflict that began in Georgia's breakway region of South Ossetia,
click here
.