Natalya Estemirova was grabbed as she was leaving her apartment building in Grozny on July 15 and bundled into a white car. She just had time to yell out that she was being kidnapped. A few hours later, her body was found in neighboring Ingushetia, not far from the Rostov-Baku highway.
Her hands were bound. There was bruise on her face. There were two bullets in her chest and two more in her head.
A full day later, I feel like a mindless parrot shrilly repeating the same thing over and over again. It was the same when they killed investigative journalist Anna Politkovskaya. And when they killed defense attorney Stanislav Markelov. Back then, people also called me and asked: "What do you think? Who was the killer? Will the case be solved?"
This is the last thing I want to talk about, but I have to answer these questions: I'm not under any illusions about the possible successful conclusion of any of these investigations.
Fighting For Justice
What happened is something that has already happened thousands of times over the last 10 years. A person was abducted (to use abstract, legal language -- "forcibly and involuntarily disappeared") and murdered ("extrajudicial killing").
Even when the bodies are not found (as a rule, they are not found), it is clear that they have been murdered. Of these 3,000 or 5,000 "disappearances," how many have been followed up to the point that a court sentenced the guilty?
Approximately, one. The so-called Cadet Affair, involving a police officer from Siberia named Sergei Lapin. He was convicted of torturing a young Chechen named Zelimkhan Murdalov in Grozny in January 2001. Now he is in prison -- the only one convicted in thousands of such cases. But he is in prison for real -- serving a 10-1/2-year term. And that is primarily because of the efforts of three people.
First, Anna Politkovskaya. She was the first to bring this crime to the public's attention. Lapin later threatened to kill her.
The second was Stanislav Markelov. He represented the victim in the case and managed to secure a clean trial that is appeal-proof. He managed to have all illegally obtained evidence stricken from the record -- it turned out that when Lapin was arrested, he was himself tortured by the police!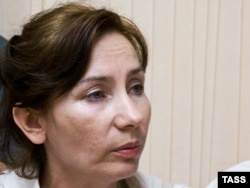 Natalya Estemirova
And the third was Natasha Estemirova, a Memorial monitor in Grozny. When Markelov was killed, she commented about how dangerous it had become for him to return to Chechnya. But she lived full-time in Grozny. Didn't she fear for her own life?
These people were colleagues and friends. Anna Politkovskaya usually stayed with Estemirova when she traveled to Grozny. I'd guess that Natasha worked with Politkovskaya on fully half of the articles about Chechnya that she wrote. And she was tireless in her efforts to protect Politkovskaya.
Now, all three have been murdered.
The Last Drop
How can we speak of the odds of solving this new crime when we know perfectly well that not one in 1,000 such murders ends in a conviction?
So, what about the various "versions"? It is the rule of detective fiction that killers need three things -- motive, opportunity, and means.
The evidence on "means" is clear enough. What about motive?
Natasha's work was always a thorn in the side of the authorities. Since the fall of 1999, when hundreds of people were killed by the bombardment of Grozny, she survived and bore witness. Later, she documented "cleansing," abductions, "disappearances," murder, torture, fabricated criminal cases.
And what did she cover in the last year? A campaign of "collective responsibility and collective punishment" in the form of the burning of dozens of homes of relatives of suspected resistance fighters across Chechnya. A new wave of abductions.
And the last drop? A July 7 public execution by local "enforcers" in the village of Akhkinchu-Borzoi. The victim purportedly aided the resistance.
Natasha Estemirova's latest materials provoked, to put it mildly, the dissatisfaction of the Chechen leadership. This dissatisfaction was conveyed to Memorial by Chechnya's "human rights ombudsman," Nurdi Nukhazhiyev.
It was a little more than a year ago that Chechen President Ramzan Kadyrov personally arranged Natasha's comeuppance. He had her removed from the leadership of the republican Human Rights Commission, a post to which he had earlier appointed her. He had apparently been disappointed that Natasha didn't use the appointment to become another "boss" in the republic, but rather as a platform from which to continue carrying out her previous work.
Kadyrov was also irked by Natasha's opposition to his campaign to promote "spirituality" and "tradition" and to compel women to wear head scarves. No one could force her to wear a head scarf.
In short, there were plenty of "personal tensions."

'A Real Chechen'
Here are a couple of quotations:
Ramzan Kadyrov: "Experts, as a rule, are always 'working for someone.' A lot of people aren't happy that the economy of the Chechen Republic is reviving. So they order up these materials from these 'experts.' They make things up and say them. Those people who are saying such things, those who are spreading this propaganda -- I consider them just the same as the bandits, terrorists, and criminals." (June 24, 2009, on Grozny state television)
State Duma Deputy and Kadyrov relative Adam Delimkhanov: "There are people who call themselves human rights activists who are aiding these devils and evildoers. They de facto complete their work and their goals are one and the same. They conduct negotiations and make pronouncements about the police and other things. People like [former Ingushetian President Ruslan] Aushev make similar statements. The evil they are doing is enormous, just like the evil being done by those who are hiding in the forest. We will question those who carried out this evil and made such statements. We are Chechens and Ingush. We know our customs and ways. We know that down here, such conversations do not remain without consequences."
And what about "opportunity"?
The Chechen leadership has repeatedly stated that the situation in the republic is "under control." And, in fact, the abductions of people in recent times have been exclusively "under the control" of the security forces. And the part of the Rostov-Baku highway where Natasha's body was found is "under the control" of forces that, under the supervision of Adam Delimkhanov, are chasing resistance fighters in the nearby forests. Clearly, the opportunity was there.
But I don't like detective stories and I don't want to get involved in the investigation. I have lost a friend that I knew nearly 10 years. She was a shining person, despite the dark circumstances she endured all these years. She was a bold person. A real Chechen. There aren't many like her -- after all, such people are the first to be killed.
Aleksandr Cherkasov works for the Memorial human rights group in Moscow. The views expressed in this commentary, which originally appeared on the website "
Yezhednevny zhurnal
" are the author's own and do not necessarily reflect those of RFE/RL
A String Of Silenced Voices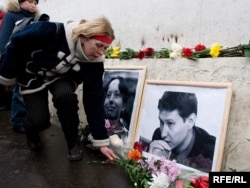 A String Of Silenced Voices
Rights activist Natalya Estemirova's death on June 15 was not an isolated act of violence. It was the latest in a series of assaults and murders of human rights campaigners and others who have denounced abuses in Chechnya and the surrounding republics.
More