PESHAWAR, Pakistan (Reuters) -- A suspected U.S. drone aircraft fired two missiles into a house in Pakistan's North Waziristan region on the Afghan border, killing four people, two Pakistani intelligence officials said.
It was the second strike in as many days. A missile believed to have been launched by a pilotless U.S. drone killed at least seven militants, including foreigners, in South Waziristan on March 25, intelligence officials and Taliban sources said.
"We have information that four people were killed," said one of the Pakistani officials, referring to the strike in the early hours of March 26 near the town of Mir Ali.
The strike comes as U.S. and Pakistani intelligence officials are reportedly drawing up a new list of targets for unmanned drone strikes along the Pakistan-Afghanistan border.
The United States, frustrated by an intensifying insurgency in Afghanistan getting support from the Pakistani side of the border, last year began launching more missile strikes from unmanned drones operated by the Central Intelligence Agency.
U.S. drones have carried out more than 30 strikes since early 2008, killing about 300 people, including several mid-level Al-Qaeda members, according to a tally of reports from Pakistani officials, residents, and militants.
Strikes Labeled Counterproductive
Eliminating militant support from the lawless northwestern Pakistani enclaves is seen as essential for winning the war in Afghanistan.
Pakistan's civilian government, elected a year ago, and the army have complained that the U.S. missile strikes are counterproductive and the civilian casualties they often inflict have fueled support for the militants.
In Jandola, a town near South Waziristan, at least six people were killed and 25 injured in a suspected suicide attack at a restaurant, government and intelligence officials said.
"The attack appears to be the result of rivalry between two militant groups," an intelligence official told Reuters by telephone from Jandola.
"The Wall Street Journal," quoting officials involved in the consultations, said Pakistani officials wanted to broaden drone strikes to include extremists who have carried out attacks against Pakistanis.
Until now, the attacks have hit suspected Al-Qaeda and Taliban targets. The attacks are deeply unpopular in Pakistan and Afghanistan due to allegations that they frequently also kill innocent civilians.
"The Journal" said the United States believed Pakistan's top intelligence agency is directly supporting the Taliban and other militants in Afghanistan.
The report followed
another in "The New York Times"
on March 25 that said the Taliban's military campaign in southern Afghanistan was aided partly by support from operatives in Pakistan's military intelligence agency.
U.S. officials told "The Times" that proof of the ties came from electronic surveillance and trusted informants.
Violence in Afghanistan is at its highest level since the 2001 U.S.-led invasion, and the United Nations warned earlier this month it was likely to worsen this year.
President Barack Obama has ordered 17,000 additional U.S. troops to Afghanistan. They will join 38,000 American troops and 30,000 more from NATO allies and other nations. A U.S. official said Obama is expected on March 27 to announce the results of his administration's review of Afghanistan policy.
Pakistani leaders deny any government ties to militant groups and "The Times" quoted U.S. officials as saying it was unlikely top government officials were coordinating the efforts. The middle-ranking intelligence operatives sometimes cultivate relationships without the approval of senior officials, the paper said.
Journalists In Trouble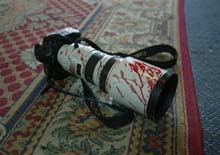 RFE/RL journalists take risks, face threats, and make sacrifices every day in an effort to gather the news. Our new "Journalists In Trouble" web page recognizes their courage and conviction, and documents the high price that many have paid simply for doing their jobs. More