STOCKHOLM (Reuters) -- Swedish Prime Minister Fredrik Reinfeldt, whose country is set to take over the EU presidency next week, cautioned on June 25 against European sanctions towards Iran, saying they could be counterproductive.
"My worry is that talk of sanctions, talk of a tougher line might just be the start of an excuse for the Iranian leadership not to listen in to what is now being said by the Iranian people," Reinfeldt said in a Reuters interview.
Asked whether sanctions should be considered now, Reinfeldt said: "I don't think so, but we need to follow what is happening."
About 20 people have been reported killed and hundreds detained by police in demonstrations sparked by results of the June 12 election that gave President Mahmud Ahmadinejad a landslide victory.
Iranian officials have claimed pro-opposition demonstrators have been backed by the West, focusing its criticism on the United States and EU-member Britain.
"I think it is quite clear that the call is for freedom and reforms in Iran and it is coming from the people," Reinfeldt said.
Iran Election Diary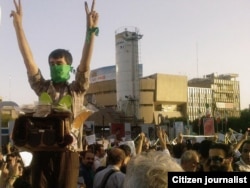 Disputed Presidential Vote
There have been protests and clashes with police on the streets of Tehran following the disputed reelection of Mahmud Ahmadinejad. RFE/RL collects videos, photos, and messages on social-networking sites coming out of Iran to attempt to get a picture of what is happening inside the country.
Click here
Iran Election Special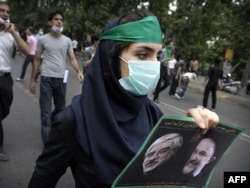 RFE/RL's Full Coverage
Following the disputed reelection of Iranian President Mahmud Ahmadinejad, supporters of Mir Hossein Musavi have taken to the streets to protest.
Click here
for news, blogs, and analysis of the presidential election and aftermath.