Authorities in Tajikistan are blaming Islamist militants for an ambush that killed at least 25* government troops in the country's eastern Rasht Valley on September 19.
Defense Ministry officials say the ministry's convoy came under grenade attack in Kamarob Gorge in Rasht Valley, a one-time stronghold of the Islamic opposition that fought the government in a civil war in the 1990s.
The Defense Ministry condemned the attack as a "terrorist" and "cowardly" act. It blamed former opposition commanders Alovaddin Davlatov and Abdullo Rahimov – known as Mullo Abdullo – for the ambush.
Ministry spokesman Faridun Mahmadaliev said several foreign nationals, including militants from Afghanistan, Chechnya, and Pakistan, were among those who carried out the attack.
"Using the holy religion of Islam as a cover, they want to undermine Tajikistan's peace and stability and turn Tajikistan into a center of the region's radical and rebellious Islamic forces," Mahmadaliev said.

Critical Condition
Authorities say additional government forces have been sent to the area -- some 185 kilometers east of the capital, Dushanbe -- to hunt down the attackers.
Several soldiers were reportedly taken to a local hospital with gunshot injures, some of them in critical condition.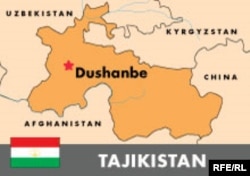 Bodies of the dead soldiers were flown to Dushanbe by helicopter. RFE/RL's Tajik Service reports that one of the dead soldiers, 19-year-old Alisher Umarali, was buried today in his native village of Chavala in the southern Rudaki district.
President Emomali Rahmon, who is currently in New York to attend the UN General Assembly, offered his condolences to the soldiers' families and called on law-enforcement agencies to hunt down the attackers.
Local residents say there is an increased presence of government troops in the area, with some roads blocked and helicopters flying overhead.
Local officials said the situation in Kamarob was again "stable."
'We Are Not Involved'
Some of the former opposition fighters were swift in condemning the attack and distancing themselves from it.
Olim Odilov, a former Islamic militant who lives in the area, said he – and his fellow former opposition fighters, who have returned to civil life -- have "no idea" who carried out the ambush.
"We are not involved in any of this," Odilov said. "So far, no one knows what has exactly happened there. It's not yet clear to us or to the government. We have no links to this attack. We are staying in our homes. If we were part of this, we would be long gone."
Hoji Akbar Turajonzoda, a prominent religious and political figure with the opposition during the civil war, today condemned the attack as a "horrific crime."
The ambush comes amid an ongoing operation by government troops to recapture 18 detainees who escaped from a high-security prison in Dushanbe last month.
A total of 25 inmates, including several high-profile Islamic militants and opponents of Rahmon, escaped from the national security committee's prison on the night of August 22. Seven of them have so far been recaptured in nearby districts. Several Afghan, Uzbek, and Russian nationals of North Caucasus origin were among the escapees.
Former Stronghold
Government forces have since been positioned in Rasht Valley as part of the search operation.
Rasht Valley is a former stronghold of Islamic opposition forces that fought against Rahmon's secular government in the 1992-97 civil war before the two sides signed a national peace and reconciliation accord.
Most of the former Islamic fighters reintegrated to civil life and many of their commanders were given official posts in central and local law-enforcement agencies.
However, some former commanders – most notably, Abdullo – refused to accept the peace treaty and instead fled to Afghanistan, where they reportedly became close to the Taliban and Al-Qaeda.
According to media reports, Tajik authorities believe Abdullo has returned to his native Rasht Valley along with a number of militants.
Last week, the country's interior minister, defense minister, and a deputy head of the State Committee for National Security traveled to Rasht district to seek former opposition commanders' support in tracking down Abdullo and other militants.
The high-ranking officials held a five-hour meeting with former Islamic commanders Mirzokhuja Ahmadov and Shoh Iskandarov, trying to assure them the recent dispatch of government forces to Rasht Valley was not aimed at them, RFE/RL's Tajik Service reported.
Earlier this month, two people died in what authorities said was the country's first suicide bombing, at a police station in the northern city of Khujand.
* The death toll was raised to 25 on September 21.


written by Farangis Najibullah with contributions by RFE/RL's Tajik Service