Six-year-old Hangoma is letting her imagination run wild to fill the hours between arrivals. She finds comfort in visions of a reunion she wants so desperately that they're crowding out her surroundings. She's waiting at the only bus stop in her remote mountain village in eastern Tajikistan.
Hangoma's mother has told her that her father might be aboard one of the two buses that pass through Ghavosiyon each day -- one of thousands of Tajik men who are returning, with the onset of winter, to spend a few months with their families.
"My dad is in Russia -- I haven't seen him for two years," Hangoma says. "He'll bring me everything: a dress, shoes."
Hangoma's mother was pregnant when her husband set out for Russia in an effort to provide for his growing family. He has been back to their village just once, when Hangoma was 4. It took her nearly a week to get used to the idea of having her father around.
"Her first question was, 'Why is this strange man living with us now?'" her mother, Mavjigul, recalls. "Now she misses her dad a lot. She talks with him by telephone, but she doesn't have any clear idea about him."
She says that when her brother-in-law returned from his work abroad, her daughter quickly took to calling him "Daddy."
It's a common problem in Mavjigul's village and elsewhere in Tajikistan -- particularly rural areas -- with relatives going years without seeing their husbands, fathers, or sons.
Like Wartime
Tajikistan has battled persistent unemployment, and the lack of jobs and opportunities has prompted nearly 1 million men to seek work at Russian construction sites, factories, and markets.
Such migrant laborers frequently come back home once a year, at best, while others settle in Russia and never return home.
Tajik society faces a major gender imbalance as a result.
"In the spring and summer, you cannot see any young or middle-aged men in our village -- only school-age boys and elderly men are left here," Mavjigul says. "We only see some men around during the winter months. "
The village's elderly residents say it reminds them of wartime, when every able-bodied man left to join the fighting during World War II.
Left to cope for themselves, women struggle to feed and raise children, look after elderly relatives, and otherwise keep households together. Replacing broken windows, painting walls, harvesting crops, even chopping the wood -- none of it is considered "men's work" anymore.
Surayo, a 35-year-old medical consultant in the northern city of Khujand, says her two young children no longer know what it means to have a father figure at home.
Surayo's husband, Murod, left for Russia two years ago because his meager engineer's salary of $20 a month wasn't enough to feed his family.
"The other day my son Amir told me, 'We don't need Daddy anymore, because you can do everything by yourself,'" Surayo says. "Amir is disappointed that his father has let him down by missing birthdays and New Year's celebrations."
Muzaffar Olimov, a sociologist with the Sharq Scientific Research Center in Dushanbe, warns that "an entire generation of children is being brought up without fathers -- and what's more, there are very few male teachers left in our schools."
"Unfortunately, the absence of men in their lives will have a negative impact on children's mentality, their way of thinking and even in their potential marriages," Olimov says, although he adds that it's too early to pinpoint the precise effect on Tajik society. "We're going to see the ultimate impact in a few years, when these children grow up."
An Open Secret
Yet both Surayo and Mavjigul consider themselves lucky that at least they have husbands -- even though they only see their spouses every few years.
Many other Tajik women can't find partners. A growing number of young women have simply given up hope of ever being able to build their own families. Instead, they simply become second or third wives, despite laws banning polygamy.
Some have gone so far as to suggest that polygamy is a reality of Tajik's current situation and urged that it be made legal -- although lawmakers have so far rebuffed such efforts.
Polygamy is still officially a punishable offense, but people have long accepted it as an open secret.
Despite all the difficulties of her long-distance marriage, Mavjigul insists that "it's nice to be married, because my husband sends us money -- otherwise we wouldn't have any source of income here in our remote, mountainous village."
In the meantime, little Hangoma waits at the bus stop, as Mavjigul grapples with how to tell her 6-year-old daughter that she's not even sure her father is coming home this winter -- with or without presents.
World Economic Crisis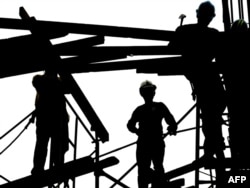 Multimedia coverage on the impact of the global financial crisis on markets and individuals across RFE/RL's broadcast region. More