KHUJAND, Tajikistan -- A woman suffering from swine-flu-like symptoms has died in northern Tajikistan in what could be the country's first reported death from the H1N1 virus, RFE/RL's Tajik Service reports.
Nasib Ikromov, the regional head of health-care in Sughd Province, told RFE/RL that the 30-year-old pregnant woman was hospitalized on December 5 and died two days later.
Ikromov said local laboratories are unable to confirm if the woman had the H1N1 virus and blood samples have been sent to Dushanbe for testing.
Tajikistan's deputy health minister, Azam Mirzoev, told RFE/RL last week that there were no Tajiks suffering from swine flu.
He added that there were seven people in Tajikistan with a new strain of flu but he stressed that it was not swine flu.
Swine Flu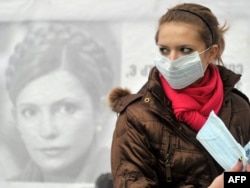 H1N1 Virus
As the fall flu season hits, fears of a swine-flu pandemic have grown in Eastern Europe after Ukraine saw a massive outbreak.
Click here
for RFE/RL's coverage of the virus's spread.