Tatar writer and journalist Irek Murtazin has gone on trial in Kazan on charges brought by Tatarstan President Mintimer Shaimiev, which include disseminating false information about the head of state.
Once they were close associates. Murtazin was Shaimiev's chief presidential press spokesman for some three years. His role then, as is natural for a spokesman, was to cast the longtime leader's doings in a positive light.
But after Murtazin left that post, the relationship began to change. In his new job as journalist, he saw things in a more critical light. This culminated last year in his book, titled "The Last President Of Tatarstan."
This work details what the writer sees as a growing tendency toward authoritarian methods by Shaimiev, who became Tatarstan's first president in 1991 after a long career as a high official and party leader in the old Soviet socialist republic.
Since then, Shaimiev has since been reelected three times, and has been the subject of several favorable books, which have praised his "vision" in creating Tatarstan, a republic of Russia, as an internationally known model of transition to a market economy.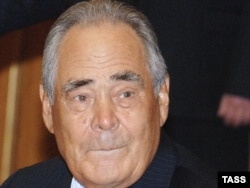 Tatar President Mintimer Shaimiev

'Rampant' Corruption
Murtazin's book sings another tune. It alleges, for instance, that Shaimiev is not tackling corruption, which it says is "rampant" in Tatarstan.
Murtazin told RFE/RL before the trial began on July 20 that he doubts any court in Tatarstan could act "independently" in his case.
"This case cannot be objectively investigated in Tatarstan since the plaintiff is the president of the republic," he said.
He expressed determination to go higher if he is found guilty by the local court, even to the European Court of Human Rights in Strasbourg. But he suggested he could be in personal danger.
"Constitutional court, courts of appeals, Moscow, Strasbourg.. This is a beaten path," Murtazin said. "The only thing which I'm afraid of is that physically I might be unable to appeal against the court's decision. No man, no problem. I wouldn't be surprised if the events of the 29th of December happen again, with a fatal outcome this time."
He was referring to an incident last December, several months after his book was published, when he was severely injured by unknown assailants who attacked him in the street with baseball bats.
The range of charges brought against him indicate how seriously the president views the allegations. The state has accused Murtazin of dissemination of false information about the president, and violating his privacy, as well as instigating social hatred in the mass media or hostility toward a particular social group.
The charges also stem in part from a story which Murtazin put on his blog in September, which erroneously suggested the 72-year-old Shaimiev had died while vacationing in Turkey.
The author is now writing another book that is expected to be highly critical of the city council in the capital, Kazan.

RFE/RL's Tatar-Bashkir Service contributed to this report.