TBILISI/PRAGUE (RFE/RL) -- More than 50,000 demonstrators have converged on a square outside the Georgian parliament to hear opposition leaders demand the resignation of Mikheil Saakashvili, with critics blaming the pugnacious president for a host of ills.
In the wake of a much-criticized clampdown on protests ahead of last year's presidential election, flagging economic fortunes and a disastrous conflict with Russia, the opposition has vowed to maintain a vigil outside the legislature until Saakashvili is gone and new elections are held.
Protesters were still converging on downtown Tbilisi this afternoon, but attendance appeared destined to fall far short of the 150,000 people organizers were hoping to attract.
Smaller protests were reported in other Georgian cities, with no reports of violence or other major incidents.
Unity And Liberation
The mood of the crowd in Tbilisi has been upbeat, with musical acts and politically charged speeches overshadowing the presence inside the parliamentary compound of security forces with riot gear on hand in case of trouble.
"We find it difficult to live, to love. It is hard for us to work, to communicate with each other, to raise our children," Levan Gachechiladze, a leading Saakashvili opponent in the January 2008 presidential election, told the crowd. "And this is because all of this is at the mercy of one master: Mikheil Saakashvili. So we came here to say, 'Resign! Resign Mikheil Saakashvili!'"
Video: Demonstrators gather in Tbilisi. Provided by RFE/RL's Georgian Service.
The demonstrations were scheduled to coincide with the anniversary of a deadly Soviet crackdown on pro-independence demonstrations in Tbilisi in 1989, when 21 people were killed on the same square.
Saakashvili appeared at a ceremony earlier in the day to honor those dead, appealing for "unity for this motherland" and saying Georgians needed to "liberate our country once and forever and turn our country into a modern, democratic, European one."
Once the organizers of the opposition demonstration took over, Irakly Alasania, a former ambassador to the United Nations who quit his post before taking a leadership role in the opposition Alliance for Georgia, told the rally that "Saakashvili promised to bring prosperity to this country, but what we see now is unemployment and a faulty economy."
"People can no longer live like this," Alasania told the crowd.
Public Anger
Georgian authorities have dismissed as untrue an allegation that they rounded up dozens of opposition activists overnight, ahead of their planned attendance at the Tbilisi event.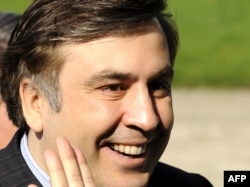 President MIkheil Saakashvili
"Our position is that the government must change because a lot of problems have accumulated, and no one is trying to fix this," Grigory, a university student who asked that he be identified by his first name, told RFE/RL's Georgian Service outside the parliament building.
Saakashvili already faced tough scrutiny over his economic policies ahead of his 2008 reelection, but many Georgians have had to tighten their belts further in the face of the global economic downturn.
"I'm concerned over economic hardships," an elderly woman in the crowd told RFE/RL. "I'm hungry; I'm thirsty. My pension is only enough to buy one [of my prescribed] medicines. I am literally hungry, and I came here because I want to improve my life."
Widespread Discontent?
The leaders of more than a dozen opposition groups had urged their supporters to join demonstrations in Georgia's major cities.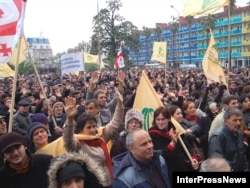 The antigovernment protest in Batumi attracted some 2,000 people.
An RFE/RL correspondent in Batumi reported that about 2,000 people were at a demonstration in that Black Sea port city. Organizers there told RFE/RL that they might ask supporters to disperse later in the day but return to continue demonstration on May 6.
Pressure has intensified against Saakashvili since Georgia's catastrophic defeat at the hands of Russian forces in August.
But the country's fractious opposition has so far proven ineffective in challenging Saakashvili, whose Rose Revolution credentials and efforts at reform long made him a darling of Western democrats.
Some analysts have warned that frustrations in Georgia could boil over into unrest.
Chants at the Tbilisi demonstration included one calling for "Georgia without violence! Georgia without violence!"
RFE/RL's Georgian Service contributed from Tbilisi and Prague; written by RFE/RL correspondent Ron Synovitz