DUSHANBE -- The privately owned Mushfiqi printing house in Dushanbe says that "technical problems" will prevent it from printing several independent weekly publications, RFE/RL's Tajik Service reports.
The move has raised suspicions in light of past instances when political pressure from authorities is thought to have disrupted the print runs of other independent publications.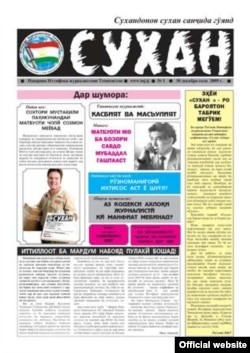 "Sukhan" weekly
Mushfiqi manager Umed Sattarov said the weeklies in question are "Paikon," "Ozodagon," "SSSR," "Millat," and "Borgohi Sukhan."
Sattarov told RFE/RL that Mushfiqi has asked those publications' editors to find alternative printing houses.
"Our printing equipment is broken. We request that they temporarily print elsewhere. We have a very small press that we can only print our own publications with," Sattarov said.
Editor Jumaboy Tolibov vowed that he would find an alternative means of circulating his "Paikon" publication.
Union of Journalists of Tajikistan head Akbar Sattor, who also owns a printing house, said that he is prepared to publish "Paikon" but only for a price that suits him.
Tajik lawyer Shuhrat Qudratov said that the Mushfiqi printing house has an agreement with these weeklies and must fulfill its obligations.
But Mukhtor Boqizoda, a former editor and the head of a local NGO that works to protect journalists' interests, described Mushfiqi's refusal as a message from the authorities that those weekly papers have overstepped government-imposed limits.
Boqizoda said that often when authorities or printing houses cite "technical problems," the problems are in fact political. He recalled that in the past, non-government-sponsored newspapers like "Ruzi Nav" and his own "Nerui Sukhan" found themselves in similar situations and were unable to continue publishing.