Riot police have attacked hundreds of demonstrators with tear gas and fired in the air to disperse a rally in central Tehran today.
The confrontation between protesters and security forces came after Iran's Revolutionary Guard issued its sternest warning so far in the postelection crisis.
It warned demonstrators to "be prepared for a resolution and revolutionary confrontation with the Guards, Basij, and other security forces and disciplinary forces" if they continue their near-daily rallies.
The warning, posted today on the Guards' website, told demonstrators to end what it called "sabotage and rioting activities" and said their resistance is a "conspiracy" against Iran.
Meanwhile, the Iranian Foreign Ministry has repeated senior officials' claims that Western countries are stoking lawlessness and violence in Iran in an effort to undermine that country's institutions.
The comments come after a
bloody weekend
that saw at least 13 people killed in postelection violence and hundreds arrested, according to official figures, as critics of the June 12 presidential election continued to protest despite warnings from Supreme Leader Ayatollah Ali Khamenei and other senior politicians.
Musavi supporters urged people to carry black candles with green ribbons as a show of unity with the victims of the postelection unrest, Reuters reported. They were also asked to shine their headlights for two hours from 5 p.m. local time to "show their solidarity with families of martyrs killed in recent events."
Media Hushed
The semiofficial Mehr news agency quoted a police statement saying that "after disregarding warnings by the country's officials and the commanders of the Law Enforcement Force, 457 people who [on June 20] attempted to create insecurity, engaged in direct clashes with the police, and disrupted public order were identified and arrested."
Tehran's office of the prosecutor-general has accused "unknown vandals" of being responsible for shooting deaths during protests on June 20, according to Iran's state English-language broadcaster Press TV. Officials have said police never opened fire on crowds in the capital.
The country has been virtually cut off from independent scrutiny since authorities banned foreign media and imposed paralyzing strictures on unofficial media and many Internet outlets, with access largely restricted to short messages and images sent by Iranians via Twitter and other web tools.
Arrests and other harassment have continued of Iranian journalists and of correspondents for foreign media, including the reported arrest of a "Newsweek" reporter and the expulsion of a BBC journalist.
"Promoting anarchism and chaos and vandalism, supported by Western powers and Western press, is not acceptable at all," Iranian Foreign Ministry spokesman Hassan Qashqavi told a June 22 news conference that was carried on Press TV.
""Most of the European countries and America, instead of encouraging people to use democratic means and instead of expressing regard for lawful means in their statements, generally supported the side of the rebels and opportunists," Qashqavi added.
Dividing Lines
Opposition champion Musavi reportedly issued what some regard as a landmark statement on his website over the weekend, urging his countrymen to "call the people to the Islamic revolution the way that it was and to the Islamic Republic the way that it should be."
Musavi dismissed suggestions that the discontent was inspired by foreign governments, saying, "How unfair are those whose puny interests force them to see the miracle of the Islamic revolution as the work of foreigners and call it a 'velvet revolution'!"
Instead, he charged, the current scene "goes beyond attempts to impose an unwanted government on the people. I rather view it as an attempt to impose a new form of political life on the country." He warned the public against allowing "liars and cheats to steal the banner of defending the Islamic system from you."
Supreme Leader Khamenei alleged foreign interference in a harshly worded Friday Prayer sermon on June 19 that "leaders of world arrogance of...some of the Western countries...[and]some of the media that they are running."
The country's powerful election authority, the Guardians Council, on June 21 allowed that the number of votes tabulated exceeded the number of eligible voters in some 50 cities, according to state-run Press TV.
But Guardians Council spokesman Abbas Ali Kadkhodai added that such disputed ballots total around 3 million and thus would not have affected the outcome -- a result that gave Ahmadinejad a margin of victory of around 11 million votes.
The council was responding to a complaint by Ahmadinejad's most conservative challenger for the presidency, former Islamic Revolution Guards Corps commander Mohsen Rezai, alleging inflated ballot counts.
Rezai and Musavi has each charged that votes counted outpaced the number of valid voters in more than 170 constituencies.
Khamenei had issued a seemingly iron-clad assurance two days earlier when he asserted that "the system in our country does not allow for any election fraud."
Ali Larijani, the conservative speaker of the Iranian parliament, or Majlis, appeared on June 20 to blame "some members" of the Guardians Council for exacerbating the crisis by siding with certain candidates, although he did not offer details according to Mehr news agency. Larijani pressed the presidential candidates -- all of whom have criticized the vote results aside from Ahmadinejad -- to distance themselves from the "rioters."
Iranian media also reported that the daughter and several other relatives of influential cleric and ex-President Ali Akbar Hashemi Rafsanjani were arrested and released on June 21, in a move that some have interpreted as a further sign of cracks within the political establishment.
Hashemi Rafsanjani chairs the Expediency Council as well as the Assembly of Experts, which has the constitutional power to oversee the supreme leader and name a replacement after his death.
Caution Abroad
U.S. President Barack Obama has issued carefully worded support for the democratic process and urged Tehran to "stop all violent and unjust actions against its own people."
"The last thing that I want to do is to have the United States be a foil for those forces inside Iran who would love nothing better than to make this an argument about the United States," Obama was quoted by AP as saying in an interview reportedly made before the weekend violence and scheduled for broadcast later in the day on CBS's "The Early Show." "We shouldn't be playing into that."
Obama told Pakistan's English-language "Dawn" newspaper in an interview published on June 21 that the United States has no way of knowing whether the election at the heart of the Iranian crisis -- which official figures awarded to incumbent President Mahmud Ahmadinejad by a wide margin over his closest competitor, Mir Hossein Musavi -- was fair or not, AP reported.
Other Western leaders have taken a similar position.
British Foreign Secretary David Miliband said any attempt to turn an election dispute among Iranians into a "battle between Iran and other countries" is without foundation.
German Chancellor Angela Merkel added a call on June 21 for a vote recount. "I believe doubts could easily be eliminated by repeating the vote counting to make it transparent, if necessary, with international observers. Trust could then be restored," Merkel said. "In my view, that's the best and easiest way to get clarification."
compiled and written by Andy Heil based on RFE/RL and agency reports
Iran Election Diary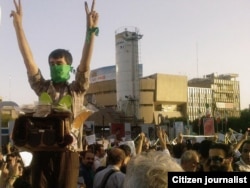 Disputed Presidential Vote
There have been protests and clashes with police on the streets of Tehran following the disputed reelection of Mahmud Ahmadinejad. RFE/RL collects videos, photos, and messages on social-networking sites coming out of Iran to attempt to get a picture of what is happening inside the country.
Click here
Iran Election Special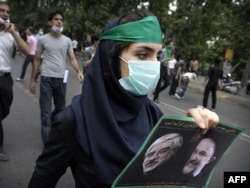 RFE/RL's Full Coverage
Following the disputed reelection of Iranian President Mahmud Ahmadinejad, supporters of Mir Hossein Musavi have taken to the streets to protest.
Click here
for news, blogs, and analysis of the presidential election and aftermath.