The taxi that takes me to work every morning was late. Trying to avoid the darting beams of morning sunlight, I snuggled under a sycamore tree. It reminded me of a European friend of mine who visited Iran in August 2000 and who insisted on walking in the sun and avoiding the shade.
When I asked him why, he replied: "We love the sun, we don't have much sunlight back home. When you don't have something you always yearn for it and when you have plenty of it, you forget how valuable it is."
My thoughts were interrupted by the loud shouts of my neighbor Ali who was feverishly trying to get a cab.
At that moment my taxi arrived and I offered to drop Ali off on the way. "I thought you bank guys get to work earlier, it's 7:35 already so what's the deal? Practicing for Ramadan?" I said, trying to cheer him up.
"I'm late," he said, trying to calm down. "The baby kept us up all night. I overslept and think I'm going to lose my job." I was puzzled. Usually in Iran a bank job is considered to be pretty secure and they don't fire people for being late a couple of times, especially a person like Ali who got his job through his father-in-law.
Ali continued: "These days all the talk is about 'equalizing' the workforce and this has been the talk of the management since April." I asked: "Is there a possibility of a bank collapse, like the ones in the West?"
"No, the government banks won't collapse while we still have oil money pumping into them," Ali said. "And we still have plenty of oil. But we are losing money. There are so many bad loans and people defaulting on loan payments."
Disturbances
The taxi driver told me that we would have to avoid Karimkhaan Avenue as the "Etemad-e Melli" newspaper had been ordered to be closed and there might be some disturbances in that area. I wondered what kind of disturbances there could be at 8:00 a.m.
Ali continued: "Yes, this is what I'm talking about, they are using the political situation today to do what they started after Norouz and that is to get rid of anyone that stands in their way."
He was worried, I looked at him quizzically. "Ahmad," he said, "I was in charge of following up some of these loans. I'll give you one example: one organization received a loan of over $7 million two years ago and had not paid a penny back. I followed up the payment and not only did they not pay, but I was forced to sign a paper allowing the banks to give them an extra $70,000 every month this year. Three people got fired because they tried to follow up this case and if it was not because of my father-in-law, I would be fired as well.
"Now after the election, they are changing people at the top and even my father-in-law might be questioned. There is a possibility that the government arrests several lower-ranking people to cover up for similar situations. That's why I am worried."
As we arrived at the crossing of Motahari Boulevard and the Modares highway, Ali sprang out of his seat and with his tanned face and dark wavy hair looked back at me and said, "you know, as long as the oil revenues fill the gap, this situation will continue. If we had a transparent banking system it would have collapsed a few years back.
"We have too much money but not in the right hands. But with the cost of living sky high and with a base salary of only $300 I need to keep my head down and definitely have to be on time."
Ahmad is a pseudonym for a journalist in the Iranian capital, Tehran, who contributed this piece to RFE/RL's Radio Farda
Iran Election Diary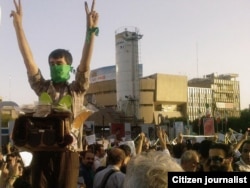 Disputed Presidential Vote
There have been protests and clashes with police on the streets of Tehran following the disputed reelection of Mahmud Ahmadinejad. RFE/RL collects videos, photos, and messages on social-networking sites coming out of Iran to attempt to get a picture of what is happening inside the country.
Click here