(RFE/RL) -- The Moldovan authorities are in the process of recounting ballots from the April 5 general election, which opposition parties say was rigged.
Results from the recount are not expected until April 17. But in the meantime, the diplomatic war between Bucharest and Chisinau continues to heat up.
After the disputed poll and rioting that ensued 10 days ago in which protesters stormed the parliament, senior Romanian officials sided with Moldova's opposition -- accusing the country's ruling Communist Party of fixing the outcome.
According to initial official results, the Communists won some 50 percent of the vote, putting them one seat short of a parliamentary majority.
Moldova's President Vladimir Voronin pointed the finger at EU member Romania, blaming it for orchestrating the postelection violence. He ordered the expulsion of Romania's ambassador, recalled Chisinau's envoy to Bucharest, and instituted an immediate visa requirement for Romanians seeking to enter the country.
Romania hit back, calling for an EU investigation into "repression" in Moldova.
And late on April 14, President Traian Basescu announced Romania would make it easier and faster for Moldovans to receive Romanian citizenship, saying Bucharest could not sit idly by as repression descended on Moldova.
"We are not going to allow a new Iron Curtain on the Prut [River]," Basescu said.
Under the simplified procedure to citizenship, which has already been approved by the Romanian cabinet, Moldovans who can claim at least one Romanian grandparent will no longer be required to submit to an oral interview to test their language and cultural knowledge.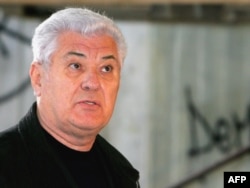 Moldova's Voronin has called for an amnesty.
The initial background-check time on all applications will also be reduced to a maximum of five months.
Basescu told Romanian television that the Romanian Embassy in Chisinau has already received 650,000 citizenship applications from Moldovans in recent years. Since some people have filed the requests on behalf of other family members, he said the total amount of Moldovans seeking Romanian passports could be up to 1 million.
That is a quarter of Moldova's population.
Olive Branch
Moldova's Voronin, for his part, went on national television on April 15, calling Romania's criticism of the election "an example of revanchism on a government level."
But he did hold out an olive branch to local opposition members, proclaiming an amnesty for people detained while taking part in anti-Communist demonstrations.
"I ask the judiciary for a general amnesty and to put an end to all judicial procedures against the participants in the street protests," Voronin said.
Voronin said the amnesty should apply to everyone except "criminal elements and repeat offenders."
At the Council of Europe, Secretary-General Terry Davis said on April 15 he was "very concerned" about alleged human rights breaches in Moldova and would send an envoy to report on events in the country.
Acting Czech Prime Minister Mirek Topolanek, whose country holds the EU's rotating presidency, is also due in Chisinau on April 22 to discuss a postelection resolution.
RFE/RL's Moldovan Service contributed to this report