In many ways, it's an election about nothing.
Voters in breakaway Abkhazia go to the polls on December 12 to elect a de facto president. It is the territory's first election since winning recognition for its self-styled independence bid from a handful of countries following Russia's war with Georgia last summer.
The incumbent Abkhaz leader, Sergei Bagapsh, who has the tacit support of Moscow, is the strong favorite in a field of five candidates. Bagapsh's strongest rivals are his former vice president, Raul Khajimba, the runner-up in the hotly contested 2004 election, and businessman Beslan Butba, chairman of the Economic Development Party of Abkhazia.
The candidates have fanned out through the tiny territory on the northern tip of Georgia, talking to voters about issues like corruption, economic development, social policy, and support for small businesses.
But given Abkhazia's international isolation and near-total dependence on Russia, analysts say the consequences of the vote will be severely limited. Regardless of who wins, Moscow will be calling the shots.
"Unless something very unexpected happens, it is not going to change anything in Abkhazia," says Lawrence Sheets, head of the International Crisis Group's Tbilisi office.
"It is going to change nothing because I think the question that one has to ask oneself is what latitude do the local authorities have for independent movement. If it was circumscribed and within a fairly narrow range before 2008, you can imagine how much it has tightened up now."
Fealty To The Kremlin
Russia's dominance of Abkhazia is indeed nearly total. Most Abkhaz residents carry Russian passports in addition to Abkhaz ones, in order to be able to travel abroad. The Russian ruble remains the territory's official currency. Most Abkhaz communicate predominantly in the Russian language. And Russia remains Abkhazia's only significant foreign investor.
Moreover, at least 3,800 Russian troops are based in Abkhazia. Moscow is building a massive naval base in the port city of Ochamchire. Bagapsh has also granted Russia control over the territory's borders, airport, and railway system.
Analysts say Bagapsh's ruling United Abkhazia party is even explicitly modeled on Russia's ruling party, United Russia.
"United Abkhazia was built according to the Russian idea of a party of power. It is an attempt to implement the formula of an institutionalized rightist party," Sukhumi-based political analyst Irakli Khintba tells RFE/RL's Ekho Kavkaza, which broadcasts to Abkhazia and South Ossetia.
But opposition candidates are also bending over backward to show their fealty to the Kremlin.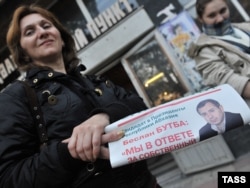 A woman in Sukhumi flashes a newspaper with a photo of candidate Beslan Butba.
Butba, who has staked his outsider campaign on a platform of fighting corruption and supporting small business, says he wants to turn Abkhazia into a place where people "have money and become consumers" so the territory can "enter the world economy." But he is careful to pay homage to Moscow's dominant role.
"Everything we do and everything we will do will be with Russia, and through Russia. For now, Russia's recognition is sufficient. We can grow and develop this way. Nothing is in our way," Butba tells Ekho Kavkaza.
Khajimba, a former KGB official who has styled his campaign along nationalistic lines focusing on defending the Abkhaz language and national identity, has enjoyed a close personal relationship with Russian Prime Minister Vladimir Putin.
Seeking The Minority Vote
Bagapsh, for his part, has tried to fashion himself as a more cosmopolitan leader, and has appealed to Abkhazia's ethnic minorities. In 2004, he won strong support from ethnic Georgians in southern Abkhazia's Gali district.
In an effort to prevent this from happening again, Khajimba successfully pushed for a provision in the electoral code stipulating that only Abkhaz passport holders can cast ballots, severely limiting the number of Georgians who will be able to vote for Bagapsh.
"Everybody has the right to decide whether they want to be an Abkhaz citizen or not. But once the election campaign began, there also began a process of actively giving passports to residents of the Gali district. But these people are Georgian citizens," Butba says.
Approximately only one-fourth of Abkhazia's 45,000 Georgians hold Abkhaz passports and are capable of voting.
But Bagapsh has been successful in tapping into the ethnic Armenian minority, securing the support of Sergei Matosyan, the leader of Abkhazia's Armenian community and a member of Abkhazia's de facto parliament.
"My move to support Sergei Bagapsh is based on my belief that he is the one figure who can consolidate our whole society," Matosyan tells Ekho Kavkaza.
With approximately 32,000 voters, the Armenian community is Abkhazia's second-largest ethnic constituency voting in the election. Ethnic Abkhaz make up the largest bloc, with approximately 73,000 voters.
Some 17,500 Russian residents are also expected to vote.
Georgians once dominated the population of Abkhazia but fled en masse when the territory broke free from Tbilisi's control in a war in 1992-93. Abkhazia declared independence in the autumn of 2008 following a brief war between Russia and Georgia over South Ossetia, a second Georgian breakaway region.
Only three countries -- Russia, Nicaragua, and Venezuela -- recognize Abkhazia as an independent country and the election will be shunned by the international community. As a result, there will be no international observers present to monitor the vote.
The Ghosts Of Elections Past
Despite Moscow's tacit support for Bagapsh, the Kremlin has been careful not to burn bridges with other candidates.
During a visit to Abkhazia in August, Putin took the unusual step of meeting not only with Bagapsh but with opposition candidates as well.
"I think that Russia understands that Abkhazia is a new state and that they need to talk to all sides that are trying to preserve that state. I think this is a normal process," Khajimba tells Ekho Kavkaza.
But analysts also say the move was an effort to avoid a repeat of the debacle that was Abkhazia's October 2004 election.
During that campaign, Moscow made no secret of its support for Khajimba and its disdain for Bagapsh, then an insurgent opposition figure.
Posters of Khajimba together with Putin were plastered all over Sukhumi. Prominent Russian politicians campaigned for him, as did the popular singer Iosif Kobzon. The bombastic nationalist Russian State Duma deputy Vladimir Zhirinovsky even went so far as to threaten that Moscow would close its Abkhaz border if Khajimba wasn't elected.
Nevertheless, Bagapsh won a narrow majority on election day, taking 50.08 percent of the vote. The result shocked Khajimba and his patrons in Moscow. Many attributed Khajimba's narrow loss to a backlash against the strong Russian influence in his campaign.
Months of chaos ensued that saw Khajimba's supporters occupy Abkhazia's de facto Supreme Court and parliament and Bagapsh's backers seize the local television station and presidential building.
Finally, in December -- two full months after the vote -- the two sides reached a compromise. Bagapsh and Khajimba announced that they would run together on the same ticket in a second round, with Bagapsh as president and Khajimba as vice president.
In the January 12, 2005 runoff, the Bagapsh-Khajimba ticket won with over 90 percent of the vote.
Demis Ponaldov of RFE/RL's Ekho Kavkaza contributed to this report
Chronology Of The Russia-Georgia Conflict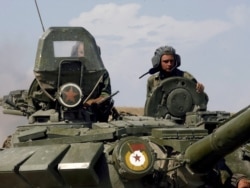 Chronology Of A Conflict
One year after war broke out between Russia and Georgia, many issues remain unresolved. South Ossetia and the breakaway region of Abkhazia unilaterally declared independence, tens of thousands of Georgians are still displaced, and political tensions between Tbilisi and Moscow are simmering. Here is a look back at the key events in the conflict over the past 12 months. Play