The release last week of an EU report on the August 2008 Russia-Georgia war is continuing to draw cheers and rebukes respectively from many corners.
The report, drafted by an investigative team led by Swiss diplomat Heidi Tagliavini, blamed Georgia for initiating the five-day war but suggested that both Moscow and Tbilisi shared responsibility for bringing the long-simmering conflict to the boiling point.
Among the report's critics is Lithuanian Foreign Minister Vygaudas Usackas, who said the anger over the war is still too fresh for the EU to attempt to apportion blame.
"The wounds of the conflict and the war a year ago are still very much alive," Usackas said during a two-day trip to Tbilisi. "And I think what's happening now is that we're putting salt on those wounds, which I don't think is helpful, having in mind that we're now in a situation where we have to deal with post-conflict resolution."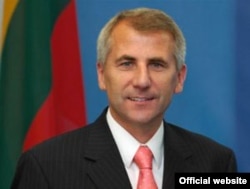 Lithuanian Foreign Minister Vygaudas Usackas
Both the Russians and the Georgians have attempted to claim victory in the report's myriad findings.
But the first media headlines following the document's presentation on September 30 saw a tactical defeat for Tbilisi in the EU's conclusion that Georgia officially started the war by firing the first shot -- shelling the breakaway region of South Ossetia on the night of August 7.
The BBC and others led with headlines citing the report's statement that Georgia had started an "unjustified war."
Russian officials quickly stated the report delivered an "unequivocal answer" on who was to blame. Russia's NATO ambassador, Dmitry Rogozin, went so far as to suggest the West owed the Kremlin an apology for its condemnation of Russia's actions during the war.
Moscow Not Spared
Ron Asmus, the head of the German Marshall Fund in Brussels, said the report, in its entirety, is really more nuanced.
"This report is written in a way that different parties will emphasize different parts of it which they think confirm their position," Asmus said. "If I was sitting in the Kremlin, though, I wouldn't want people to read the report too closely, because the more I re-read it, the more there is criticism of various aspects of Russian policy."
The report, among other things, rejects Moscow's claims that it was attempting to prevent "genocide" by entering South Ossetia and eventually moving in Georgia proper.
The report says Russia's retaliation to the August 7 Georgian assault went "far beyond the reasonable limits of defense."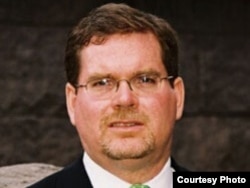 U.S. German Marshall Fund's Ron Asmus
Asmus said the report "was much tougher on Russia than people expected."
Still, Asmus -- who served as a U.S. deputy assistant secretary of state under Bill Clinton -- said focusing on who's to blame is not nearly as important as ensuring that the same mistakes aren't repeated.
The first war, said Asmus, began because Georgian President Mikheil Saakashvili wanted to go West and Russia wanted to stop him.
A year later, those basics haven't changed: Tbilisi is still actively yearning for NATO and EU membership, and Russia is still keen to keep Georgia within its sphere of influence.
Preventing Round Two
Even if Saakashvili's actions had disastrous consequences, Asmus said, the months of Russian sanctions and military buildup that preceded the war help explain why he acted the way he did.
It also explains why a future such conflict can't necessarily be ruled out -- especially as Russia continues to build ties with Abkhazia and South Ossetia and sends coast guard boats into the Black Sea to protect Abkhaz vessels from what it terms "Georgian provocations."
"I think it's part of a pattern of threats and warnings from Moscow, that if you, Georgia, continue to go West, you will pay the price and suffer the consequences," said Asmus.
"That, followed by a pattern of escalation and intimidation, until President Saakashvili felt cornered and felt he had no choice but to act. You can still say his decision was wrong, but why he did it was not a great mystery for me."
Usackas, the Lithuanian foreign minister, said the best steps now are to keep Georgia on a steady path of reform, encourage Russia to respect its original cease-fire commitments, ensure the safe return of people displaced by the war, and allowing EU monitors to work in South Ossetia and Abkhazia.
Usackas said the European Union and the United States cannot escape criticism for their own failure to prevent the war. He said the West must be more "aggressive" in favoring preemptive diplomacy over postconflict resolution.
"Why, in the 21st century, did we allow two members of the Council of Europe and the OSCE to go to war? What did these organizations do to prevent it -- and if there was something we didn't do, why not?" he asked. "I believe we weren't sufficiently generous, we didn't have sufficient foresight, and we didn't use the preventive means we had."
David Kakabadze interviewed Ron Asmus from Prague; Marina Vashakmadze interviewed Vygaudas Usackas in Tbilisi; written by Daisy Sindelar in Prague