SUKHUMI -- In Abkhazia, Benetton is just another word for unwanted isolation.
When the clothing giant announced plans to open a store in the separatist region earlier this year, it faced howls of protest from Georgia and eventually scrapped the idea. The decision infuriated the Abkhaz, who saw the move as a sign that they would be shunned by Western investors.
Abkhaz politicians say the international community's reluctance to engage the breakaway province will only serve to drive it deeper into Russia's embrace.
"This is what happens when nobody supports you. Our only partner is Russia," Batal Kobakhia, chairman of the Human Rights Committee in Abkhazia's de facto parliament, told RFE/RL in a recent interview in his office in Sukhumi.
"Is the West worried about this? Is the West worried that we will be buried by Russian capital? That we will be assimilated? Is the West worried about the fate of our people?" Kobakhia asked.
Abkhazia's desire for engagement with the West contrasts sharply with Georgia's other separatist province, South Ossetia. While many in Abkhazia now express concern about being assimilated and dominated by Russia, South Ossetians seem to openly embrace the prospect.
South Ossetia's de facto ruler Eduard Kokoity has gone as far as to say that his region's self-styled independence was just a temporary phase before formally unifying with Russia's North Ossetia region.
"The political goal of my life is to unite my people," Kokoity recently told Reuters. "Today we are an independent state and we will build our statehood. But I want to stress that we will do this together with Russia. And we don't rule out that there will come a time when we will become part of Russia."
Russia has long backed Abkhazia and South Ossetia's bids to break free from Tbilisi's rule and recognized their independence shortly after fighting a brief and bitter war with Georgia in August 2008. No other country save Nicaragua has followed suit, although even that country's legislature has not yet ratified the recognition.
One year later, the two territories appear to be seeking different paths, even as both fall more tightly into Moscow's grip.

An Appendage Of Russia

With its picturesque Black Sea coast, fertile land, and abundance of citrus fruits, Abkhazia believes it has a potentially prosperous future on its own and takes its purported statehood seriously. South Ossetia, which lacks such natural blessings and has struggled economically, sees its future in eventual unification with Russia's North Ossetia region across the Caucasus Mountains.
With its Black Sea coast, Abkhazia has ample opportunities for tourism and development.
"There is a fundamental difference between the situation in Abkhazia and the situation in South Ossetia," says Lawrence Sheets, director of the Tbilisi office of the International Crisis Group.
"It's clear that South Ossetia is little more than an appendage of Russia for the most part. The situation in Abkhazia is quite different. Abkhazia did develop something of a political culture and political elite during its 15 years of de facto independence," Sheets said.
Most notably, Abkhazia's leadership is indigenous with deep roots in the region. Abkhaz voters also have a history of showing a prickly independence from Moscow. In the territory's 2004 presidential election, former KGB officer Raul Khajimba, the Kremlin's preferred candidate, was soundly defeated by Sergei Bagapsh.
Abkhazia has elections scheduled for December and Bagapsh is already coming under fire from the region's feisty opposition for giving Moscow too much authority over the territory.
Most of the South Ossetian elite, on the other hand, has been transplanted from Russia and is tightly under the Kremlin's control. President Kokoity, a former Soviet wrestling champion who was born in the territory, is the exception.
For example, the region's newly appointed prime minister, Vadim Brovtsev, is the director of a construction firm based in Russia's Chelyabinsk region. Brovtsev's predecessor, Aslanbek Bulatsev, previously served as the head of Russia's Federal Tax Service in North Ossetia.
Military Buildup
Despite these differences, Russia has been steadily building up its military presence in both territories, which Georgia calls a clear violation of the cease-fire agreement ending hostilities between Moscow and Tbilisi.
Officially, Moscow says it has 7,600 troops in Abkhazia and South Ossetia combined. Western and Georgian military analysts say, however, that the true figure is closer to 10,000.
Moscow is also preparing to house several bases in the region. Most prominently, they have announced plans to build a naval base in Abkhazia's port of Ochamchire, close to the cease-fire line separating Abkhazia from Georgia proper.
Other bases are planned in Gudauta in Abkhazia and in Akhalgori in South Ossetia.
Abkhaz leader Sergei Bagapsh has also agreed to grant Russia control over Abkhazia's borders, airport, and railway system.
In an interview with RFE/RL's North Caucasus Service, Abkhazia's de facto Foreign Minister Sergei Shamba insisted that the Russian presence would not diminish Sukhumi's independence.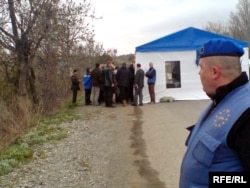 An EU monitoring mission watches the de facto border with South Ossetia, but only from the Georgian side.
"Unfortunately we live in a region where there are a lot of threats," Shamba said. "We need to find someone to defend us and we found this in our alliance with Russia."
"As far as bases go, we are not the only ones doing this," he continued. "There are American bases in European countries; there are cases of joint border patrols in other regions as well."
Russia has also tightened its grip on the territories by vetoing extensions of the United Nations mission in Abkhazia and the OSCE mission in South Ossetia. The only international presence is an EU mission that monitors both de facto borders, albeit only on the Georgian side.
Rising Tensions
In recent weeks, the most serious military tensions have been around the administrative boundary separating Georgia and South Ossetia.
Russia has placed its troops in South Ossetia on high alert after accusing Georgia troops of "provocations," including firing into South Ossetia. But the European Union monitoring mission, which observes the de facto border, says there is no evidence of this whatsoever.
And on August 3, tensions ran high in the village of Kveshi, on the Georgian side of the de facto border, when Russian troops
tried to move the posts
marking the boundary 500 meters deeper into Georgian territory. Local residents informed EU monitors and the Russians removed the posts the following day.
Analysts say that due mainly to geography and Russia's tight grip on the territory, South Ossetia is more likely to be a flashpoint for fresh hostilities. The territory's Akhalgori district, for example, is just 30 kilometers from Tbilisi and the administrative border is very close to Georgia's main transportation arteries -- the East-West and North-South highways.
"The potential for destabilizing the situation around South Ossetia is a magnitude greater," Sheets says. "If you really want to wreak havoc you would probably want to do it around South Ossetia. You also have a completely pliant leadership in South Ossetia."
Abkhazia broke free from Georgia's control, with strong assistance from Moscow, following a war in 1992-93 that killed 15,000 people. South Ossetia did the same following a war in 1991-92.
Some 300,000 ethnic Georgians, 250,000 from Abkhazia and 50,000 from South Ossetia, remain displaced by the fighting.
A New Strategy
During a visit to Tbilisi on July 22-23,
U.S. Vice President Joe Biden
told Georgian officials that there could be no military solution to the conflicts around both regions. The best way to bring Abkhazia and South Ossetia back into the fold, Biden said, was to build a stable, prosperous, and democratic Georgia that would be more attractive to the two regions than Russia.
Biden made the point memorably while speaking to a group of children displaced by the fighting in the two regions.
"As you grow up and be well-educated and successful, you're going to create a better environment for your country," Biden told the assembled children.
"And when all the people in Abkhazia and South Ossetia look across and see the prosperity and the opportunity in the rest of Georgia and when they look north, into Russia, unless it changes drastically, and don't see the same opportunity, they're going to say to one another, regardless of their ethnic background: 'I want to be in Georgia,'" Biden said.
Georgia's former UN Ambassador
Irakli Alasania
, now an opposition politician, made a similar point in a recent interview with RFE/RL.
"No matter what we think about Russia or their capabilities, they are not almighty," Alasania said.
"If we can show the Abkhaz that what happened in Europe with countries that transformed from totalitarian regimes to democratic regimes, and how they secured ethnic identity in a democratic Europe, they will be exposed to the values that will help Abkhaz and Georgians to coexist together in the European Union," Alasania said.
RFE/RL's Georgian and North Caucasus Services contributed to this report.
Chronology Of The Russia-Georgia Conflict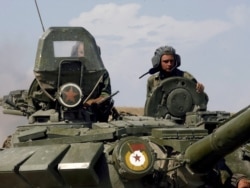 Chronology Of A Conflict
One year after war broke out between Russia and Georgia, many issues remain unresolved. South Ossetia and the breakaway region of Abkhazia unilaterally declared independence, tens of thousands of Georgians are still displaced, and political tensions between Tbilisi and Moscow are simmering. Here is a look back at the key events in the conflict over the past 12 months. Play