TUZLA, Bosnia -- Few places are more affected by the issue of missing person than the Balkans, where some 35,000 Bosnians, Croats, Albanians, and Serbs disappeared during the brutal wars of the 1990s.
As the world marks the International Day of the Disappeared on August 30, many in the Balkans continue to anguish over the fate of loved ones who vanished without a trace. Many have been discovered in mass graves and painstakingly identified. Others remain missing. But almost no one comes back alive.
The 18-year-old basketball prodigy had just been named Yugoslav junior co-player of the year. And his team, Sloboda Dita, based in the Bosnian city of Tuzla, had that year claimed the national youth title.
The 205-centimeter-tall teen was getting ready to travel to Belgrade to begin training with the Yugoslav junior national team for the European youth championships in Poland. After that, he planned to go straight into the professional leagues. He had already received a number of offers from top Yugoslav clubs like Partizan and Red Star.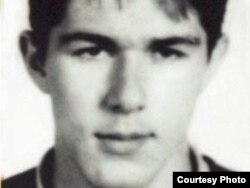 Edin Salaharevic
But before traveling to Belgrade, he decided to spend the Muslim holiday of Eid al-Fitr with his family in their hometown of Vlasenica, located in eastern Bosnia in what is today the Republika Srpska.

'No Muslims Would Remain Alive'
The Salaharevic family enjoyed a degree of local celebrity in the town thanks to Edin, who had begun his career playing for the local team, Boksit. But in the spring of 1992, the mood had changed in Vlasenica, a multiethnic town nearly equally divided between Muslims and Serbs.
On April 6, the Bosnian parliament in Sarajevo declared independence from the Yugoslav republic. Bosnia's ethnic Serbian lawmakers had already split from their Muslim and Croatian counterparts in anticipation of the declaration and had begun the process of creating the Serb Republic.
Within days, Serbian armed forces had launched systematic attacks on Bosnian Muslim civilians living in eastern Bosnia. Vlasenica was no exception. On April 21, Serbian forces took over the town, placing the Salaharevic family and other Muslims under house arrest.
Edin's brother, Nedim, was just 13 at the time. Speaking in Tuzla, where he now lives, he says his family remained under house arrest until mid-September and under constant threat by one of the operation's ringleaders, Predrag Bastah, a local police reservist known simply as "the tsar."
"I don't know how to describe that time. If there's such a thing as hell on Earth, it was this period in Vlasenica," says Salaharevic, a member of the Association of Families of War Victims in Vlasenica 1992-1995. "By the first night, two people on my street had been killed. We heard the shots. They spread the news that no Muslims would remain alive in Vlasenica. Predrag Bastah said that no Salaharevic would stay alive. That echoes in my mind to this day."
Support From Outside

News of Edin Salaharevic's plight traveled fast as a desperate attempt was made to save the young athlete's life. At a time when national divisions had grown deadly, dozens of people from the Yugoslav Basketball Federation and Serbian-based clubs like Partizan and Vojvodina stepped forward to ask for information about Salaharevic's welfare and demand his release.
Nedim Salaharevic says the entreaties fell on deaf ears as the family's Serbian neighbors and former friends refused to set him free.
On September 13, Bastah arrived at the Salaharevic home and escorted Edin, now 19, and his father, Muhammad, to the Susica detention camp that had been erected in Vlasenica. Nedim Salaharevic, still 13, was spared a similar fate. Together with his mother, Hatidza, he was placed on a bus and forcibly evicted from the town. He never saw his father or his brother again.

Thousands Still Missing
For the next 17 years, Edin Salaharevic and his father were presumed dead, but their precise fate -- like those of the 35,000 estimated Serbs, Bosnians, Albanians, and Croats to "disappear" during the brutal violence of the Balkan wars -- was unknown.
An estimated 2,600 Muslims were killed at Susica, but the process of recovering the victims' remains has been slow and uneven. According to the International Committee of the Red Cross, only 60 percent of cases involving the war "disappeared" have been solved, and the process in Croatia, Kosovo, and Bosnia-Herzegovina may drag on for decades.
Of the Vlasenica victims, the remains of fewer than 1,000 people have been located, and fewer than half of those have been identified. Among those identified was Edin Salaharevic, who was buried with 33 fellow Susica victims in April 2009, 17 years after his promising future was cut short during that brief stopover in his hometown. (In February 2010, Predrag Bastah was sentenced to 22 years in prison for his role in the Vlasenica executions and deportations.)
Basketball players from throughout the Balkans attended the funeral. It was a reminder, says Nedim Salaharevic, that his brother's respect for others crossed national divides -- as did his friends' respect for him.
"Our father taught us to respect and help all people. He did everything to ensure that my childhood -- which unfortunately was interrupted by the events in Vlasenica -- would take place in a normal environment," Salaharevic says. "He was not at all political. Our house was open to everyone, and everyone came."