BRUSSELS -- At the close of the decade, uncertainty has returned to the world with a vengeance.
Economic depression and political insecurity make for a dangerous cocktail, British historian Tony Judt warned in an October lecture at New York University. Judt drew on John Maynard Keynes, the economic theorist, who studied the "corrosive force" of the effects of combined political and economic uncertainty on the liberal world order in the 1930s. That force, Judt cautioned, could once again threaten liberty.
It's arguable that the tide of optimism that accompanied the end of the Cold War has run its course. A just and universal global order has failed to replace the world's division into two warring blocs.
The problem is one of lack of leadership and enforcement. The most likely contenders for these roles, the United States and the EU, have failed to deliver. The ideals promoted by them are losing ground, and are increasingly contested by rivals from Russia and China to Iran.
The United States, for its part, has come up against an age-old problem affecting all forms of imperial attempts at foreign emancipation, no matter how benevolent. Emancipation eventually breeds resentment, whether in Europe, Iraq, or Afghanistan.
At first glance, the EU's strategy of voluntary transformation may look more promising. After the Lisbon Treaty endowed the bloc with a full-time president and foreign minister, its foreign policy seems well-placed to benefit from the same economies of scale as its common market.
EU Talks, But Is There A Stick?
There is certainly no shortage of optimism. The EU's outgoing external relations commissioner, Benita Ferrero-Waldner, told RFE/RL the bloc now has a "great" opportunity.
"We have to use this momentum, which is a great, necessary momentum," Ferrero-Waldner said. "Because this is my strong conviction -- if Europe wants to stand up, and cooperate closely with the other big actors [in the world], it has to be much stronger and it has to be seen as stronger."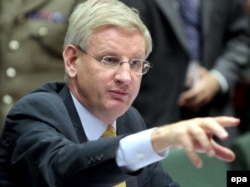 Carl Bildt sees a "demand for a greater EU voice."
In a speech delivered in Brussels this month, Carl Bildt, the foreign minister of Sweden, which currently holds the rotating EU Presidency, said there is a "demand for a greater EU voice" in the world -- especially among the emerging powers of Asia, Africa, and Latin America.
Javier Solana, who after 10 years has stepped down as the EU's foreign-policy chief, told the Belgian daily "Le Soir" that the EU is "an embryo, a model for how countries could share sovereignty in a world where sovereignty must be shared...in a world which will be made up of blocs."
But the EU falters when it comes to putting the instruments at its disposal to practical use. Antonio Missirolli, director of studies at the Brussels-based European Policy Center, says the EU has the "potential" to gain a greater role on the global stage, but will not succeed unless its member states decide to put individual interests aside and pool their power.
"I would say that now there is a potential for that to happen, but there is no guarantee," Missirolli says. "That will depend very much on the arrangements [to] be agreed upon in the months to come, on the political and readiness of the member states to play ball to this effect."
Increasingly, EU leaders also appear to lack the courage of their convictions. The EU is increasingly embracing "multilateralism," an existence among blocs whose values may not converge. Member states are also liable to put national interest ahead of global idealism.
Most importantly, the EU may have the knack of "quiet diplomacy" favored by its new high representative for foreign affairs, Catherine Ashton, but it lacks the big stick to back up its words. For this, it must go to NATO and, ultimately, to the United States.
U.S. Retrenchment
But the certainties of the Cold War era no longer hold. The United States, also, is increasingly pursuing interests above ideals and picking allies according to their utility, not persuasion.
Politicians in Europe are keenly aware of this. NATO's secretary-general, Anders Fogh Rasmussen, a former Danish prime minister, warned in "Le Soir" that if Europe is "not capable of standing shoulder-to-shoulder militarily [in Afghanistan] with the Americans when the current administration in Washington has embraced the multilateralism which we have pleaded for, we face an immense risk."
Daniel Korski, an analyst with the European Council of Foreign Relations in London, says the fate of the mission in Afghanistan will not in itself determine the fate of NATO -- but that the alliance could change in ultimately disastrous ways.
"The point is, rather, that it's going to continue to exist and operate, but that cohesive element -- this belief that it is an operationally capable organization, different than the EU, different than the UN, different than any other alliance -- is going to be eroded," Korski says.
What will be questioned is NATO's other roles as a forum for political discussion and a security guarantor in the Balkans, not to mention its Article 5 commitment -- "if the Russians do provoke it," Korski adds.
What is at stake most immediately is the credibility of the EU's ability to project its foreign policy, as well as its own long-term security. But the risks run deeper. Ultimately, the United States is the only well to go to for any country or organization pursuing Western values. An isolationist, disappointed United States would contribute to further uncertainty and unpredictability in the world.
The risk of U.S. disillusionment is seen as real. Should Afghanistan turn into a quagmire, Rasmussen fears public opinion in the United States would turn sharply against the international community and its duty to intervene in far-flung conflicts.
Yet there are few signs of encouragement. In a phenomenon observed already by Hannah Arendt, any attempt at emancipation by an imperial power contains within it the seeds of resentment and alienation.
Korski notes that the United States is facing a growing "narrative" of dissent in the Muslim world.
Thus the EU, the most consistent exponent of the imperative of a rule-based world order, may have entered the stage too late. The days of what the British political philosopher John Gray has called "liberal interventionism" are on the wane, if not over entirely. Yugoslavia, Iraq, and Afghanistan are not formulas for expansion, but milestones in an experiment that is by now looking for exit strategies.
Increasing Entropy
Tellingly, the EU's own stance on its closest neighbors is, increasingly, less ideological than pragmatic. Michael Emerson, director of studies at the Center for European Policy Studies in Brussels, says the bloc's failings in its own neighborhood are linked to its failure to lead by example.
"This links to the fundamental question, the politically and operationally fundamental question, as to whether the European Union is willing to offer even long-term membership perspectives to these countries -- which it has not agreed to do," Emerson says.
"Although half of the European Union would be willing to do that, the other half is not. This immediately castrates the Neighborhood Policy in a very fundamental way."
In his speech, Sweden's Carl Bildt offered the devastating observation that all of the EU's eastern neighbors are now more "fragile" than five years ago.
Within these wheels of uncertainty there are further wheels. The United Nations amounts to little more than an international talk shop, unable to offer united and effective leadership on any current crisis, be it Iran, the Middle East, or even the struggle to stop climate change, which is turning into a near-existential threat for many of its member states.
Indeed, the case could be made that the United Nations has never managed to unite all of its five permanent Security Council members on an issue of the first order of magnitude. The aura of idealism associated with the UN at its inception and again in the early 1990s has largely been an illusion.
The same applies to its lesser, regional brothers. The Organization for Cooperation and Security in Europe (OSCE), to be chaired by Kazakhstan in 2010, has effectively been rejected as a security forum by Russia. President Dmitry Medvedev's blueprint for a new European security architecture is squarely aimed at NATO and hard security, and neglects other OSCE "baskets" such as human rights or economic development
The Council of Europe, nominally in charge of promoting democracy and rights in Europe, is at the mercy of its member states and lacks any enforcement mechanisms. Its attendant European Court of Human Rights has no jurisdiction over offenses that its member countries classify as criminal infractions -- making it virtually impotent as a means of redressing the effects of state-sponsored repression in Russia or elsewhere in the former Soviet Union.
On present trends, entropy on the global scene is set to worsen over the coming years. This is bad news for the smaller players, above all. In the longer term, however, things appear less clear-cut.
This week's climate-change talks in Copenhagen could well be a foretaste of things to come. A heightened sense of urgency -- for some countries increasingly a question of physical and political survival -- will inevitably bring with it heightened tensions, with some pundits already suggesting they could lead to nuclear and biological warfare.
But the growing sense of urgency, harnessed sufficiently early, could translate into a large-scale reconfiguration of the global political arena potentially going far beyond climate issues, in the process transforming many of today's concerns beyond recognition and possibly rendering some altogether obsolete.
2009 In Review
Year In Review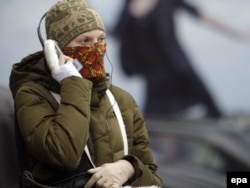 RFE/RL looks back at the stories that shaped 2009. More
International NGO Ranking
International NGO Rankings

How Free, Rich, Or Happy
RFE/RL has compiled the 2009 rankings of countries in our broadcast region according to various nongovernmental groups on their respective levels of political, media, and economic freedom, as well as their levels of perceived corruption, ecological "happiness," and prosperity. More