PESHAWAR -- "If there was a paradise on Earth, it was the beautiful valley of Swat. It had heritage, history, and traditions based on love and peace," says Abdurrahman Roghani, 58, an eminent Pashtun poet, writer, and social activist from Pakistan's Swat Valley.
A resident of the town of Matta, Roghani was targeted by the Taliban for his romantic verses, progressive thoughts, and prominent role in the local community.
After fighting broke out between Taliban militants and Pakistani security forces in May 2009, the poet was one of up to 2.5 million people to flee Swat with his family.
But with the military operation in its final phase and the majority of displaced people back in their homes, Roghani, too, has returned to his hometown.
"You cannot subdue human souls by force. It is not possible to stop the ever-flowing stream of life forcefully. You can channel it with craft and wisdom but you cannot stop it by erecting walls in its way," he says, referring to the acts of militants who banned all artistic expression and destroyed hundreds of shops selling music in the valley.
"[The] human heart can only be dominated by love and affection, not weapons and war."
'Messenger Of The Devil'
In July 2007, the Taliban established their headquarters in Matta and began persecuting those who they considered to be opponents of their religious ideology.
Roghani spoke out against the Taliban for promoting a global jihadist agenda and imposing its will on people.
He was branded "the messenger of the devil" by local militants and "a poet who composes bad verses." He was also criticized for encouraging people to send their girls to schools and ignore the Taliban's preaching.
"Soon it became impossible to stay back at home. I decided to migrate to nearby Miandam Valley, but local Taliban sympathizers viewed me with suspicion. Four of my children are at a tender age. They were very confused and terrified over the evolving situation. They could not understand why people were being killed and their houses destroyed," Roghani explains.
The journey, Roghani says, was one of unparalleled suffering for the thousands of women, children, and elderly people who were forced to leave their homes.
"I threw a last glance at my valley and the deserted homes and took my family to move on to an unknown destination. On the way, women were weeping, cursing both the militants and the military for bringing war to their homes," he says.
Change Of Tone
War and migration have made a deep impression on Roghani and brought about a shift in his literary pursuits. He says his verses took on a sad tone after witnessing so much death and destruction.
"I wrote to reinvigorate people's souls, to motivate them to love life and work together to further beautify it by alleviating suffering and injustices, but now I am concerned with the question of survival," he says.
"The world has become an insecure place to live. Man breaks his bond with nature, greed dominates our affairs, and religion is used to perpetuate war both on physical and psychological grounds. This sense of despair is now clearly reflected in my poetic works," he says, drawing a piece of paper from the pocket of his worn-out waistcoat and reciting a newly composed poem.
"The imam has nothing but to instill fear in my heart/The words of my sweetheart have become shallow and have lost the warmth of her heart/ The leader of the nation has sold his conscience for monetary gains/The flowers of hope are burnt in the flames of fire/The river of Swat is stained with human blood."
The war has badly shaken the social and economic infrastructure in the valley.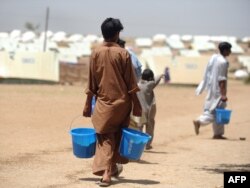 Millions of people were displaced after this year's fighting in the Swat Valley.
Roghani now lives in a two-room rented house with his family and is struggling to make ends meet with a monthly teaching stipend from the government and an honorarium from the Pakistan Academy of Letters.
In addition to his poetry, he is now working on a book about the social, cultural, economic, and psychological consequences of the conflict in Swat.
"The tragedy in our lives is so huge, that I can't accommodate it in verses. Now I have started writing in prose," he says.
Though he seems satisfied with the military action, he thinks victory in the war against terrorism is a long way off.
"If you want to win the war, win the hearts and minds of the people," he says, adding that promoting culture and arts will play a major role in discouraging fundamentalist religious thought and pave the way for a stable peace in the region.
Shaeen Buneri is a journalist with RFE/RL's Radio Mashaal, a radio service in the Pashto language for Pakistan that begins broadcasting in January. A
version of this report
was first published on
Central Asia Online
.