Ronald Reagan aimed to base his Star Wars missile defense system in space. George W. Bush planned to put his on land. And now, U.S. President Barack Obama is seeking to deploy his predominantly on the sea.
Obama announced on September 17 that he was scrapping Bush's plans to install an antimissile radar in the Czech Republic and 10 large, ground-based interceptor missiles in Poland. In their place, he will adopt a phased approach that will initially deploy dozens of smaller SM-3 interceptors on ships.
Russia, which hotly opposed the Bush plan, welcomed the move. President Dmitry Medvedev praised what he called Obama's "responsible approach," while Prime Minister Vladimir Putin called it "correct and brave."
But White House officials say the decision was driven primarily by intelligence showing that Iran had made more progress than expected on short- and intermediate-range missiles, while their efforts to develop long-range missiles are proceeding slower than previously thought.
U.S. Defense Secretary Robert Gates, who served in the same post in the Bush administration, said the new missile-defense proposal is an improvement on the land-based system he supported in the previous White House.
"We will continue to rely on our allies and work with them to develop a system that most effectively defends against very real and growing threats," Gates told reporters on September 17. "Those who say we are scrapping missile defense in Europe are either misinformed or misrepresenting the reality of what we are doing."
U.S. officials say the first phase of new system would be deployed in 2011, seven years sooner than Bush administration's plan to place interceptor missiles in Poland.1
Supporters of Obama's new approach say it is better equipped than Bush's plan to deal with the actual Iranian missile threat against U.S. allies in Europe as it exists now. They say it is also flexible enough to adapt should Tehran develop long-range missiles that could threaten the United States in the future.
"It seems to me that what the Obama administration has done is make a smart decision to reorient the missile defense program to deal with the Iranian missile threat that it faces today, as opposed to spending billions of dollars on a threat that may emerge some years down the road," says Steven Pifer, a former State Department official specializing in arms control who is now a visiting fellow at the Brookings Institution.

Unfortunate Timing
But missile defense is a politically loaded issue in which symbolism and optics are nearly as important as strategic considerations.
U.S. conservatives quickly accused Obama of caving in to Russian pressure.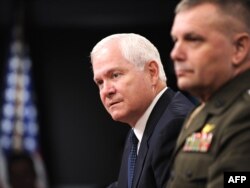 U.S. Secretary of Defense Robert Gates (left) and Vice Chair of the Joint Chiefs of Staff General James Cartwright explain the new strategy in missile defense.
"I fear that the Russians want regional domination – they see Poland and the Czech Republic and Eastern Europe, at the very least, as part of their sphere of influence, and they want the U.S. to stay out. To do so and to say we will, I think, is a capitulation," says Clifford May, president of the Foundation for the Defense of Democracies, a conservative think tank.
Likewise, U.S. Senator John McCain, Obama's rival in last year's presidential elections, said the changes would undermine American allies "at a time when Eastern European nations are increasingly wary of renewed Russian adventurism."
For many officials in the Czech Republic and Poland, who are nervous about a resurgent Russia, hosting the missile-defense system had become something of a security blanket and a symbol of Washington's commitment to the region.
A banner headline in the Czech daily "Lidove Noviny" on September 18 read: "Obama gives in to the Kremlin. There will be no radar in the Czech Republic."
Many noted that the new plan was announced on the 70th anniversary of the Soviet invasion of Poland in 1939, fueling worries in small Eastern European countries that they may once again find themselves vulnerable to Russian influence.
Czech and Polish officials strived to put a brave face on what was an obvious disappointment.
"I wouldn't describe today's events as a defeat for Poland. I will also say that being in this part of the world we will always have to work on security," Polish Prime Minister Donald Tusk said in remarks to reporters on September 17. "The day will never come when someone will be able to say we are 100 percent safe, but fortunately nobody can say today that we are in a worse situation than yesterday."
Likewise, acting Czech Prime Minister Jan Fischer said relations between Prague and Washington were "on a perfect level."
Some analysts in the region see grounds for optimism. Frantisek Sulc, a reporter for the Czech weekly "Tyden" and the co-author of a book on missile defense said the Obama plan, if realized "could be much more robust" than the version proposed by the Bush administration.
"It could be positive in the end," Sulc said.
An Opportunity For NATO
Earlier in Obama's presidency, there was widespread speculation that he was planning to use missile defense as a bargaining chip to persuade Russia to take a tougher line on Iran's nuclear program.
But analysts say that this now appears unlikely, especially given recent comments by Russian Foreign Minister Sergei Lavrov that Moscow was opposed to tougher sanctions against Iran.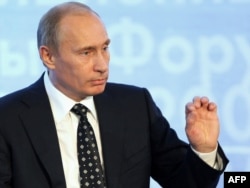 Russian Prime Minister Vladimir Putin called the U.S. decision "correct and brave."
"The new plan should have benefits both in terms of getting European support and in responding to what had earlier been Russian objections. But the administration seems to have made a decision based on the technology, rather than on making some kind of deal with the Russians," says James Goldgeier, a senior fellow the Council on Foreign Relations and co-author of the book "America Between the Wars: From 11/9 to 9/11," which examines U.S. foreign policy from the end of the end of the Cold War to the attacks of September 11, 2001.
Goldgeier adds that even if Moscow had problems with the new missile-defense architecture, "it a lot harder for the Russians to object" to Obama's plan.
Analysts note that the mere fact that Russia is welcoming the move is not evidence that the administration is caving to Moscow. The Brookings Institution's Pifer, for example, says the fact that Moscow approves of a missile-defense plan that serves U.S. security interests is a positive development.
"You can say that this will be welcomed by the Russians. Obviously it will," Pifer says. "But I guess you can flip it around and ask: Does the fact that this will be welcomed by the Russians lead you to go ahead with a missile-defense architecture that is not the optimal way to go? Do you do something stupid just to irritate the Russians?"
Additionally, Pifer says the new plan, which will be implemented in close cooperation with NATO, will be helpful in improving trans-Atlantic relations.
Several European countries, particularly Germany and France, were frustrated by the Bush administration's decision to negotiate bilateral missile defense agreements with the Czechs and the Poles without consulting its NATO allies first.
"With the allies, there is an opportunity here for Washington to sit down and have a discussion with the allies about what we have concluded with missile defense, and then have NATO make a decision as an alliance," Pifer says.
Initial reactions from the NATO allies have been largely positive. On September 18, NATO Secretary-General Anders Fogh Rasmussen called on Russia, the United States, and NATO to work together to coordinate future missile defense measures.
German Chancellor Angela Merkel called Obama's new plan "a hopeful sign that we can get over the difficulties with Russia with regards to a common strategy to fight against the Iranian threat together."
British Prime Minister Gordon Brown was similarly upbeat.
''I strongly support the decision that has been made by President Obama," Brown said. "I think it shows that there is more trust developing between the nuclear power nations, and nonproliferation remains a very high priority for the United Kingdom.''
The administration's plan would initially deploy SM-3 interceptors using the sea-based Aegis system in 2011. An updated version would be deployed at sea and on land -- possible even in Poland and the Czech Republic -- in 2015. A more advanced system would be built in 2018 and 2020, with the capability to intercept long-range Iranian missiles, should that need arise.
In place of the sophisticated radar the Bush administration planned for the Czech Republic, Obama administration officials say they would use a more modest version that would be located in Turkey or the Caucasus.

RFE/RL Correspondent Heather Maher contributed to this report from Washington
.