ALMATY (Reuters) -- Kazakhstan's Astana Finance has become the third local lender to halt debt repayments and seek a restructuring of its loans, as the financial crisis tightens its grip on the oil-producing Central Asian state.
Astana Finance, which has a license to lend but does not take retail deposits, said it froze payments after its financial position deteriorated and some loan schedules were accelerated due to credit-ratings downgrades.
The company is an active player in the mortgage and leasing sectors and has total foreign debt of $1.2 billion. Lenders in Central Asia's biggest economy borrowed heavily abroad before the credit market boom ran out of steam in mid-2007.
Investors have viewed local banks' efforts to cope with tougher debt conditions as a barometer for market sentiment since the country's biggest bank, BTA, as well as Alliance suspended repayments and announced plans to restructure earlier this year.
The government, now worried about possible rising social discontent in the mainly Muslim country, has allocated $25 billion to help the $100 billion economy weather the storm.
Astana Finance, in which the government holds about 25 percent, said auditors would prepare a report on its first-quarter performance within the next 12 weeks and that JP Morgan and Clifford Chance would advise it on restructuring.
Astana Finance said the devaluation of the national tenge currency by 18 percent in February and a slump in property prices had hampered its asset quality. Analysts said the economic slowdown may cause further trouble in the sector.
"The situation in the Kazakh economy has, of course, affected [Astana Finance]," Troika Dialog analyst Ainur Medeubayeva said.
"I think there might be more 'surprises.'"
Property prices in Kazakhstan's largest city, Almaty, have halved after reaching their peak in 2007 and many analysts think the economy will shrink this year after growing by 10 percent a year, on average, between 2000 and 2007.

Hope For BTA
The Kazakh finance minister said that debt-restructuring talks between BTA and its creditors were proceeding well and both sides were hopeful of reaching a deal.
"Many creditors have said that they are largely ready to accept restructuring.... So their position is quite positive," Bolat Zhamishev told reporters.
Few details have emerged from the talks, but the state's Samruk-Kazyna welfare fund said this week BTA would complete restructuring by the end of July.
BTA -- in which Samruk took a 75.1 percent stake in February -- has defaulted on $550 million in bilateral loans and stopped paying the principal on its wholesale borrowings. BTA owes about $15 billion in total.
A restructuring would pave the way for Russia's Sberbank to decide in August on a possible acquisition of the lender. Sberbank has been in talks since February.
World Economic Crisis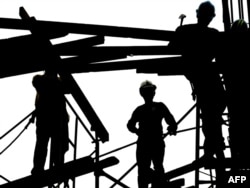 Multimedia coverage on the impact of the global financial crisis on markets and individuals across RFE/RL's broadcast region. More