At least 40 people have been killed in an explosion at a wedding party in the southern Afghan province of Kandahar.
Interior Ministry spokesman Zmarai Bashari told RFE/RL's Radio Free Afghanistan that 74 people were injured, including children, in the June 9 blast.
Officials said the explosion in the village of Nagahan just north of the provincial capital of Kandahar was a suicide bomb attack.
The Taliban has denied involvement.
"It was a suicide bombing. [The bomber] participated in the party," eyewitness Abdul Satar told RFE/RL. "An old man was fighting with him to try to prevent the man from detonating the bomb. The attacker ran away and then blew himself up."
Another person who was attending the wedding, Nazar Mohammad, said, "We were having dinner and suddenly we heard an explosion. We don't know anything else – whether it was a suicide attack or an air strike. We have no idea. But we have many casualties."

Groom Injured
The explosion was reported to have taken place in an area reserved for men. The groom was reportedly among those injured.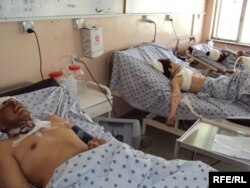 Some of the injured receiving treatments in Merwais Hospital in Kandahar
Hospital sources say some of the injured are in critical condition. Television channels are appealing for blood donations to help the wounded.
Bashari said members of Afghan security forces were attending the party but that most of the casualties were civilians.
"The wedding party was of a brother of an Afghan sergeant. It was in a house," Bashair says. "There were police officers, soldiers, and [civil servants] invited to participate in the party. But the wedding party was of an Afghan civilian and most the casualties are innocent Afghan civilians."
Reuters quotes a Kandahar police officer as saying many of the guests had links to local police officials or a local militia, which is likely why it was targeted.
Taliban Denies Involvement
Relatives told the French news agency AFP that the groom and other wedding guests were members of an anti-Taliban militia set up with the support of U.S. Special Forces.
But the Taliban, who routinely deny causing civilian casualties, blamed the bloodshed on an air strike by the NATO-led International Security Assistance Force (ISAF) and offered condolences.
At a news conference in Kandahar city, provincial Governor Tooryalai Weesa rejected the Taliban's denial of involvement. He held up a chunk of metal he said was from the site and described it as a piece of equipment usually used in suicide bombs.
In a statement, the deputy commander of NATO forces in Afghanistan, Lieutenant General Nick Parker, blamed militants for what he called an "indiscriminate attack."
U.S. military spokesman Colonel Wayne Shanks said the deaths were not the result of an air strike, adding that any suggestion otherwise was "Taliban misinformation."
'Act Against Humanity'
Afghan President Hamid Karzai, at a press conference alongside visiting British Prime Minister David Cameron, condemned the blast as a terrorist attack.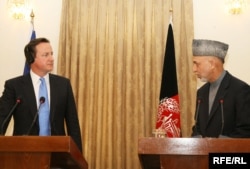 Afghan President Hamid Karzai (right) and visiting British Prime Minister David Cameron
"Weddings all over the world are not only good occasions but occasions of sanctity that deserve protection and respect," Karzai said. "And for a suicide bomber to go and kill people there is not only against Islam, it is an act against the whole of the humanity."
The blast comes days after Karzai won support at a tribal peace council for his plan to seek engagement with the Taliban -- and amid a particularly violent week for international forces in the country.
The Taliban leadership has rejected the peace jirga that sought to foster peace talks with insurgents, saying there will be no talks while foreign troops are in Afghanistan.
Violence has since continued unabated as thousands of U.S., NATO, and Afghan forces are preparing for a major operation against the Taliban in Kandahar Province.
Two senior U.S. figures -- Admiral Mike Mullen, chairman of the military's Joint Chiefs of Staff, and Defense Secretary Robert Gates -- have both warned that more bloodshed is expected in the weeks and months to come.
More than
20 foreign soldiers were killed this week
, including four U.S. servicemen who died when a
NATO helicopter was shot down
on June 9 in the neighboring province of Helmand. The Taliban claims its fighters shot down the aircraft with a rocket-propelled grenade in Sangin district.
Ten foreign soldiers and nine private security contractors were killed in a series of separate insurgent attacks across Afghanistan on June 7 -- the bloodiest day so far this year for international forces in the country.
The Taliban has been waging a battle to overthrow the U.S.-backed government and expel the 130,000 foreign troops in the country.
written by Antoine Blua, with contributions from RFE/RL's Radio Free Afghanistan and agency reports