MOSCOW (Reuters) -- About 30,000 people are still displaced from the five-day war between Moscow and Tbilisi which erupted a year ago when Georgian forces attacked breakaway South Ossetia, Amnesty International has said.
The London-based rights group said on August 7 that the displaced, mostly ethhic Georgians, lack basic services and suffer hardship from the de facto borders dividing the pine-covered enclave and Georgia proper, which were established after the conflict when Moscow recognised it as independent.
Amnesty said 192,000 people were displaced in the war, which started on August 7, though the Georgian government had previously put this number at 138,000.
In a new 46-page report on the displaced from the war, Amnesty said of the 38,500 people who fled to Russia from South Ossetia, all but an estimated 4,000 have returned.
Russia's Deputy Foreign Minister Grigory Karasin, in a conference call on August 6, declined to put a figure on the total number displaced, but said many displaced Georgians in South Ossetia will move to Georgia.
The only official way into the region is now through the 4-kilometer Roki Tunnel from North Ossetia in Russia as all borders with Georgia proper have been closed.
Many displaced ethnic Georgians "no longer have access to their fields or orchards" due to the new borders or "because the area has not been cleared of explosives," Amnesty said. Many had become dependent on humanitarian aid.
The closure of the monitoring mission by the Organization for Security and Cooperation in Europe (OSCE) and the exclusion of EU monitors from South Ossetia deprives people of "international scrutiny," leading to insecurity, writes Amnesty.
The rebel region's administration says South Ossetia today has a population of 63,000, and that several thousand ethnic Ossetians are still homeless.
Reconstruction money from Moscow is trickling in to the region -- it has allotted 8.5 billion roubles ($273 million) this year -- though some officials complain it is stolen.
Chronology Of The Russia-Georgia Conflict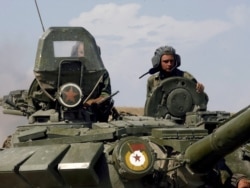 Chronology Of A Conflict
One year after war broke out between Russia and Georgia, many issues remain unresolved. South Ossetia and the breakaway region of Abkhazia unilaterally declared independence, tens of thousands of Georgians are still displaced, and political tensions between Tbilisi and Moscow are simmering. Here is a look back at the key events in the conflict over the past 12 months. Play