Moldova's Constitutional Court has ordered a recount of parliamentary elections whose disputed results sparked
violent protests
in the capital Chisinau last week.
President Vladimir Voronin asked for a recount in the wake of protests over his Communist Party's victory in the April 5 election, which the opposition says was rigged.
Court Chairman Dumitru Pubelere said electoral officials had nine days to conduct a new count of the votes and that the recount would involve an examination of voters' lists, which the opposition says include many dead residents.
Continued Protests
The decision comes as at least 5,000 Moldovans have gathered on April 12 in Chisinau's main square for a series of antigovernment speeches.
Dozens of people were injured and hundreds arrested in last week's rioting, which was sparked by claims of vote-rigging in parliamentary elections held on April 5.
The police were present in large numbers near the square on April 12, and were reportedly carrying out checks on buses entering the capital carrying activists from the provinces.
During the rally, the leader of the opposition Liberal Democratic Party, Vlad Filat denounced the security forces' treatment of demonstrators who took to the streets after the parliamentary elections.
"We will ask the government to renounce the terror they launched, to free unconditionally and immediately all political detainees, and to create the proper conditions for the verification of voter lists," Filat told RFE/RL's Moldovan Service.
Torture Allegations
The Interior Ministry on April 11 released lists of those detained and denied accusations that detainees had been beaten and tortured. It said 166 people were detained and arrested as part of a criminal investigation, and 129 others were subject to administrative detention.
The same day, the election commission officially approved the election results giving President Vladimir Voronin's Communist Party victory.
However, three of the commission's nine members denounced what they described as "grave violations" in the vote.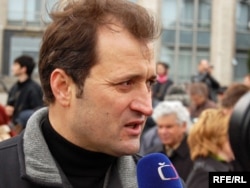 Opposition leader Vlad Filat
On April 10, President Voronin called for a vote recount to allay concerns. But the opposition dismissed the move, saying the problems with the vote lay elsewhere, such as the inclusion of many long-dead residents on voter lists.
Meanwhile, an opposition supporter reportedly died on April 12 of injuries related to postelection violence. The parents of 23-year-old Valeriu Boboc were quoted as saying he died after being beaten while under arrest.
Police, however, say the man's death resulted from gas used for crowd control.