(RFE/RL) -- More than 2,000 Russian intellectuals, cultural figures, and ordinary citizens have signed a petition calling for the ouster of Prime Minister Vladimir Putin.
The petition was initially published by the online magazine
"Yezhednevny zhurnal"
and on a
separate website
designed specifically for the petition. As of this afternoon, more than 2,200 people had signed, according to the "Yezhednevny zhurnal" site.
"There can be no true reform in Russia as long as Putin has real power in the country," the petition reads. "Returning the country to the mainstream of democratic development can only begin when Putin no longer has control of the levers [of power] of the state and society. During his years in power, Putin has become a symbol of ruthlessness toward his own citizens and Russia has become a corrupt and unpredictable country."
Writer and Soviet-era dissident Vladimir Bukovsky, who signed the petition, tells RFE/RL's Russian Service that opposition in society to Putin's rule is growing steadily.
We are accustomed to hopeless situations. But we still need to do something because there is a moral imperative.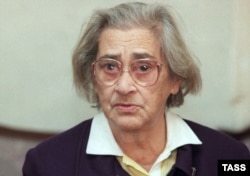 Yelena Bonner
"There were illusions, but now those illusions are fading," Bukovsky says. "With the latest events, with the wave of protests across the country, a consensus is emerging. People are beginning to understand that the current dead end is the regime that was established in 2000."
Other prominent signatories to the petition include human rights activist Yelena Bonner, widow of the late Nobel laureate Andrei Sakharov; the actor Aleksei Devotchenko, who starred in the popular television crime drama "Streets of Broken Lamps": comedian Viktor Shenderovich, the creator of the 1990s political satire show "Kukly"; and Mikhail Borzikin, the front man for the rock group "Televizor." Opposition figures including Boris Nemtsov and former world chess champion
Garry Kasparov
also signed.
The editor of the "Yezhednevny zhurnal" portal, Aleksandr Ryklin, told RFE/RL's Russian Service that the site was attacked by hackers today. Ryklin said the attack was likely connected to the petition campaign. Both the "Yezhednevny zhurnal" and the special additional site were working by midday but were slow to load.
The petition follows a series of incidents in which cultural figures have come out to criticize Russia's rulers. At a concert in Moscow on March 7, Yury Shevchuk, the front man for the rock group DDT, lambasted the ruling elite in a four-minute rant between songs. Devotchenko posted a diary on his blog criticizing fellow actors for making what he called "pseudo-patriotic films."
It also comes amid a wave of protests against the authorities in various Russian regions, most dramatically a demonstration in Kaliningrad in late January that attracted an estimated 10,000 people. It also comes as Russia prepares to vote in local elections on March 14.
Bukovsky says the petition's signatories felt compelled to act despite the fact that Putin appears to have a firm grip on power. (Sociologist Aleksei Grazhdankin, deputy head of Russia's independent Levada polling center, says Putin remains hugely popular, despite a slump in polls in the wake of the economic crisis.)
"We are accustomed to hopeless situations. But we still need to do something because there is a moral imperative," Bukovsky says. "We cannot tolerate lawlessness and repression. It is impermissible for us to tolerate this, regardless of what the authorities think."

RFE/RL's Russian Service contributed to this report