As Pakistan continues large-scale military operations against Taliban militants in the country's northwest and the United States ratchets up its troop presence in Afghanistan, a recent comment by Kyrgyz President Kurmanbek Bakiev captured in a nutshell the speculation these efforts are causing in Central Asia.
Speaking on June 8, Bakiev warned of the encroachment of Taliban militants.
After noting the "seriousness" of the situation in both Pakistan and Afghanistan Bakiev asked, "If the conflict against the Taliban further deepens in Afghanistan, then toward which direction would they escape? God save us, but they would [move] toward Tajikistan, Kyrgyzstan, and Uzbekistan."
Kyrgyzstan has recently increased security measures along its frontiers with Uzbekistan and Tajikistan -- through which militants from Afghanistan would presumably have to travel -- by stationing additional troops in border areas.
Regional Concerns
But the Kyrgyz president is not alone among Central Asian leaders in pointing to growing security threats allegedly coming from the south.
Uzbekistan has started digging trenches alongside its borders with Kyrgyzstan, with the stated aim of preventing religious extremists from penetrating its territory.
Uzbekistan has repeatedly claimed that any militant infiltrating into Uzbek territory would cross its border through Tajikistan.
But while Tajikistan has vehemently rejected the possibility of the Taliban ever seeking safe haven on its territory, a legacy of Tajiks' support for Afghanistan's ethnic-Tajik mujahedin, a recent antidrug operation in eastern Tajikistan fueled public fears of a crackdown on Islamic strongmen.
Meanwhile, the Russian-dominated Collective Security Treaty Organization (CSTO) has discussed creating a rapid-reaction force to counter the threat of militants entering the region from Afghanistan.
Many analysts, however, see fear mongering behind the increased talk of security, and say the prospects of the Taliban moving into Central Asia is minimal, if not unrealistic.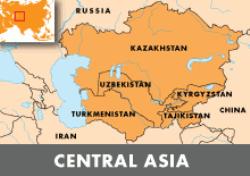 Much of the security-risk argument depends on lumping the Taliban with other militants, including those originating in Central Asia, who are believed to have found sanctuary in Pakistan with the Taliban, Al-Qaeda, and others.
Their exact number is unknown, with different sources giving vastly different estimates ranging from the hundreds to the thousands.

IMU Threat, Real Or Imagined?
Among them are followers of a key adversary of governments in Central Asia -- the banned extremist group Islamic Movement of Uzbekistan (IMU). IMU fighters reportedly fled to Afghanistan in the 1990s and fought alongside Al-Qaeda when U.S.-led coalition forces entered the country in 2001.
Some IMU fighters were reportedly killed in the fighting, and after the Taliban regime was ousted, others were believed to have fled to Pakistan's tribal areas, where the Taliban also regrouped.
Since then, the IMU has remained largely inactive, although officials in Central Asia have from time to time linked various terrorist acts to IMU followers or its alleged splinter groups.
Considering that the backing of the local population was a key factor in the Taliban's survival in Afghanistan and Pakistan's tribal areas, it is unlikely that the predominantly ethnic-Pashtun Taliban would find sympathy among locals in Central Asia.
In Tajikistan, specifically, both the government and public opinion were widely supportive of Afghanistan's ethnic-Tajik mujahedin in the war against the Taliban. Al-Qaeda's assassination of ethnic-Tajik military commander Ahmad Shah Mas'ud the day before on September 9, 2001, also remains fresh on the minds of Tajiks.
Aleksei Malashenko, an expert at the Carnegie Endowment for International Peace in Moscow, says Kyrgyzstan's Bakiev and other regional leaders exaggerate security risks to pursue their own agendas.
"It's a complex double game played by Central Asian leaders," Malashenko says. "Bakiev reckons that Taliban dangers could serve as a pretext to tighten the screws inside Kyrgyzstan. When there is a threat coming from outside, people usually consolidate around the government."
Manas Connection
Malashenko says Bakiev could be playing both sides of the fence between Russia and the United States. He also suggests that the Kyrgyz leader may be seeking to use the alleged Taliban threat as an excuse to renew the U.S. lease of an air base used as an air bridge for operations in Afghanistan.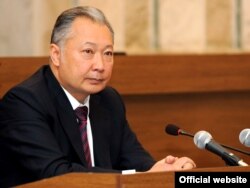 Is Kyrgyzstan's Bakiev looking for a reason to renew the U.S. lease at Manas?
Earlier this year, the Kyrgyz government gave the United States six months to leave the Manas base outside Bishkek. Bakiev made the announcement during a trip to Moscow in February, citing financial reasons as a key factor.
During the same trip, Bakiev secured a package of Russian loans and investment worth some $2 billion, prompting speculation that Moscow was behind Bishkek's decision to close down the U.S. base.
Afterward, there were reports of Bishkek allegedly having second thoughts about closing down Manas, and of the United States trying to renegotiate financial terms of the lease.
Adding to speculation that discussion on the matter is not dead was the announcement by Bakiev's office on June 11 that U.S. President Barack Obama had sent a personal message to Bakiev thanking Kyrgyzstan for its support of the U.S.-led military operation in Afghanistan.
The United States is also reportedly planning to send a high-level delegation to Bishkek to discuss further cooperation.
Kyrgyz officials, however, have denied the reports, saying their decision on Manas is not reversible.
However, the latest developments also follow on Bakiev's announcement earlier this week that Afghan President Hamid Karzai had asked him to keep Manas open. Bakiev suggested the issue should be discussed during the Shanghai Cooperation Organization summit that opens next week.
In highlighting the Taliban threat on June 8, Bakiev also said member states of the Collective Security Treaty Organization, the Shanghai Cooperation Organization, and the Commonwealth of Independent States should discuss such issues as well.
Homegrown Taliban?
But Miroslav Niyazov, the former secretary of Kyrgyzstan's Security Council, says that if there is any threat that involves extremism, it would come from inside Kyrgyzstan itself.
Niyazov says Kyrgyzstan ranks last in "all social and economic measurements" among the former Soviet states, and that people in the country also lack confidence in government institutions because they don't appear to work in the public interest. He says this generates public frustration and sympathy for "any radical movement."
At the same time, Niyazov insists that threats coming from Afghanistan cannot be underestimated. Although it is a "bit premature" to say there is a direct danger posed to Central Asia by the Taliban, Afghanistan "still remains a source of extremism and drug trafficking for our countries," he says.
Echoing the general public's feelings in the region, Niyazov believes that as long as peace and stability is not restored in Afghanistan, it will always -- one way or the other -- pose a threat to Central Asian stability.