Two deadly attacks in eastern Uzbekistan within a span of 24 hours have reignited fears of a rise in Islamist militancy in the region's most populous country.
While an Islamist group has taken responsibility for one incident, and Tashkent has blamed the other on militants they say crossed into Uzbekistan from Kyrgyz territory, many observers say it's too early to point fingers.
But they are quick to note that instability and violence could easily spread in the heavily populated Ferghana Valley, which spans several borders and is generally seen as a hotbed of social unrest in Central Asia.
The first incident, a shoot-out at a police post along the Uzbek-Kyrgyz border on May 26, prompted Tashkent to increase its military presence in the region.
The Uzbek authorities have dispatched soldiers and military servicemen to Khanabad, along the Kyrgyz-Uzbek border, and local residents have reported seeing armored vehicles moving to the area.
Kyrgyz media have reported that four police officers were killed by assailants attempting to drive through a border checkpoint, while Uzbek officials have said there were no fatalities.
Tashkent has claimed that the attack originated from the Kyrgyz side, a charge that Bishkek officially denies.
"Not a single group [of armed men] has ever entered from Kyrgyzstan's territory into Uzbekistan," Cholponbek Turusbekov, deputy head of the Kyrgyz Border Service, told RFE/RL's Kyrgyz Service. "All events happened inside Uzbekistan."
Turusbekov stressed that the Kyrgyz authorities "have controls on our side of the border, especially in the more or less dangerous parts of it," adding that Uzbek officials had closed their side of the border in the wake of the gun battle.
The Uzbek checkpoints were reopened the next day under tight security.
That incident along the Kyrgyz-Uzbek border in the early hours of May 26 was followed by a suicide bombing in the eastern Uzbek city of Andijon that prosecutors say killed a local policeman and wounded several others.
Uzbek officials initially blamed the Khanabad attack on the Islamic Movement of Uzbekistan (IMU), a terrorist group whose current ability to carry out such attacks in Central Asia has been questioned.
Meanwhile, the Islamic Jihad Union (IJU), a group that is said to be an offshoot of the IMU, has claimed responsibility for both the Andijon and the Khanabad attacks.
Hot And Crowded
The incidents are fresh reminders of the fragility that exists in the Ferghana Valley, which has seen periodic instability and social unrest since the collapse of the Soviet Union.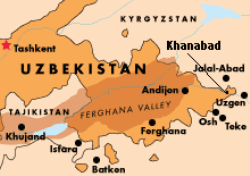 It is the most densely populated area in Central Asia, straddling Uzbek, Kyrgyz, and Tajik territory.
Matthew Clements the Eurasia editor in the Country Risk Department for Jane's Information Group, says there are a number of plausible scenarios that might have prompted the attacks.
"What we've seen here is a trend we've been seeing a long time, whereby [a combination of] government crackdowns, serious levels of poverty, very high levels of unemployment, and a very dissatisfied population is always going to create a danger in an area of quite strong Islamic religion," Clements tells RFE/RL.
"[It] could make the population susceptible to radical groups who provide a means of channeling this discontent, where people aren't able to do so through the electoral process or any other democratic means."
Unemployment is high in Uzbekistan, and millions of Uzbek men and women have left the country for seasonal jobs in Russia, Kazakhstan, and even impoverished Kyrgyzstan and Tajikistan. The government, however, claims unemployment is less than 1 percent.
The most notable violence in the region was the 2005 antigovernment uprising in Andijon, which according to rights groups left hundreds of civilians dead when government troops opened fire on protesters.
Uzbek officials blamed the Andijon uprising on Islamic extremists determined to overthrow the government and played down casualty numbers, saying some 180 people -- including many police officers and government troops -- were killed in the course of the violence.
Responsibility Unclear
The Ferghana Valley is also the birthplace of the IMU, whose leadership has been accused of trying to destabilize regional governments through attempted assassination, participation in Tajikistan's bloody civil war in the mid-1990s, and close cooperation with Al-Qaeda leader Osama bin Laden.
The IMU has been blamed for a number of bombings and attacks on Uzbek and Kyrgyz territory.
But IMU leaders and their followers fled to Afghanistan in the 1990s and fought alongside the Taliban, and much of its membership is thought to have been destroyed there by the U.S.-led coalition, although some fighters reportedly fled to tribal areas in Pakistan.
Experts in Central Asia and outside the region who spoke to RFE/RL are skeptical that IMU fighters were involved in the latest attack in Khanabad.
"We need more facts before we put this at the door of the IMU or any other Islamic or Islamist-minded organization, simply because they have been so quiet for so long and simply because even the authorities in Uzbekistan and Kyrgyzstan have not flagged this as a problem in recent years," says Alex Vatanka, a Washington-based expert.
"I would say organized crime [or] criminal actors [or] perhaps a dispute of some sort involving members of security services of Uzbekistan and Kyrgyzstan, which by the way overlap."
He suggested corruption could have been a factor, potentially involving organized crime and security forces from either side of the border.
Likewise, experts remain skeptical about the possibility of the Islamic Jihad Union being behind the border shoot-out or the reported suicide attack in Andijon.
Analysts have cast doubt on past claims by the Islamic Jihad Union for responsibility in a number of suicide attacks in Uzbekistan as well as in Europe.
Craig Murray, a former British ambassador to Uzbekistan, has gone so far as to claim that alleged attacks carried out by the Islamic Jihad Union were orchestrated by the Uzbek government.
Uzbek political analyst Farhad Talipov told Interfax that, while a self-described representative of the Islamic Jihad Union told media organizations that the group is responsible for the recent attacks, there is no concrete proof of its involvement.