Art and politics can be an explosive combination.
That's what Russian-born American photographer Sergei Melnikoff found out this week when he became embroiled in a political scandal in Kyrgyzstan.
But Melnikoff has created a firestorm in the Central Asian nation over his scathing criticism of Russia, which is Kyrgyzstan's most important international partner.
Kyrgyzstan has close links with Russia, which has promised over $2 billion in investment and loans to the cash-strapped country's economy.
Twists And Turns
During a parliamentary session on February 3, lawmakers from the ruling Ak Jol (Bright Path) party questioned the decision to permit the photographer to hold his show in Bishkek, saying it would undermine the country's ties with Moscow.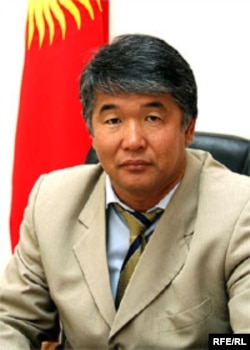 Former Kyrgyz Culture Minister Sultan Raev
Almost immediately after the session, President Kurmanbek Bakiev
fired the head of state culture agency
, Sultan Raev.
But that's when the story acquired some twists and turns.
Raev, in his defense, told parliament he was not the one behind the decision to invite the controversial photographer to Kyrgyzstan.
"[Former presidential adviser] Asylbek Aidaraliev invited Sergei Melnikoff on March 3, 2009, and asked him to prepare a photo album on Kyrgyzstan, and also [talked] about organizing his exhibition in Kyrgyzstan," Raev said. "The book's title is 'The Land of the Kyrgyz.'
"There has been ongoing preparation for the presentation of the book. The Kyrgyz state agency for tourism has signed a $100,000 contract [with Melnikoff] for the book, and it has been published."
Melnikoff himself suggested that Raev may have been made a scapegoat by "some people who wanted to get rid" of the official.
Birthday Present for Bakiev
Presenting to RFE/RL what appeared to be a scanned copy of an invitation signed by former presidential adviser Aidaraliev, Melnikoff said he was invited to Kyrgyzstan by the office of the Kyrgyz president -- and the presidential adviser himself -- to showcase his photos of Kyrgyzstan's natural world.
The 54-year-old Melnikoff, who immigrated to the United States on late 1980s, has visited the Central Asian country frequently over the past 10 years, taking panoramic photos of its mountainous landscapes.
The
photographer's website
claims that one of his photos -- titled "The Land of the Kyrgyz" -- featuring the Old Tassor Pass in the Tien Shan range is "the most expensive photograph in Asia" and was purchased from the Melnikoff Gallery for the price of $300,000 as a birthday gift for President Bakiev.
And it might come as a further embarrassment to Bakiev that Melnikoff's website has posted the president's photo sitting behind his desk inside the presidential palace with "The Land of the Kyrgyz" hanging on his office wall.
However, it was Melnikoff's other photo collections and, indeed, his other website that have caused the controversy.
Melnikoff runs another website,
gulag.ipvnews.org
, that is extremely critical of Russia and particularly its policies toward Chechnya and Georgia. Using sometimes colorful language, the website accuses Soviet and Russian leaders -- from Vladimir Lenin to Vladimir Putin -- of terror and genocide. Melnikoff's website notes millions of people were killed during what he called the Soviet "Red Terror," and later in Afghanistan and Chechnya.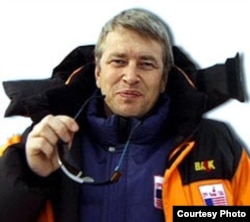 Sergei Melnikoff
Melnikoff's collection of photos on that site includes one titled "Chronicles of Hell." Taken from wartime Chechnya, it features graphic images of victims of the war, including children with amputated limbs and burned bodies, ruined houses and destroyed lives.
On his website and in media interviews, Melnikoff has sometimes gone to extremes in his criticism of Russia and the Russian people, saying Russia is a "country of slaves" and that Russians are "the most primitive fools" who have lost their sense of right and wrong.
Personal Opinion
In an interview to RFE/RL's Kyrgyz Service, Melnikoff did not deny his harsh stance on Moscow's policies. However, the photographer insists, everyone is entitled to a personal opinion.
"I don't deny my critical standpoint toward the Russian government, but it is between me and the Russian government," Melnikoff says. "Why did Kyrgyzstan get involved in this? I've never made any critical comments of a political nature when I'm inside Kyrgyz territory.
"I know I cannot do that as a foreign citizen. I've got three university degrees, and I know what to say and what to do when I'm abroad. However, on U.S. territory, as a U.S. citizen, I act according to U.S. laws."
Some Kyrgyz officials have criticized the parliament's stance as an attempt to restrict freedom of opinion. Former presidential adviser Asylbek Aidaraliev, for his part, said the exhibition should not be turned into a political issue.
"His own views and ideology might say bad things about Russia, Chechnya, or Georgia, but they are his own personal views," Aidaraliev says. "Under the [Kyrgyz] Constitution, every person has a right to express his own opinion.
"I know his album, which he showed me some time ago. Its photographs are excellent. They are very beautiful. It was necessary to use them. Regarding ideology, let's leave ideology out of the conversation."
Occupying a strategic position in Central Asia, Kyrgyzstan has hosted both U.S. and Russian air bases. However, during an official visit to Moscow in 2009, President Bakiev announced his decision to close the U.S. base at Manas, which had been a vital hub to support U.S.-led military operations in Afghanistan.
Later, Bishkek agreed to keep the base as a transit center for U.S. military planes.