NEW YORK, June 21, 2009 (RFE/RL) -- Close to the UN headquarters in Manhattan, visibly distressed young Iranian women wearing black headscarves are chanting in Persian with a like-minded crowd.
Some of the participants are carrying Iranian flags, others are holding homemade signs that read: "Where Is My Vote?" "Freedom And Democracy," "Khamenei, Stop Killing Iranians."
All are holding umbrellas to protect themselves and the signs from the rain which has been pouring incessantly since the early morning.
Eager to show support for the Iranian election protesters, New Yorkers are taking to the streets and to social-networking sites.
Around 600 people gathered on June 20 to show their solidarity for the protesters. About the same number came out to Manhattan's centrally located Union Square to hold a vigil for the victims on June 17.
"They started actually killing people. It's not the same issue as last week exactly. It is further than just voting. We're not screaming about our vote anymore only, " one woman tells RFE/RL.
"They're killing our brothers and sisters in the streets for God knows what reason, just because they wanted a fair election, they wanted to select their president. And now they're killing them in the streets for no reason."
We're all in support of freedom of people all around the world to speak their minds, to say what they want to say about their governments, about their peoples
Many of the Iranian supporters in New York City are not Iranians.
Thirty-two-year old Giulio Staze, an Italian resident of New York City, tells RFE/RL that he's at the rally to show support and solidarity for his Iranian friends:
"I'm not Iranian but I support their cause because I have friends in Iran, I've been there, I love the country. I think it's a beautiful country and it just deserves, you know, the rights. I didn't know exactly they were here, people, I just figured it out -- I'm here, I'm very proud to be here," Staze said.
'We Are All Iranians'
Michael Coven, a 26-year old American of Russian-Austrian descent, tells RFE/RL that as the world showed its solidarity with the United States in the aftermath of the September 11, 2001 terrorist attacks, today the Americans are showing their solidarity with the aspirations of the Iranian people:
"At this point we're all Iranians. We're all in support of freedom of people all around the world to speak their minds, to say what they want to say about their governments, about their peoples," Coven said.
"I remember in 2001 after the World Trade Center, the attacks, I remember seeing footage, video and photos from Iran, they were saying: 'We're all Americans today, we're in support of our American brothers and sisters, we don't support terrorism.' This is us giving right back to them."
Coven says that he found out about this rally on the Internet and that he has been following closely related developments on Facebook and Twitter.
Coven expressed hope that the UN will take on a more active role in Iran to help prevent further bloodshed, although he doesn't know how exactly the UN may get involved.
The top UN human rights official, commissioner Navi Pillay, expressed on June 18 concern over reports of the use of excessive force and violence, as well as rising numbers of arrests in Iran following the contested presidential election.
UN Secretary-General Ban Ki-Moon has also expressed concern and said he's been following developments closely.
Shareen Zerabi, a 22-year-old Iranian born in the United States, tells RFE/RL that she is here to show solidarity with her people. She is convinced that the elections results have been rigged.
"We've been watching news all day long on American television and Iranian television all day, all night, and we've been trying to get in contact with our family in Iran as well, but that's been unsuccessful," Zerabi said.
"We have a lot of Americans [at the rally] which I'm glad to see, they came to support us as well, and a lot of Iranians who came from Iran to America. But there are not too many people that I know that are first-generation Iranians born in America."
Zerabi said that her family is also coming to the rally. Both of her parents voted in New York last week.
Tehran set up two polling stations in New York for the presidential election. Over 1,000 Iranian citizens cast their ballots there, according to an Iranian official who spoke to RFE/RL.
Iran Election Diary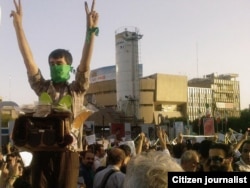 Disputed Presidential Vote
There have been protests and clashes with police on the streets of Tehran following the disputed reelection of Mahmud Ahmadinejad. RFE/RL collects videos, photos, and messages on social-networking sites coming out of Iran to attempt to get a picture of what is happening inside the country.
Click here
Iran Election Special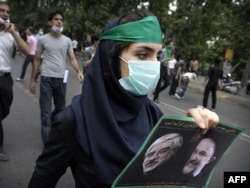 RFE/RL's Full Coverage
Following the disputed reelection of Iranian President Mahmud Ahmadinejad, supporters of Mir Hossein Musavi have taken to the streets to protest.
Click here
for news, blogs, and analysis of the presidential election and aftermath.