MOHIB BANDA, Pakistan -- Residents of Mohib Banda appear astonished by the constant stream of local and international journalists descending on their tiny village in search of clues about the life and motivations of Faisal Shahzad.
As they are quick to point out, the 30-year-old Pakistan native -- the main suspect in the recent failed bombing attempt on Times Square -- never actually lived there. But Shahzad's family did maintain a large ancestral home in this village of narrow lanes, nestled among green fields about 20 kilometers northeast of Peshawar.
The wooden gate to the home is locked, but some of the village's 5,000 residents were eager to defend their village and the respected family that spent time there.
Zulfiqar Ali, a distant cousin of Shahzad's, tells RFE/RL's Radio Mashaal that his relative came from a solid background and showed no outward signs of extremist beliefs.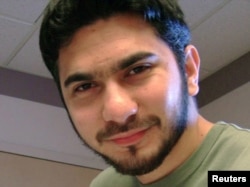 Faisal Shahzad
"All of us are Muslims and we offer [daily] prayers," Ali says. Shahzad "did not come from an extremist family and was not associated with a [hard-line] organization on the extreme level. He was a normal person and was not affiliated with a militant organization or a religious party."
"He was a well-educated young man. And his father had served in the air force and had been retired for almost 10 years," Ali says.
Friends And Relatives Detained
Shahzad grew up in sprawling military garrisons in major cities across Pakistan before going to the United States to study in 1997. In 2004, he married Colorado-born Pakistani American Huma Mian in a traditional wedding reportedly set up through family friends. The couple soon moved to Bridgeport, Connecticut, where Shahzad continued his postgraduate studies.
Shahzad was granted U.S. citizenship in April 2009, and traveled later that year to Pakistan. A complaint filed in U.S. federal court in Manhattan this week quoted him as telling U.S. immigration officials upon his return that he had spent five months in Pakistan visiting his parents and that he had left his wife behind. She reportedly remains there with their two children.
Media reports say Shahzad's father-in-law, who is from Karachi, and a friend of Shahzad's were detained in the southern seaport city. Five others have been detained in the eastern province of Punjab.
Since his arrest was made public, Shahzad's father, Baharul Haq, a former senior air force officer, has not been seen either at his home in a wealthy area of Peshawar or his family's ancestral homestead. Some reports, however, suggest that his father, wife, and children might have been taken into protective custody.
U.S. authorities on May 4 brought terrorism and weapons charges against Shahzad. A complaint filed in U.S. federal court in Manhattan says Shahzad has admitted to purchasing an SUV, fitting it with a crude bomb, and driving it to Times Square.
He is reportedly cooperating with investigators, and the complaint says he has admitted to receiving training in Waziristan, western Pakistan.
'No Extremists Here'
Faiz Ahmed, a former village chief of Mohib Banda, says he has known Shahzad's family for generations. He expresses disbelief at the news of Shahzad's arrest and subsequent charges by U.S. authorities in connection with the failed bombing attempt in New York.
If the thinking is that Shahzad was led to extremism because of his religion, then that assumption is wrong, according to Ahmed. He tells RFE/RL's Radio Mashaal that Shahzad was not remotely religious, and did not even perform Salah -- the five daily prayers compulsory for all Muslims that are strictly followed in rural areas of northwestern Pakistan.
Ahmed concludes that the charges against Shahzad must be part of a conspiracy. "Shahzad is being blamed for receiving bomb-making training in the [western tribal region of] Waziristan or in Nizampur [near Peshawar]. I can tell you that these allegations are totally wrong. Totally wrong," he says.
Gohar Ali, another village elder, says Mohib Banda has never been associated with extremism. "There are no extremists in our village and nobody among the elders or youth is linked with the Taliban," he says. "I know Faisal Shahzad and his father, Baharul Haq. [Haq] is a good man and we grew up together. And their family members never had any problem with people."
But it's precisely Shahzad's upper-middle-class background, particularly his connection to a military family, that is most puzzling to observers trying to make the link to his suspected role in a bombing plot.
Talat Masood, a former Pakistani military general who is now a security analyst, says Shahzad's background is far different from "conventional" militants, who often come from impoverished families or are typically educated in madrassahs (Islamic seminaries.)
Masood expresses concern at what it might mean for Pakistan's security if people with "fairly secular" backgrounds like Shahzad's can be drawn into extremism.
He suggests that Shahzad's arrest will have far-reaching consequences, and could prompt Islamabad to go after militant sanctuaries in the western tribal regions along Afghanistan's border and in Punjab Province in the east.
"The government and the military also should really seriously rethink their entire policy regarding the militants," Masood says.
These elements "cannot have any space or sanctuaries in Pakistan. That's simply unacceptable today," he says. "And it's as dangerous for Pakistan as it is for the rest of the world."
RFE/RL's Radio Mashaal correspondent Raheel Khan contributed to this report from Islamabad